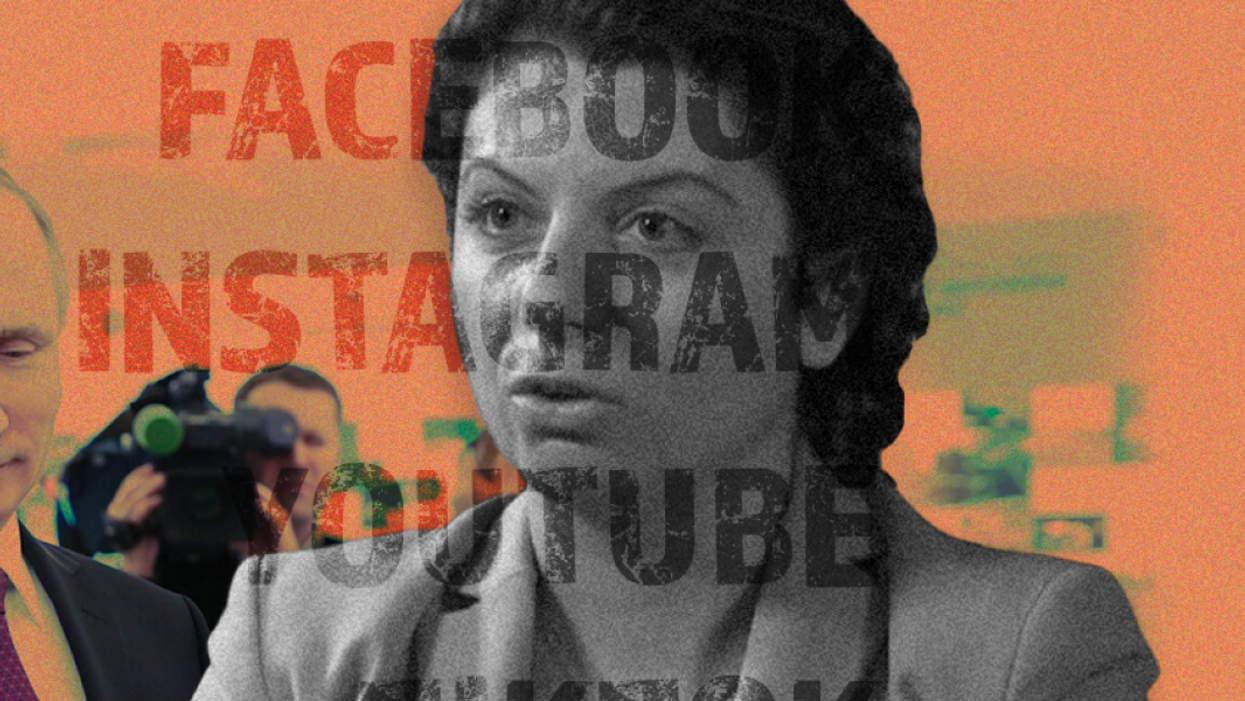 Despite supposed Big Tech moderation efforts and recent government sanctions by the European Union against Russian state-funded broadcasters RT and Sputnik, RT Editor-in-Chief Margarita Simonyan still has unrestricted access to spread Russian disinformation to hundreds of thousands of followers during wartime.
In response to Russia's attack on Ukraine, major social media platforms, including Meta, Google, Twitter, and TikTok, have implemented measures in order to minimize abusive and misleading content on their platforms, including banning RT and Sputnik in the EU per EU sanctions prohibiting these networks' broadcasts on TV or online. Yet, there are gaps, such as Simonyan – who has accumulated hundreds of thousands of followers across platforms and is verified on most mainstream platforms – retaining unbridled access to her accounts and using them to spread disinformation.
Access to Simonyan's social media accounts is not even restricted for IP addresses and users based in EU nations and Ukraine, even though the accounts of her media entities are blocked in these nations. Additionally, despite public commitments by platforms such as Meta to implement "more transparency … around state-controlled media outlets," Simonyan's accounts on Facebook, Instagram, YouTube, and TikTok do not have labels similar to those on RT and Sputnik indicating that she is linked to Russian state media. And while Twitter has labeled Simonyan's account for a few years, the platform has failed to restrict access to RT's accounts in Ukraine.
CitationMolly Butler / Media Matters
Following the February 24 invasion of Ukraine by Russia, the EU sanctioned key Kremlin state broadcasters — including Simonyan — blocking the use of their bank accounts and banning them from traveling within the bloc. U.S. lawmakers have also introduced several bills calling for the RT editor-in-chief, among others, to also be sanctioned.
CitationSource: Official Journal of the European Union
Simonyan has long been considered a key figure in the Kremlin's media propaganda operations, yet her toxic behavior has been tolerated by Big Tech in the past. Under her leadership, RT and Sputnik have become key vectors of international Russian state disinformation campaigns, including spreading COVID-19 misinformation and far-right narratives. According to independent Russian outlet Znak, Simonyan is typically among the top 15 most quoted journalists in Russia.
CitationSource: U.S. Department of State
Since the start of the war, Simonyan has notably called Russian attacks on civilian infrastructure "fake," and linked to Russian media content accusing the Ukraine military of perpetrating the missile strike against a Kyiv residential building. On the second day of the invasion, Simonyan praised a screenshotted post from RT's telegram channel quoting Russian Defense Minister Sergey Shoygu, who said that the Russian military would not strike civilian residences in Kyiv. Later on the same day, as anti-war protests in Russia unfolded and thousands were arrested, Simonyan posted a screenshot on Facebook that included threats against "liberals" and "traitors" who should have been "dealt with long ago."
CitationTranslated from Facebook: Our liberals hate Russia and everything Russian more than the Ukrainians. This is difficult to believe, but it is so. The army is completing a special operation in order to secure the country, but thousands of traitors are sitting in the rear and dreaming of our quick defeat. This is unbelievable and something should have been dealt with a long time ago.
Additionally, while Meta has promised to work on "demonetizing [Russian state media] accounts" on the platform, Simonyan has made posts on both Twitter and Facebook advertising and promoting merchandise — shirts with the letter Z, a marking that has been used by many Russian military vehicles during the invasion — from RT's online shop.
CitationSource: Facebook
Social media platforms' tolerance of her misinformation and controversial statements has been documented for years prior to the February invasion. Facebook had suspended Simonyan in 2019 for undisclosed reasons before reinstating her account and giving an unwarranted apology.
Simonyan has a history of toxic online behavior, from tweeting in approval of child marriages to sharing harmful and derogatory posts about Black people during the George Floyd protests in June 2020. Additionally, the Kremlin-backed figure has talked about her disapproval of Belarusian and Russian dissidents, praised violence against demonstrators and an illegal plane hijacking, and mocked a hunger striker. This follows Simonyan's long history of calling for Russia's violent annexation of Ukraine's eastern territory.
Reprinted with permission from Media Matters