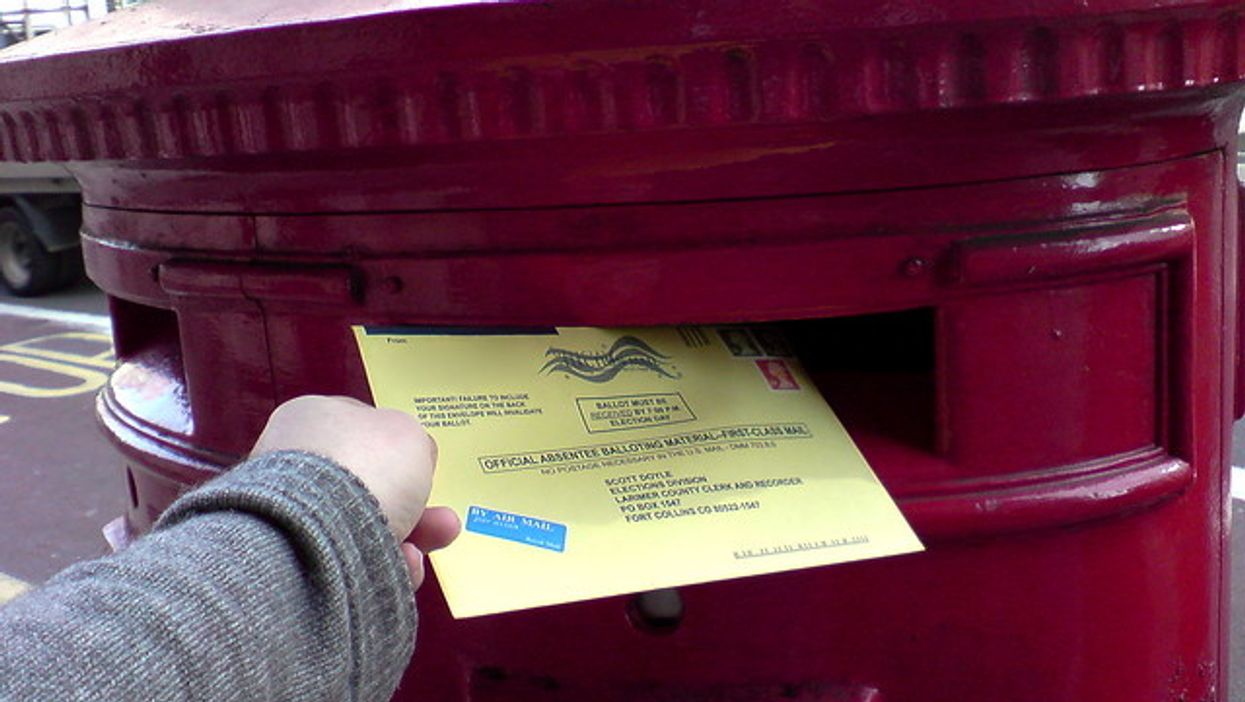 Reprinted with permission from MediaMatters
Update (9/2/20): This piece has been updated with additional information.

Fox News personalities and right-wing media figures are pushing a New York Post story published over the weekend alleging widespread mail-in ballot fraud by an anonymous whistleblower and "top Democractic operative." The Post claims the whistleblower "says voter fraud, especially with mail-in ballots, is no myth. And he knows this because he's been doing it, on a grand scale, for decades."
The article claims the publication vetted the whistleblower's purported longtime career working as a consultant, rigging various municipal and federal elections throughout New Jersey, and as a mentor to "at least 20 operatives in New Jersey, New York and Pennsylvania." However, the story fails to provide corroboration or a second source for any of the numerous accusations of mail-in ballot fraud that follow.
Among the accusations are:
New Jersey mail-in ballots have no security features such as a stamp or watermark, allowing operatives to convince voters to let them mail completed ballots on their behalf and then steam open envelopes to replace with counterfeit ballots before mailing.
Postal Service employees commit election fraud by throwing out mail-in ballots from Republican areas or sifting through ballots and handing them to Democractic operatives. The article links to an unrelated story on New York City election ballots to support this claim.
Nursing home employees are paid political operatives who fraudulently fill out residents' ballots for them.
Operatives impersonate voters in states with no voter ID laws, such as New Jersey, New York, and Pennsylvania.
Operatives bribe homeless voters to vote during elections in New Jersey in a scheme that "resembled Mafia organizations" and left the actual candidate in the dark to maintain "plausible deniability."
Democratic election board members took part in fraud by checking ballots to see if they have bent corners — bent by operatives engaged in fraud — to see if they should keep them or throw them out for irregularities. The insider claims bent ballots go unchallenged by Democratic Board of Election counters.
All of these schemes require a large network of operatives to pull them off, however, the story cites no other source for confirmation, even though the main principle of investigative journalism is to never rely on a single source of information. Without secondary confirmation, the accusations are dubious at best. And the New York Post, a daily tabloid, does not have a sterling reputation for accuracy. For instance, in 2013, the paper erroneously reported that 12 people had died in the Boston Marathon bombing and wrongly identified two suspects in published photographs, leading to a libel lawsuit that was settled in 2014.
Furthermore, writer Jon Levine tends to amplify right-wing talking points, sometimes under the guise of reporting, and he often boosts right-wing media personalities and outlets. For example, since he's been at the New York Post, Levine has:
Fox & Friends Weekend highlighted the mail-in voting parts of the article.
Presidential son Donald Trump Jr., Fox contributor Tammy Bruce, Trump campaign communications director Tim Murtaugh, Trump campaign deputy communications director Zach Parkinson, The Federalist's Mollie Hemingway, pro-Trump troll Jack Posoboec, Fox host Mark Levin, Newsweek opinion editor Josh Hammer, Newsmax columnist James Hirsen, Fox News contributor Sara Carter, Fox News contributor Rob O'Neill, and the Trump 2020 campaign shared the article.
Presidential son Eric Trump said the article is a "must read."
Right-wing commentator Mindy Robinson claimed this is "EXACTLY what [the] Dems and RINOs just pushed through in Nevada.
Fox Business editorial executive Charles Brady shared the article, criticized mainstream media, and told them to "stop editorializing and report the news."
Judicial Watch's Tom Fitton shared it and wrote "VOTER FRAUD IS REAL AND TOO COMMON."
Former Wall Street Journal columnist John Fund, who wrote a debunked book on voter fraud, shared the article.
Bloomberg Opinion columnist Jared Dillian shared the article and wrote a "political insider explains voter fraud."
Talk radio host Howie Carr wrote that the article was an example of "DEMOKKKRATS IN THE NEWS."
Former Fox & Friends First co-host Patti Anne Browne also shared it to her Facebook page, writing, "Dem operative admits fixing ballots for decades: 'This is a real thing.'"
Washington Examiner covered the article with the headline: "Democratic operative says he's been committing voter fraud for decades and warns 'war coming November 3rd over this stuff.'"
OAN also covered the article on air on Sunday.
ANDREA BOYD (ANCHOR): A top Democrat operative confesses to fixing mail-in ballots on a grand scale. The anonymous Democrat made these comments in a New York post article, claiming voter fraud, especially with vote by mail, is not a myth. The whistleblower says he was contributing to the elections of some of the New Jersey's top elected officials. According to the Post, his claims are backed by campaign records. He admitted to not only tampering with ballots himself but also leading teams of people participating in the effort.
Levine discussed the details of his story with Brian Kilmeade on Fox & Friends on Tuesday morning.
Premiere Radio's The Sean Hannity Show promoted the piece on Tuesday afternoon.
Tucker Carlson Tonight featured the "report" on air Tuesday night.
Mail-in voter fraud has become a top-line narrative for Donald Trump and right-wing media ahead of the 2020 election. They have repeatedly sought to undermine mail-in voting in the months leading up to November, when the pandemic is likely to impact in-person voting. From Media Matters' archives:
Right-wing media and the GOP have a years-long history of pushing the myth of voting fraud to undermine voting. From Media Matters' archives:
Despite these claims, voter fraud remains a relatively insignificant issue in elections. A comprehensive report by the Brennan Center for Justice, a nonpartisan law and public policy institute at New York University Law School, published in April identified only 491 cases of absentee ballot fraud from 2000-2012 –– 491 in literally billions of votes cast. The Brennan Center has published extensive research debunking the large-scale accusations of voter fraud. Furthermore, Trump's own voting commissions found no evidence of widespread voter fraud in 2018.