Ukraine Needs $35 Billion In Aid To Avert Default, Interim Leaders Say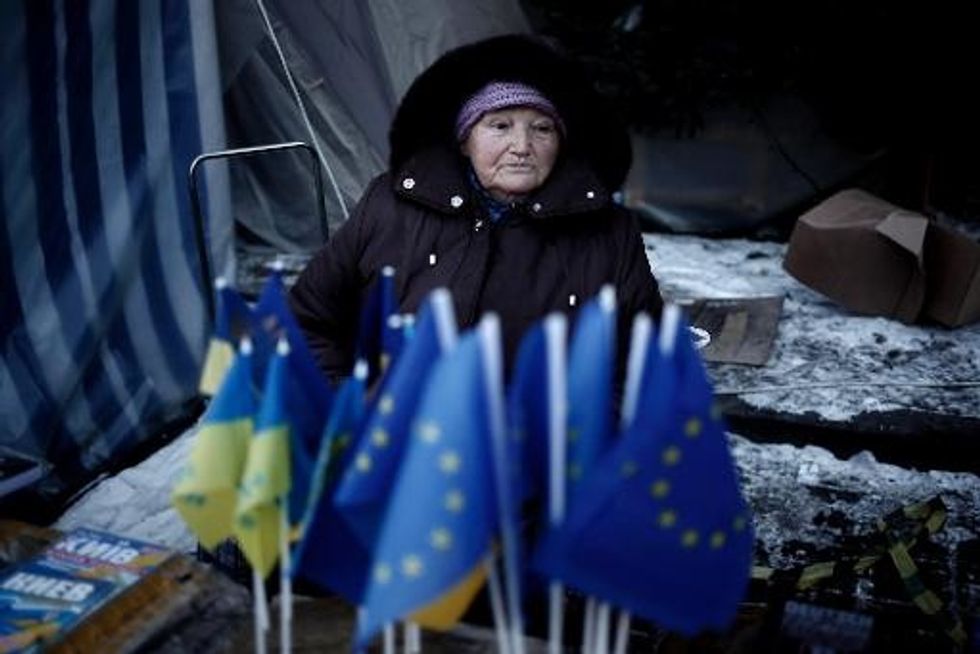 By Carol J. Williams, Los Angeles Times
MOSCOW — Ukraine's interim leaders said Monday that the country will need $35 billion in foreign aid over the next two years to avert default and called for an international donors' conference to craft a rescue plan.
The appeal by acting Finance Minister Yuri Kolobov followed by a day his Russian counterpart's announcement that Moscow would be cutting off further aid and loan supports to Ukraine until its new transitional leadership is in place and it is clear with whom the Kremlin will be dealing.
Opposition leaders, who have been in control of Kiev since a European Union-brokered pact to quell last week's violence was signed Friday, have said the new slate of ministers could be decided as early as Tuesday. The new government is unlikely to be as friendly to Moscow, though, as was that of President Viktor Yanukovich, who has been stripped of his office by parliament and has fled Kiev for the Russian-leaning east.
Group of 20 finance ministers met in Sydney, Australia, over the weekend and pledged help for Ukraine once its provisional leadership is in place. Political leaders from the United States, the EU and Russia have urged the opposition figures now in control of Kiev and western Ukraine cities to put together a genuinely inclusive Cabinet to represent all segments of Ukraine's badly divided population.
Yanukovich fled after many of the lawmakers from his Party of Regions defected to the opposition in protest of the bloody crackdown on demonstrators last week that killed at least 82 people. The acting Ukrainian interior minister announced Monday that an arrest warrant had been issued for Yanukovich to stand trial on charges of mass murder for his role in the deadly turmoil.
The uprising against Yanukovich began in November after the president's decision to scrap an association deal with the European Union that would have boosted Ukraine's trade with the West and eventually set a path for potential membership in what is now a 28-nation bloc.
On Monday, EU Economics Commissioner Olli Rehn said the association deal was still on offer.
"We are at a historical juncture, and Europe needs to live up to its historical moment and be able to provide Ukraine with accession prospects in the medium to long term — if it can meet the conditions of accession," Rehn said in Sydney, where he took part in the G-20 gathering.
"We are ready to provide substantial financial assistance to Ukraine once a political solution, based on democratic principles, is finalized, and once there is a new government that is genuinely and seriously engaged in institutional and economic reform," Rehn said, referring to the massive waste and corruption that have pushed Ukraine's economy to the brink of bankruptcy.
Russia had encouraged Yanukovich's decision to drop the EU association agreement in favor of closer economic ties with Moscow with an offer of $15 billion in loans and energy subsidies. Russia bought about $3 billion in Ukrainian debt in December and had announced a second tranche of $2 billion for last week but suspended it as security and government authority unraveled in Kiev.
In announcing the freeze on further aid to Ukraine on Sunday, Russian Finance Minister Anton Siluanov suggested Kiev turn to the International Monetary Fund for assistance, a possible sign that Russia will be paring down its economic assistance if, as appears likely, the new government is controlled by pro-Western liberals opposed to joining his Eurasian Union of former Soviet states.
IMF Managing Director Christine Lagarde told reporters in Sydney that the global lender was prepared to come to Ukraine's aid "not only from a humanitarian point of view but also from an economic point of view."
AFP Photo/Angelos Tzortzinis