Ukraine Oligarchs Intervene To Avert 'Catastrophe' Of Separatism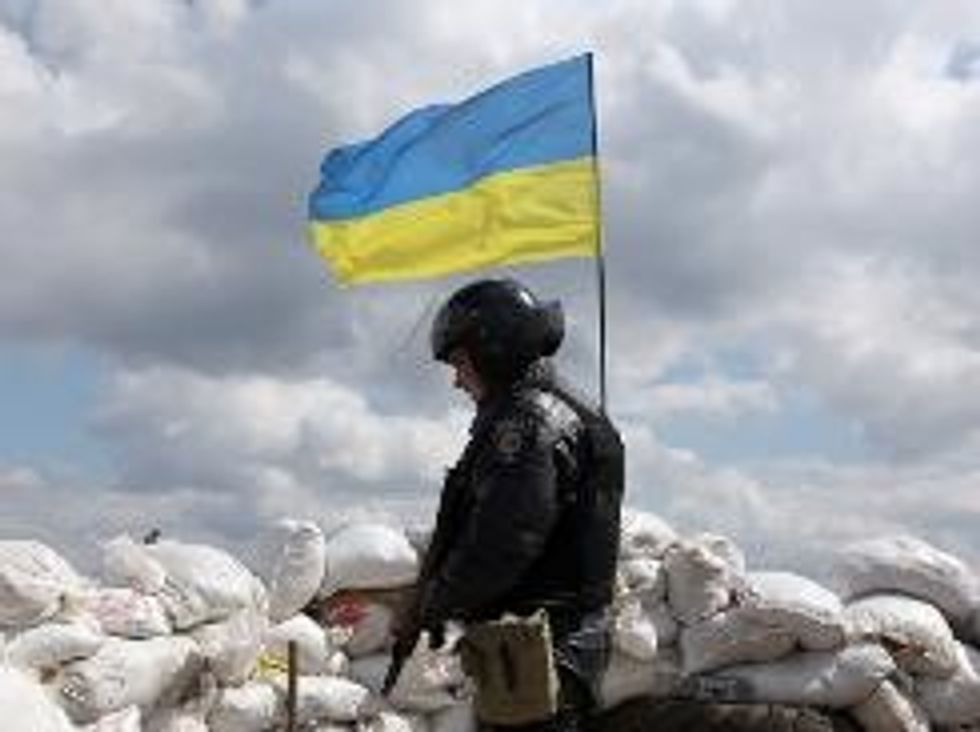 Carol J. Williams, Los Angeles Times
Ukraine's wealthiest industrialists appear to have entered the fight against separatists endangering their export-dependent businesses, chasing militants out of the steel-producing port of Mariupol and challenging the gunmen occupying other eastern Ukraine areas.
Unarmed and protected only by hard hats, steelworkers from magnate Rinat Akhmetov's Metinvest heavy industry empire joined police patrols in Mariupol this week to sweep pro-Russia separatists out of government buildings they began occupying more than a month ago, Ukrainian and Western media reported Friday.
Akhmetov, believed to be Ukraine's richest man with a fortune estimated by Forbes at $11 billion, owns steel, coal and energy enterprises concentrated in Ukraine's Donbass Rust Belt that employ about 300,000 workers in the restive eastern regions.
The 47-year-old industrialist has issued statements in support of Ukrainian unity since the separatists began seizing towns and cities in defiance of rule from Kiev, the capital, after the late-February ouster of his political ally, pro-Kremlin President Viktor Yanukovych.
"Mr. Akhmetov is determined to do whatever is necessary to get rid of weapons and restore peace to the region and ensure that Donbass remains in Ukraine," his spokeswoman, Elena Dovzhenko, told the Los Angeles Times. "Mariupol is only the first operation to help bring an end to the crisis."
In Dniepropetrovsk, another volatile region of the Russian-speaking east, billionaire governor Igor Kolomoisky has also put his wealth to work in defense of a united Ukraine.
The founder of the Privat Group of banking and aviation industries has offered bounties for captured militants with ties to Moscow, the Kyiv Post reported in an extensive account of the newly deployed pro-government militia known as Donbass Battalion now operating in the region.
The oligarchs' intervention could turn the tide of an insurrection that has so far overwhelmed Ukraine's poorly armed and financed army, which has been waging a loudly proclaimed but ineffectual "anti-terrorist operation" in recent weeks.
The Defense Ministry disclosed Friday that 24 soldiers have been killed in the operation that began just before Easter and has succeeded only in driving the pro-Russia gunmen from a few rural roadblocks and encampments.
The belated push by the business kingpins to oust the militants appears to have been spurred by Sunday's referendums in the Donetsk and Luhansk regions and the separatists' declarations of independence after the dubious votes. No country has recognized the proclaimed new states, not even Russia, which stands accused by the West and Ukraine's interim leadership of instigating the insurrections.
Gunmen supporting the Donetsk separatists continued to hold their heavily barricaded regional government headquarters, news media in Donetsk reported Friday. But mining industry leaders have been lobbying for the occupied regions' cowed advocates of Ukrainian unity to challenge the militants, said to number no more than about 2,000 across regions that are home to 6.5 million.
"Who will pay our pensions? What will happen to the miners if we go to Russia, where their own miners are unemployed and they have no place to sell their own coal and steel?" Donbass miners' union chief Mykola Volynko said in an interview during a visit to Kiev this week.
Volynko said the separatists have been trying to enlist Donbass miners in a strike to sever their operations from the national administration in Kiev, but that most have resisted out of fear that their jobs would disappear with any break from the Ukrainian capital. He alluded to the region's wealthy bosses finally stirring to action and expressed the hope that their influence isn't being exerted too late.
Many in the antiquated heavy industries of eastern Ukraine sided with Yanukovych in his November decision to reject an association agreement with the European Union, for fear that integration with the market-oriented Western economies would eventually lead to the closure of their uncompetitive mines and factories.
Volynko complained that militants in Donetsk have begun blocking buses bringing the miners to their work places, and that virulent propaganda being circulated by Russian media seen in the region is making inroads in turning the region's laborers to the side of the separatists.
"How long would these terrorists last in Russia?" Volynko asked rhetorically, alluding to the stifling of dissent in the neighboring country. "Why would anyone want this territory taken to Russia?"
Metinvest is part of Akhmetov's Systems Capital Management conglomerate of more than 100 companies engaged in mining, metallurgy, energy production, telecommunications and real estate.
The reclusive Akhmetov issued a statement earlier this week warning of economic "catastrophe" if the eastern regions secede from Ukraine and become cut off from international financing and trade institutions, as has happened with Moldova's breakaway and impoverished pro-Russian region of Transdniestria.
Metinvest's steelworks in Mariupol employ about 10 percent of the city's 500,000 residents. Steelworkers in their gray and red foundry uniforms began the joint patrols with police on Monday and reported strong support from the public for the restoration of law and order
AFP Photo/Anatoliy Stepanov