Ukraine Points Finger At Russia As Families Mark Downing Of MH17
@reuters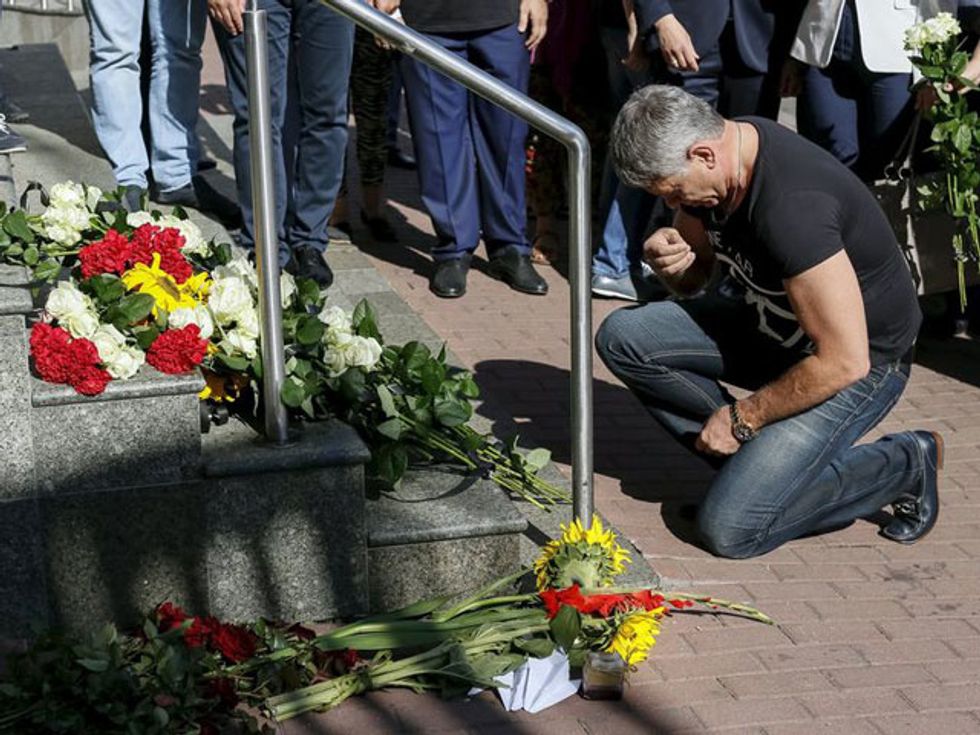 By Maria Tsvetkova
HRABOVE, Ukraine (Reuters) — Ukraine's president accused Russia's military on Friday of ordering the missile strike that brought down Malaysia Airlines flight MH17 one year ago, as relatives gathered from the Netherlands to Australia to remember the 298 passengers and crew.
"MH17, where 298 victims were killed for no reason, was shot down by a Russian BUK missile, launched by a Russian professional crew under an order and an instruction from the Russian military," President Petro Poroshenko said on the first anniversary of the disaster.
Ukraine has consistently blamed Russia, but Poroshenko's comments were his most direct to date.
Russia denies responsibility and in turn has pointed the finger at Ukraine, whose forces are fighting pro-Russian separatist rebels in the region of eastern Ukraine where the plane crashed to earth.
Poroshenko did not say what evidence he had for accusing the Russian military. In comments later on Friday, he used a different form of words, blaming the tragedy on Russian-trained "terrorists" – a description often used by the Ukrainian government to describe the separatists.
In rebel-held eastern Ukraine, a church service was held and residents joined a procession to a gravestone near the charred area where twisted metal and body parts came crashing down on July 17 last year.
"To the memory of the dead – 298 innocent victims of civil war," was written on the gravestone in the village of Hrabove, where a Russian Orthodox priest and an imam said prayers.
About 300 people brought flowers and flags of the victims' countries, some with black ribbons attached, and released white balloons into the sky.
"The memory of these people will always be in our hearts … Pray for their souls," said a priest who gave his name as Oleg.
SUNFLOWER TRIBUTE
Of the victims, 196 were from the Netherlands, where 1,500 relatives gathered for a ceremony of music and dance at which the names of the victims were read out.
"Today is a hard day, a day of reliving," Prime Minister Mark Rutte told mourners. "The 298 unique people we remember today are for always bound with your lives and those of thousands of others."
The wife of the airliner's first officer took the stage to read out the passenger announcement her husband was never able to make.
"Salam alaikum and good evening," she said, her voice trembling. "We will begin our descent shortly."
At Amsterdam's Schiphol Airport, from where flight MH17 departed, and at towns across the country, sunflowers were laid like those that grow at the crash site. Flags flew at half-mast.
Western governments believe that pro-Russian rebels shot the plane out of the sky with a Russian-supplied BUK missile. Britain and Ukraine marked the anniversary with new appeals for an international tribunal to prosecute suspects, an option also favored by Malaysia, Australia, the Netherlands and Belgium.
Russian President Vladimir Putin dismissed those calls as premature and counter-productive on Thursday in a phone call with Rutte and criticized "politicized" versions of the incident "planted" in foreign media.
Western diplomats say they are open to the prospect of a tribunal that is not backed by the U.N. if Russia wields its Security Council veto.
Thirty-nine of the victims were from Australia, which held a memorial service.
"Their passing leaves a void than can never be filled and a pain that still throbs," Australian Prime Minister Tony Abbott said. Malaysia remembered the victims, 43 of whom were Malaysian, at a ceremony on July 11.
STANDOFF WITH THE WEST
The differences over what happened are part of a standoff between Russia and the West over Moscow's role in the conflict in east Ukraine, in which more than 6,500 people have been killed since the separatist uprising began in April 2014.
Moscow denies giving the rebels arms and soldiers. If a report from the Dutch Safety Board, due in October, concludes that rebels shot the plane down with a Russian-made missile, it would undermine Russia's denials and could pave the way for court cases and prosecutions. [ID:nL5N0ZT2FL}
British Foreign Secretary Philip Hammond said in a statement issued in London: "Any attempt to undermine this process would deprive the victims of justice and cannot be tolerated."
At Hrabove, about 650 km (400 miles) east of Kiev, rebel supporters who came to the crash site, including rebel leader Alexander Zakharchenko, blamed the Ukrainian forces.
"The saddest thing is the Ukrainians brought it down and shifted the blame onto us," said a separatist who uses the nom de guerre of Sultan.
Russian officials and state media say Ukrainian forces shot down the plane, a version which many Russians say they believe.
"I think it was the Ukrainians who shot it down. 100 percent. It just can't be any other way," said Vladimir, a laborer in Moscow who declined to give his full name.
(Additional reporting by Thomas Escritt in Amsterdam, Alessandra Prentice in Kiev and Kylie MacLellan in London; Editing by Mark Trevelyan)
Photo: A man prays outside the Dutch embassy to commemorate the victims of the downing of Malaysia Airlines MH17 in eastern Ukraine a year ago, in Kiev, Ukraine July 17, 2015. (REUTERS/Gleb Garanich)