Ukraine Ratifies Landmark EU Pact, Offers Rebels Self-Rule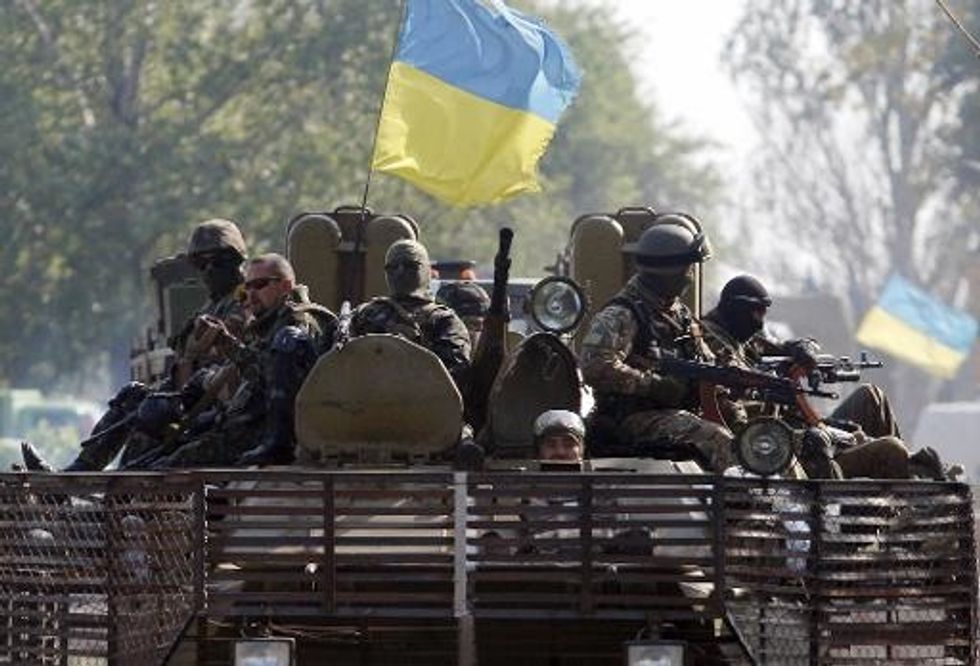 Kiev (AFP) — Ukrainian lawmakers ratified a landmark EU pact Tuesday that steers the ex-Soviet state closer to the West, and pledged autonomy for pro-Russian rebels waging war in the east.
But Russia signaled it had no intention of backing down in the most serious East-West standoff since the Cold war, with the announcement it plans to boost its troop presence in annexed Crimea.
Defense Minister Sergei Shoigu said it was a "priority" to send reinforcements to the Black Sea peninsula because of what he described as the escalating Ukraine crisis and the buildup of foreign troops on its border.
The European and Ukrainian parliaments earlier held simultaneous votes to approve the political and economic association agreement that lies at the heart of the country's worst crisis since independence in 1991 when the Soviet Union collapsed.
Lawmakers in Kiev voted to grant self-rule to the separatist east and offer amnesty to rebel fighters under a peace plan drawn up 11 days ago to halt the bloody five-month conflict.
– 'First decisive step' –
Insurgent leaders reacted cautiously to the moves, although they insist they want nothing less than full independence in the industrial regions that have been outside Kiev's control since April.
Poroshenko said the adoption of the 1,200-page association agreement with the European Union was Ukraine's first step towards membership of the 28-nation bloc.
"Tell me, who will now dare to shut Ukraine's doors to Europe?" he said before the unanimous vote by all 355 MPs present.
"Who will be against our future membership of the EU, towards which today we are taking our first but very decisive step?"
European parliament president Martin Schulz described the ratification as a "historic moment" that met the "dreams of the people who fought for democracy" in Ukraine.
But the occasion was muted by a decision to bow to Russian pressure and delay until 2016 the implementation of a free trade deal that would pull Ukraine out of a rival Kremlin-led customs union.
The rejection of the broad EU pact by Kremlin-backed president Viktor Yanukovych in November triggered the bloody chain of events that led to his ouster in February, Russia's subsequent seizure of Crimea and the unleashing of the revolt in the east.
The conflict has now claimed almost 2,900 lives and sent at least 600,000 people fleeing their homes, according to U.N. figures.
Russia's denials of involvement have not spared it from waves of punishing Western sanctions that have left President Vladimir Putin more isolated and acting less predictably than at any stage of his dominant 15-year reign.
It was not immediately clear what prompted Shoigu's announcement, although U.S.-led war games began in western Ukraine on Monday that are meant to send a blunt message to Russia about having any thoughts of pushing its troops deeper into the former Soviet state.
NATO earlier this month also unveiled plans to boost its forces in eastern Europe in response to Russia's "aggression".
Russia already has tens of thousands of soldiers in Crimea but denies NATO charges it sent more than 1,000 elite troops to help the militias launch a surprise counter-offensive in August.
– Glimmer of hope –
But a European-mediated truce that Kiev and Moscow clinched on September 5 has offered the first significant glimmer of hope that the crisis in Ukraine may be abating.
However, both sides accuse the other of repeated violations and officials said Tuesday that five civilians and three Ukrainian soldiers had been killed around the rebel stronghold of Donetsk in the past 24 hours.
Under the terms of the truce, lawmakers adopted "special status" legislation that offers three years of limited self-rule to the coal and steel belt known as the Donbass that generates a quarter of Ukraine's exports.
– Amnesty for fighters –
Poroshenko argued Monday that his plan offered the best way out of the crisis because it guarantees "the sovereignty, territorial integrity and independence of our state".
But some political leaders in Kiev and especially members of right-wing groups that played a small but instrumental role in the protests that forced out the old regime, have questioned whether Poroshenko is ceding too much to Moscow.
The legislation calls for local polls in Donetsk and Lugansk in December and allows local legislatures to set up their own police forces and name judges and prosecutors.
Crucially, it also guarantees the right for Russian to be used in all state institutions — a particularly sensitive issue in the mainly Russian-speaking regions.
Another law also grants an amnesty to both the insurgents and Ukrainian government forces over their actions during the conflict.
Amnesty International has accused fighters on both sides of abuses that might be classified as war crimes.
Andrei Purgin, deputy prime minister of the self-proclaimed Donetsk People's Republic, responded to the legislation saying bluntly that Donbass "no longer has anything to do with Ukraine".
But he also said the rebels would "carefully study" the legislation, describing it as a "positive signal because it marks Kiev's return to reality".
AFP Photo/Anatolii Stepanov
Interested in more world news? Sign up for our daily email newsletter!