Ukraine Seals EU Deal That Sparked Revolution And Crisis
@AFP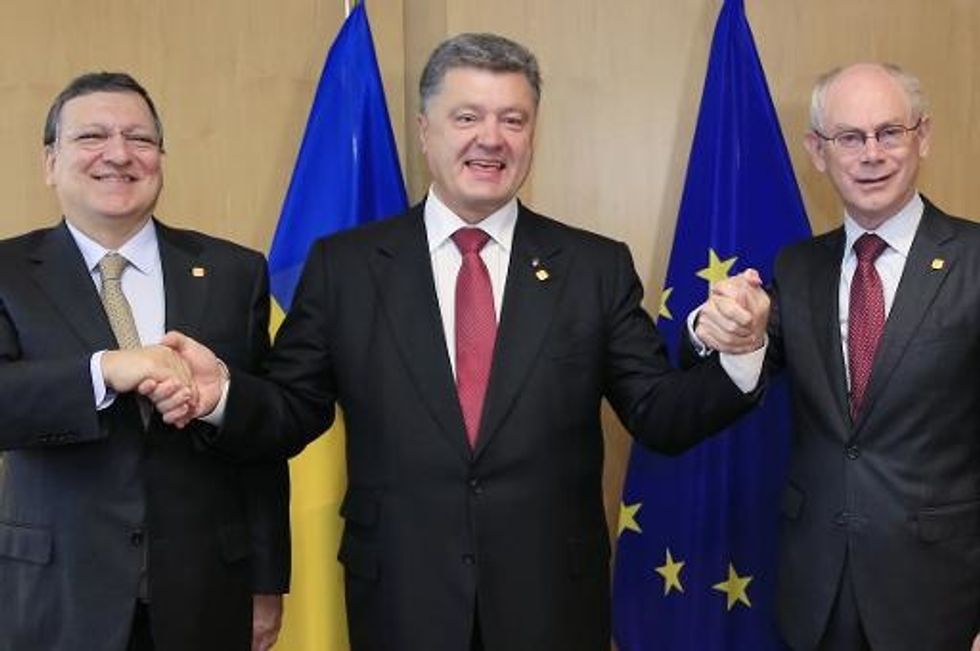 Brussels (AFP) – Ukraine's new leader on Friday signed a landmark EU pact that drew immediate threats of retaliation by Russia in its standoff over the ex-Soviet country's future with the West.
President Petro Poroshenko hailed the Association Agreement — a 1,200-page document defining the political and trade terms under which Kiev will slip from the Kremlin's embrace — as a turning point for a country that straddles a geopolitical fault line between Europe and Russia.
The deal also bursts Russian President Vladimir Putin's dream of enlisting Kiev in a Moscow-led alliance that could rival the European Union and NATO. The Kremlin immediately vowed to take "all the necessary measures" against Ukraine.
Yet the pact is just as unpopular in Russified eastern regions that mistrust the new Kiev leaders and are now witnessing a bloody separatist insurgency being waged on the streets of a dozen industrial cities and towns.
Ukraine's military said five more soldiers died overnight in attacks by rebels who have failed to honor the terms of a temporary truce agreed by their own commanders.
The European Union on Friday sealed identical partnership pacts with Georgia and Moldova — two former Soviet nations with equally complex relations with Russia.
Poroshenko said the deal offered Ukraine "an absolutely new perspective" and "the opportunity to modernize."
"It is a historic day, the most important day since independence," he declared.
The agreements were signed just hours after the rebels released four unarmed monitors from the Organisation and Security and Cooperation in Europe (OSCE) they had abducted on May 26.
Another four European observers and their Ukrainian translator are still being held captive by the gunmen and Putin has personally urged the militias to secure their release.
The Kremlin chief denies exerting control over the fighters and is yet to address in public reports from Kiev and Washington of rocket launchers and even tanks crossing the Russian border into the conflict zone.
But Putin is also facing the threat of imminent economic sanctions should he fail to show that he is backing Poroshenko's bid to end nearly two months of fighting that have claimed more than 440 lives.
EU leaders gave Russia until Monday to change policy on Ukraine or face the prospect of tougher sanctions.
The United Nations said on Friday that nearly 55,000 people have been forced from their homes by fighting and lack of access to basics such as electricity and running water.
The European Union argues that the free trade deal will boost Ukraine's exports to the 28-nation bloc by $1.35 billion a year and save the nation of 46 million roughly half that amount in revoked customs duties.
But Russia has warned it will have no choice but to slap punishing trade restrictions on Ukraine after already nearly doubling its gas price — a step Kiev disputed and that led to a cut in its supplies this month.
Putin's hawkish economic adviser Sergey Glazyev told the BBC that Poroshenko had assembled "a Nazi government (that) is bombing the largest region in Ukraine".
And Putin himself referred to the deadly winter protests that in February ousted a president who had preferred better relations with Russian an "anti-constitutional coup" that "pushed society to a split, to a painful internal confrontation."
The Eurasia Group political risk consultancy said the rhetoric stemmed from a desire "to maintain preferential trade and economic linkages with eastern Ukraine, and to prevent the possibility of Ukraine… becoming a point for competitive European goods to enter Russian markets."
It noted that about a quarter of Ukraine's exports go to Russia and predicted punitive trade measures from Moscow "in coming days".
Others said Ukraine's economy — already expected to shrink by an additional five percent this year — should eventually benefit from the adoption of European business and production standards that could make its goods competitive again.
"The agreement, coupled with Ukraine's $17 billion IMF deal, should act as an anchor for much-needed economic and political reforms," London's Capital Economics consultancy said in a research note.
Kiev and separatist commanders have set up a third round of indirect negotiations for Friday that could agree another extension of the shaky week-long truce.
Diplomatic sources say Poroshenko is ready to extend by 72 hours a ceasefire with pro-Russian rebels which is due to expire later Friday.
Poroshenko has accused the rebels of adhering to the ceasefire in name only and killing more than 20 soldiers in the past week alone.
But the 48-year-old chocolate baron pronounced himself ready on Thursday to make every effort to resolve the country's worst crisis since its independence in 1991.
"I am ready to make peace with anybody," Poroshenko told CNN.
"I hate the idea of not to use the last opportunity to bring peace to the region," he added in English.
Poroshenko observed that "sometimes the position of Mr Putin is very pragmatic. Sometimes it is very emotional. I try to find the time when he is more pragmatic than emotional".
AFP Photo