Ukraine Separatists Hold Buildings And Hostages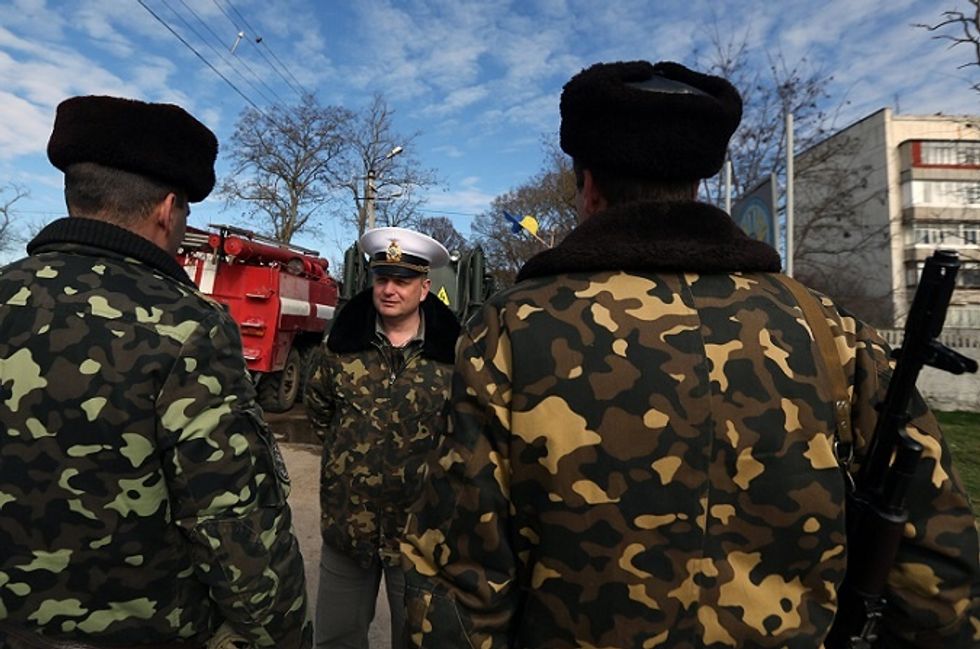 By Sergei L. Loiko, Los Angeles Times
MOSCOW — Heavily armed separatists held Ukrainian government buildings and hostages Tuesday as tensions increased sharply and threatened to push a dispute over treatment of the country's ethnic Russians into bloodshed.
Ukrainian government officials said pro-Russia separatists had rigged explosives in a building in Luhansk and were holding hostages inside. Officials dispatched a deputy prime minister to another city, Donetsk, to try to negotiate a peaceful solution to the takeover of an administration building in that mining city.
Russia seized control of Ukraine's Crimea region, in the south, with minimal violence in February, but Ukrainian forces have acted forcefully against separatists who took over buildings in the country's east in recent days. On Tuesday, the Ukrainian government said it had cleared hundreds of pro-Russia protesters from a regional administration building in a third city, Kharkiv.
A move in eastern Ukraine would be far more difficult for Russia than its Crimea seizure was. The region has a sizable ethnic Russian population but, unlike in Crimea, it's a minority. And Crimea was for centuries part of Russia.
Analysts say it's crucial for Ukraine's interim government to manage the discord until May 25 elections. The vote is likely to show that the government does have popular support, they said, blunting Russia's argument that Ukraine has been taken over by extremists.
Reacting to Ukraine's moves to impose order, Russia issued a blunt warning Tuesday in a Foreign Ministry statement: "The organizers and participants in the operation are assuming huge responsibility for the creation of threats to the rights, freedoms and lives of peaceful residents of Ukraine."
It said Ukrainian forces had been augmented by about 150 security contractors from the U.S. private security firm Greystone, who were wearing Ukrainian uniforms.
In Washington, Secretary of State John F. Kerry accused Russia of fomenting unrest.
"Everything that we've seen in the past 48 hours from Russian provocateurs and agents operating in eastern Ukraine tells us that they've been sent there determined to create chaos," he said in an appearance before the Senate Foreign Relations Committee. "No one is fooled by what could potentially be a contrived pretext for military intervention, just as we saw in Crimea."
Kerry met with President Barack Obama on Tuesday to discuss several issues, including Ukraine.
After the Crimea seizure, the U.S. and European Union imposed sanctions on several Russian officials and associates of President Vladimir Putin. Kerry said the West was considering toughening the sanctions but first wanted to explore the possibility of a diplomatic solution at a meeting this weekend that will include officials from the U.S., EU, Russia and Ukraine.
White House press secretary Jay Carney praised the Ukrainian government for how it has handled the crisis.
The dispute began late last year when Ukraine's then-president, Viktor Yanukovich, rejected closer association with the European Union in favor of an accord with Russia. That launched months of street protests in Kiev, the capital. Yanukovich ultimately fled and took refuge in Russia.
The deputy head of the Ukrainian Security and Defense Council, Victoria Syumar, said in a post to her Facebook account that about 500 separatists had seized a government building in Luhansk and were holding hostages. "They have more than 1,000 firearms and some heavy weapons. (Ukrainian) special units are ready, but the risks are very serious."
In Donetsk, tycoon Rinat Akhmetov, a former ally of Yanukovich, was trying to negotiate a solution. Separatists barricaded themselves inside the administration building behind stacks of tires and barbed wire. His appeal to protesters was broadcast live on independent Hromadske TV.
"If there is a storm, I will be with you, suffering together with you, but I want to address the government and ask them … to put off the storm," he said.
"To fight is not an option," he added. "Who will be better off if blood is shed?"
First Deputy Prime Minister Vitaly Yarema said he had postponed an operation to clear out the separatists in order to give Akhmetov time to find a solution.
Sergei L. Loiko/Los Angeles Times/MCT