Ukraine's Chief Says Most Russian Forces Gone, Vows More Local Powers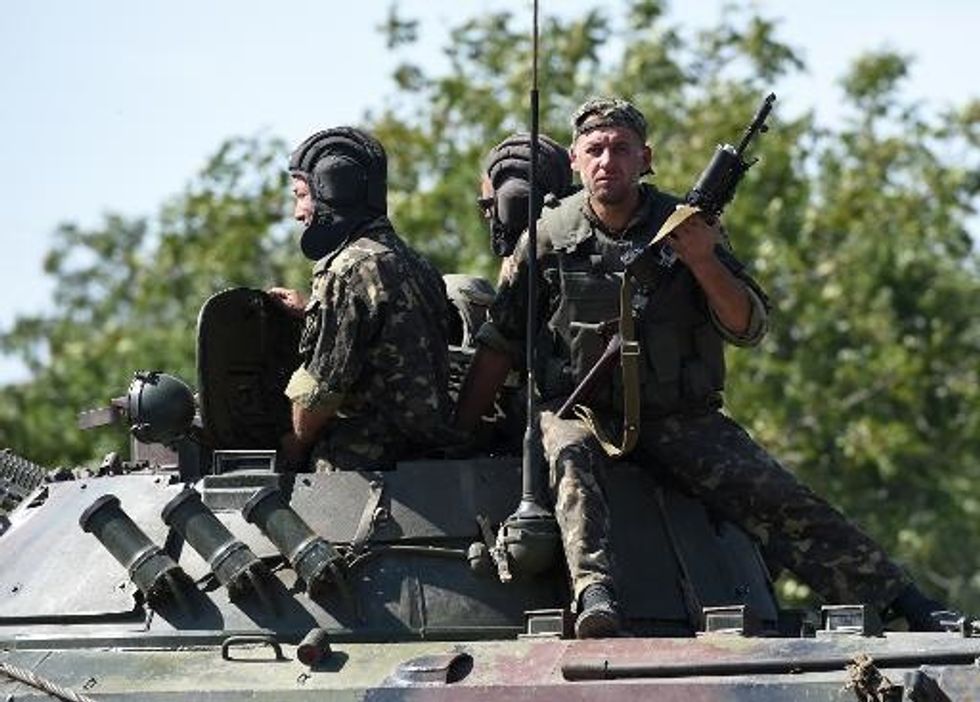 By Sergei L. Loiko, Los Angeles Times
KIEV, Ukraine — Russia has withdrawn about 70 percent of the armed groups it sent into eastern Ukraine in recent weeks, Ukraine President Petro Poroshenko said Wednesday, quoting his nation's intelligence sources.
"That gives us a real hope that peace efforts have good prospects," Poroshenko said in televised remarks before parliament, referring to a cease-fire agreement reached last week.
The truce brought relief from a five-month conflict between Ukrainian forces and pro-Russian separatists — backed, Ukraine and NATO have said, by Russian mercenaries and later Russian troops — that has claimed more than 3,000 lives and displaced hundreds of thousands of Ukrainians in the east.
Poroshenko said that about 700 Ukrainian servicemen had been freed by the separatists, with about 500 more expected to be released in the next few days.
Poroshenko also said a bill would be submitted to parliament next week granting more powers to local authorities in Ukraine in an attempt to answer the demands of separatists in the east.
"I may agree that most likely we will not be delighted with the personalities of local lawmakers to be elected" in some areas of the Donetsk and Luhansk regions in the east, he said. "But is it better if policy be enforced by bursts of automatic fire and Grad (missile system) salvos rather than by ballot papers?"
Nonetheless, he insisted that "Ukraine didn't make any concessions on the issues of its territorial integrity" when it agreed to the truce.
"I stress it once again: Now the war of independence is going on, no less, no more, for the existence of our state and we will surrender the issues of our sovereignty or independence or territorial integrity to no one," he said. And despite expressing hope for the peace process, he added: "I will be frank, God alone knows how long the cease-fire will last."
Though the truce had largely been observed, Ukrainian military spokesman Col. Andriy Lysenko said Wednesday that "terrorists and Russian military carried out 20 provocations and shooting attacks" on Ukrainian forces over the previous 24 hours.
Poroshenko referred to Russia as "the military might No. 1 in Europe, whose forces have been constantly undergoing modernization in the last 10 to 15 years (and) possess the most modern and the most perfect weaponry today."
"Unfortunately this is a lasting military threat," he said. "It will not go away even if the current crisis is resolved in the nearest times. We need to learn to live in such conditions."
The Russian threat may remain in force "not for months or years but even for dozens of years," he said, suggesting not only that Ukraine should continue to build up and rearm its armed forces but to erect more effective fortifications on the border with Russia.
Three new lines of defense are already being set up on the approaches to Mariupol, the second-largest industrial city in the Donetsk region along the Sea of Azov. The Ukrainian government and NATO say Russian troops crossed the border near Mariupol to back up separatists during a fierce battle outside the city in the days leading up to the cease-fire.
Reflecting the theme raised by Poroshenko about the threat from Ukraine's neighbor, Russian President Vladimir Putin said Wednesday that his nation was planning to develop new weapon systems, including strategic nuclear arms.
"We are doing it only as a response measure," Putin said in televised remarks speaking at a meeting with a group of the country's arms manufacturers. "We won't get ourselves drawn into (an arms race)."
A Ukrainian political expert said Wednesday that the truce most probably will last through Ukrainian parliamentary elections planned for Oct. 26.
AFP Photo/Philippe Desmazes
Interested in world news? Sign up for our daily email newsletter!