Ukrainian Panel's Probe Links Previous Government To Shooting Deaths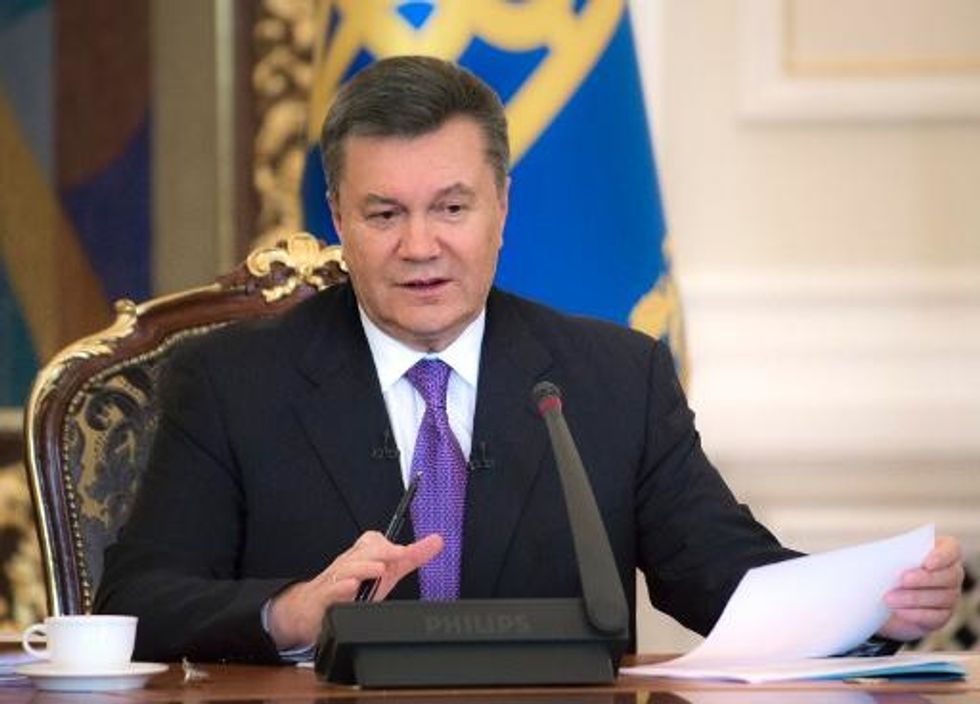 By Victoria Butenko and Sergei L. Loiko, Los Angeles Times
KIEV, Ukraine — Security details and special police with the government of Ukraine's then-President Viktor Yanukovich were responsible for the deaths of protesters shot in February, officials with the nation's interim leadership said Thursday.
Three riot police officers were formally arrested and nine others detained overnight on suspicion of carrying out sniper fire that killed scores of people in Kiev on Feb. 20 during violent clashes between protesters and police, acting Prosecutor General Oleh Mahnitsky said at news conference in the capital while discussing preliminary results of the new government's investigation.
The officials offered no proof of their accusations, saying the investigation into the deaths continues. Yanukovich and his former aides have denied that their forces carried out the attacks on protesters.
Speaking at Thursday's news conference, acting Interior Minister Arsen Avakov said a special group within the capital's Berkut riot police unit known as the "black company," whose officers were dressed in black uniforms with yellow arm bands and were armed with Kalashnikovs and sniper rifles, are suspected of killing at least 17 protesters on Institutskaya Street on Feb. 20.
"We have identified all the people who were taking part in that operation," Avakov said. "The degree of personal involvement of each of this special company's officers is being established."
The company's commander, Maj. Dmitry Sadovnik, was among those taken into custody overnight, Avakov said.
Mahnitsky, the acting prosecutor general, said law enforcement officials were also investigating the deaths of three police officers who were slain on Feb. 20.
The violence, which capped three months of anti-government protests, led to the downfall of Yanukovich's government in late February. The former president fled to Russia, and the current interim government is led by opponents of his rule.
Avakov accused Yanukovich's interior minister, Vitaly Zakharchenko, of hiring criminals to attack people in the Ukrainian capital and said they were responsible for killing five people, including Kiev journalist Vyacheslav Veremiy.
More than 100 police officers from a security group known as Alpha were deployed in downtown Kiev armed with Kalashnikovs and sniper rifles and also fired on protesters for three days beginning Feb. 18, acting Security Service chief Valentin Nalivaychenko said at Thursday's news conference.
Nalivaychenko said investigators believed that the operation was run by then-Security Service head Olexandr Yakimenko on orders from Yanukovich. Zakharchenko and Yakimenko are believed to be in Russia.
The government is investigating whether the Russian Federal Security Service, or FSB, the successor agency of the KGB, played a role in attacks on protesters, Nalivaychenko said. 32 armed FSB agents arrived in Kiev in late January, he said.
"We have sound reasons to believe that these groups that were stationed at one of the Security Service bases (near Kiev) were involved in planning and coordinating the so-called anti-terrorist operation," Nalivaychenko said.
In an interview aired Wednesday from the Russian city of Rostov-on-Don, Yanukovich denied accusations that he ordered the shootings of protesters.
"I never gave any orders to open fire," Yanukovich said. "I always followed the principle that that no power is worth a drop of shed blood."
The shootings of both protesters and police were carried out by opposition snipers, Yakimenko, the former Security Service chief, said recently in an interview to Rossiya-24, a Russian news television network.
The FSB also denied its role in Ukraine's deaths.
"Let such statements be on the conscience of Ukraine Security Service," an unnamed FSB press service officer told RIA-Novosti news agency Thursday.
The then-opposition forces were responsible for the deadly sniper fire in Kiev, Russian Foreign Minister Sergei Lavrov said in televised remarks last week. "I can't confirm it by 100 percent, but there are very many facts which point that way," Lavrov said.
Nonetheless, the preliminary findings announced in Kiev on Thursday match video images taken at the time, said Dmitry Tymchuk, a Ukrainian defense and security expert.
"In the videos open to the public we can see numerous government officers dressed in black shooting at protesters with Kalashnikovs and sniper rifles in Institutskaya Street," Tymchuk, head of Kiev-based Center of Military and Political Research, said in an interview with The Times.
"Among other things," he added, "there is one important element in their uniforms, a yellow arm band on all of them, which indicates they were informed in advance of sniper fire in central Kiev and identified themselves for their own snipers to prevent the so-called friendly fire."
A widow who saw her husband, a 39-year-old home repairman and protest activist, slain in the streets of Kiev on Feb. 20 said she had no doubt that the Yanukovich government was responsible.
"My husband, Volodymyr (Melnichuk), and I were standing near October Palace about 5 p.m. on that day after all the shooting was already long over when a single shot rang and my husband was killed," Maria Kvyatkovskaya, 39, said in a phone interview Thursday. "I am glad the investigators have found out the killers were among Yanukovich's police. Personally I have never doubted that. Who else would need these killings?"
©afp.com / Muykhylo Markiv