Ultra-Right: The Bizarre And Extraordinary Extremism Of Doug Mastriano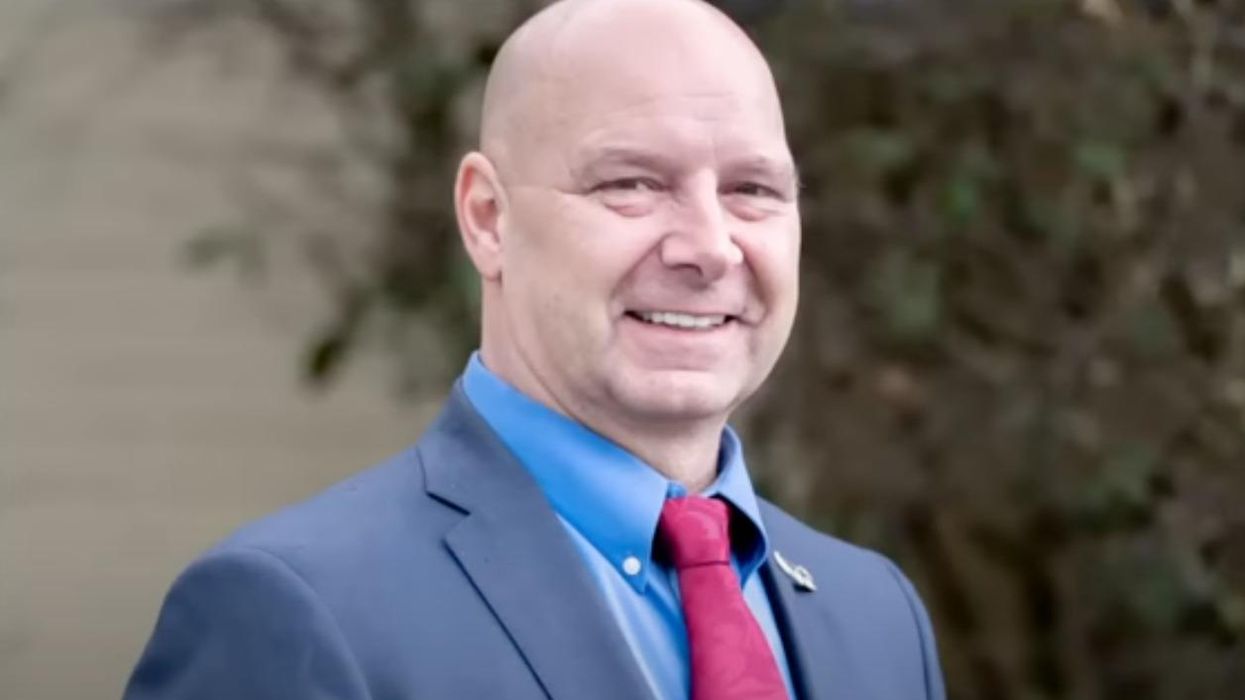 Youtube Screenshot
Pennsylvania Republican nominee for governor Doug Mastriano posed for an Army War College faculty photo wearing a Confederate uniform in 2014, according to images published by Reuters. A few days later, Media Matters' Eric Hananoki posted video from 2020 of Mastriano complimenting a man wearing a Confederate battle flag as a cape in front of a statue of General Robert E. Lee.

The Confederate battle flag is a well-known symbol of modern right-wing extremism and remains a common sight in parts of the country, including as part of the design of some state flags.
But Confederate imagery is only the most obvious and familiar example of Mastriano's deep connection to a vast constellation of far-right groups and ideas: His campaign has employed militia members; he counts a number of self-proclaimed prophets as supporters and staff; he has pushed a legislative agenda based on Christian nationalist policies as a state senator; and he has repeatedly used sometimes violent far-right Christian symbolism in his public life.
Mastriano, who received former President Donald Trump's endorsement during the Republican primary, spent thousands of dollars from his campaign coffers to bus Pennsylvanians to Washington, D.C., on Jan. 6 and was present on the Capitol grounds during the insurrection that day by Trump supporters.
Several of Mastriano's supporters have been convicted of crimes related to their participation in the insurrection, including at least one who rode on a bus chartered by Mastriano. At first, the Republican denied being present on the Capitol grounds after violence broke out, but a radio interview unearthed by the website Pennsylvania Spotlight revealed that he had seen at least two attempts to break into the Capitol building. Footage uncovered by online activists showed Mastriano and his wife, Rebecca, breaching barricades abandoned by police outside of the building.
The House committee investigating the January 6 attack subpoenaed Mastriano in February to ask about his presence at the Capitol that day and his role helping the Trump campaign assemble a slate of fake Republican electors in Pennsylvania, a state that Biden won. After winning the Republican primary, the candidate agreed to a voluntary interview and provided documents to the committee but refused to answer questions during the interview and left after less than 15 minutes.
Mastriano is now suing the committee, alleging that it does not have the proper authority to make witnesses testify.
Dr. Heidi Beirich, the co-founder and leader of the Global Project Against Hate and Extremism, told The American Independent Foundation, "There's no question that Confederate symbols are racist and directly tied to the Confederacy's defense of slavery and Black oppression."
"It may appear that the Confederate flag is a 'soft' representation of white supremacy, but its ubiquitousness in those circles shows white supremacists know exactly what it means. We shouldn't forget that the riots in Charlottesville in 2017 came about because racial extremists wanted to protect a Robert E. Lee statue," Beirich added.
Reprinted with permission from American Independent.