Unfit: Trump Brushes Off Renewed Russian Election Meddling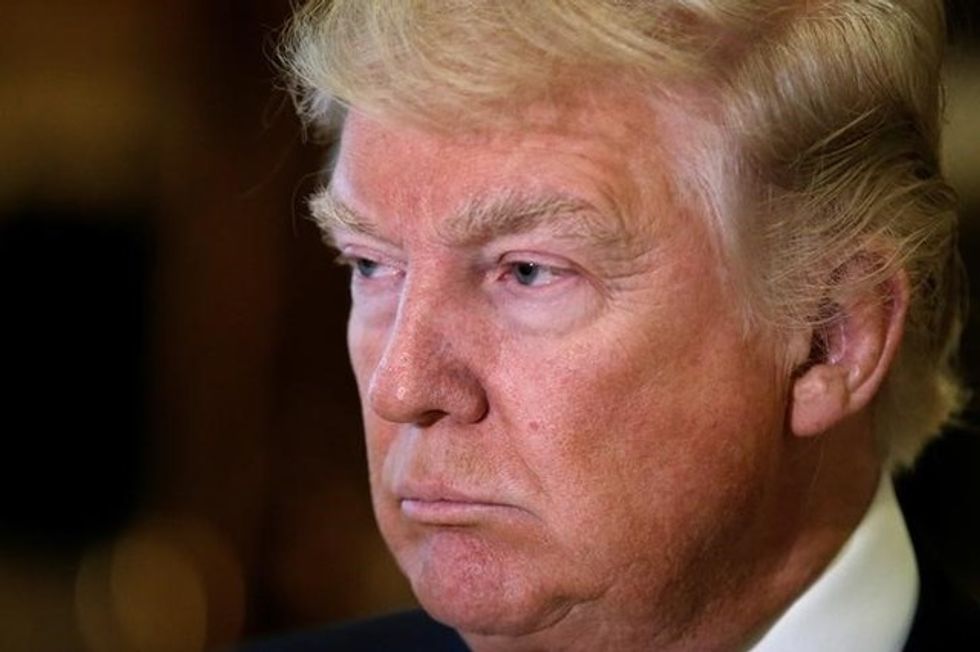 Reprinted with permission from AlterNet.
Despite President Donald Trump's professed desire to become friends with Russia, the Kremlin is still working to interfere in American elections and undermine democracy, as a new indictment from the Justice Department of a woman allegedly involved in the ongoing efforts revealed.
When forced to respond to this news on Friday, Trump failed to take the issue seriously and demonstrated why he is not fit to be president.
A reporter brought up the indictment in a meeting with press, and before a question could even be asked, Trump became immediately defensive.
"It had nothing to do with my campaign," Trump said. "And all of the hackers, and all that you see, it had nothing to do with my campaign. If the hackers — a lot of them probably like Hillary Clinton better than me. Now they do. You know, they go after some hacker in Russia, and it had nothing to do with my campaign."
The claim about Clinton was both gratuitous and false, showing his petty and mendacious nature. But the even more troubling fact is that when a reporter raised a pressing national security concern, he was constitutionally incapable of taking it seriously.
Instead, he insisted that the new indictment has nothing to do with his campaign — which appears to be true, which is why no one had even suggested that it did.
It's one of Trump's fundamental misunderstandings about the Russia issue. Even if, as he claims, he were completely innocent of any wrongdoing with regard to Russia's efforts to interfere in American elections, it would still be a major national security issue. But he's unable to address it at all without making it all about him.
He couldn't even bring himself to compliment the fine work of the Justice Department employees who brought the indictment, which should be trivially easy for any president to do.
Further, even amidst all the criticism he's received about his attitude toward Russia, he still can't credibly make the case that he stands up to the country with regard to election security. Consider his reaction to a reporter's question about whether he has any warning for Russia in the wake of the indictment:
I've already said it. And I always say this, and Kevin, you've heard me say this many times and you've said it: President Obama was contacted by the FBI in September, long before the election. And they told him, there may be meddling by the Russians. And he did nothing about it because he thought Hillary Clinton was going to win. He did nothing. He didn't lift a finger, he didn't spend a dime. We've done a lot to protect the elections coming up very shortly. But President Obama — people don't want to bring it up, the fake news, they don't want to bring it up — President Obama was told in September by the FBI that there could be problems with Russia and meddling. Now the good thing is, every single report, as you know, Richard Burr came out, Senator Richard Burr, in Senate Intelligence. They said, did you see any collusion? I've seen no collusion whatsoever. Very strong, couldn't be stronger. But the good news is it never affected — whatever did take place — never affected the vote, and everybody agrees to that. It never affected the vote. 

The candidate affected the vote. The bad candidate. She should've gone to Wisconsin. She should've gone more to North Carolina, Pennsylvania, Michigan, Florida. She should've gone out a little bit more, she should've worked a little harder. That affected the vote. 
Much of this is false, meandering and distorted. But the key point is this: Asked if he had a warning for Russia and Vladimir Putin, he instead attacked President Obama and Clinton.
He cares more about attacking his political rivals than about stopping foreign powers that are actively trying to harm the United States.
His claim that he's "already said it" — referring to warning Russia to stay out of our elections — is dubious, given that he's said so many conflicting things about Russia and the election. But it's also not a good reason for ignoring the most recent evidence of an attack on democracy. Important warnings are worth repeating. And Trump certainly doesn't mind repeating himself — over and over and over — when he's trashing Clinton or talking about how he won the 2016 election.
Why can't or won't he stand up to Putin? We're still waiting for the answer to that question. But we don't need to wait for the answer about whether Trump is able to put the country's interests above his own — or even to recognize that the country has distinct interests at all.
There's no end to the amount of evidence that Trump is unfit for office by any number of measures. But his complete inability to defend the country from a foreign threat — the primary responsibility of a commander in chief — should garner universal acknowledgment.
He just can't do the job.
Cody Fenwick is a reporter and editor. Follow him on Twitter @codytfenwick.