Is Ted Cruz Lying And/Or Is Eric Cantor Delusional?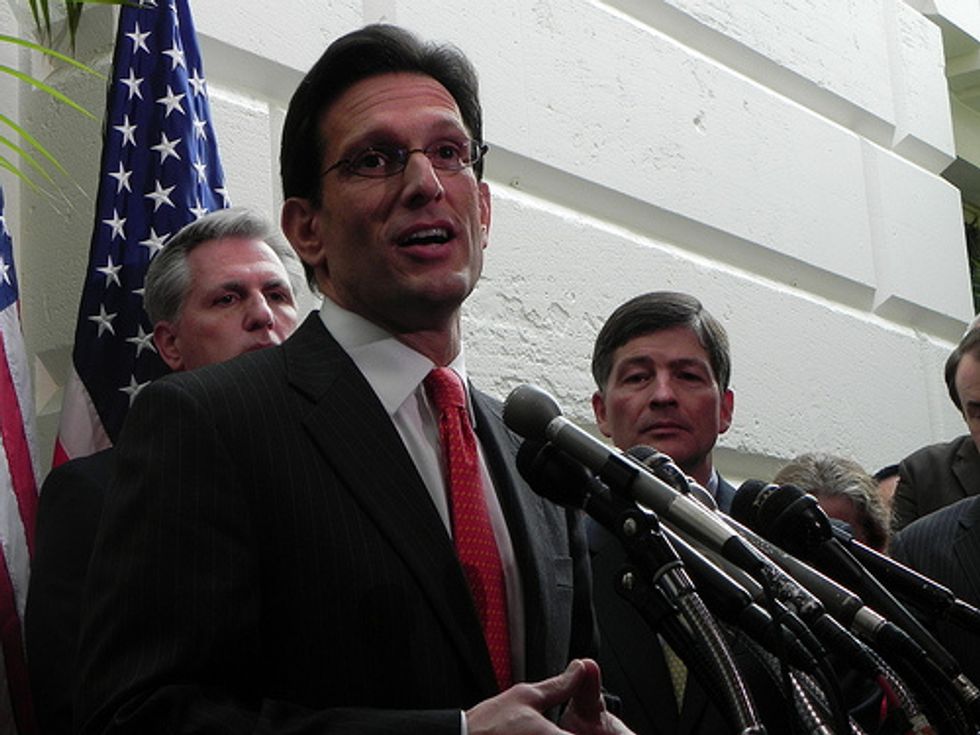 We're about eight weeks from a potential government shutdown and either Senators Ted Cruz (R-TX), Rand Paul (R-KY), Marco Rubio (R-FL), and Mike Lee (R-UT) are lying, or House Minority Leader Eric Cantor (R-VA) is delusional.
"No one is advocating a government shutdown," Cantor told the National Review's Robert Costa on Friday.
Maybe he's calling these three prominent Senators "no one" or maybe he hasn't been paying attention.
"Look, I'm not attacking anyone directly," Rubio told radio host Mark Levin last week, during his "Forget That Whole Immigration Reform Thing, Man" tour. "All I'm saying is that you cannot say you are against Obamacare if you are willing to vote for a law that funds it. If you're willing to fund this thing, you can't possibly say you're against it."
Rubio outlined the Tea Party's dream scenario: The House passes a bill funding the government and defunding Obamacare, which gets sent to the Senate, where it dies and thus — in Rubio's magical thinking — the Senate gets blamed for the government shutdown.
LOL.
The New York Times' Paul Krugman used a gem from Abraham Lincoln's Cooper Union speech to clarify this kind of logic:
That is cool. A highwayman holds a pistol to my ear, and mutters through his teeth, "Stand and deliver, or I shall kill you, and then you will be a murderer!"
Among the other "no one"s talking about shutting down the government is new neocon darling, U.S. Senate candidate and champion of husbands' rights Rep. Tom Cotton (R-AR), who basically reiterated Cruz, Rubio and Lee's plan to use either a government shutdown or the debt limit to defund Obamacare. He then quickly added, "Barack Obama is the only one talking about a shutdown."
Do Cotton along with Cruz, Lee and Rubio really think that the president would be blamed for a shutdown if House refused to refund Obamacare?
The Washington Post's Ezra Klein doesn't seem to think so. To him, this campaign is more of a can't lose insurgency for these "happy warriors" who are hoping to grow (or, in Rubio's case, restore) their credibility with the Tea Party:
They get the credit with conservatives for being willing to shut down the government to defund Obamacare but it never actually happens, and so they never have to take the blame for the consequences.
Klein's hopeful interpretation is based on what Republican congressmen have been saying in town halls. House members seem to be on board with Eric Cantor's stand that shutting down the government is dumb for two reasons. Not only would it not stop Obamacare, it would also be a political disaster, complete with American troops losing their homes because they aren't getting their paychecks.
"I'm just suggesting that when you get into a fight, politically, you gotta make sure you're willing to kill the hostage you got," Rep. Aaron Schock (R-IL) told a constituent at one meeting. "And I am not convinced yet that that's a hostage we should take headed into this fight."
Did you catch the key word there? "Yet"?

No discussion of a potential government shutdown is complete without a reminder that the House GOP is slightly more dysfunctional the the Lohan family, except when it comes to pretending to repeal Obamacare.
They couldn't pass a farm bill that included any food stamps. And they couldn't pass a Transportation, Housing and Urban Development Appropriations Bill because the committee's chairman called the cuts from the sequester "unrealistic and ill-conceived."
Ironically, it's the GOP's general solidarity on the sequester that should prepare us for the likelihood of a government shutdown.
After Republicans were forced to vote for higher tax rates on income over $400,000 to fix the so-called "fiscal cliff," they decided they needed a scalp and that scalp was sequestration. Their strategy was to blame the sequester on the president — as if he had held the debt limit hostage in 2011 to demand cuts from himself — and let the automatic budget cuts go through. This strategy worked, more or less, mostly because those cuts predominately afflict government workers and the poor.
But Cantor says the government will not shut down. And who listens to Eric Cantor?
In April, Cantor proposed the "Helping Sick Americans Now" bill, which would take money from the Obamacare marketplace to help some Americans with pre-existing conditions afford care. "It was a message vote whose purpose was 'embarrassing Obamacare,' as one conservative activist gloated, by forcing Obama to deny immediate aide for the uninsured," New York Magazine's Jonathan Chait wrote in his must-read dissection of the Republican caucus "Anarchists of the House."
The far right — led by the ladykillers at RedState.com — opposed the bill because it tried to "fix" Obamacare and not crush it completely. Cantor quietly pulled the bill.
I wouldn't be surprised if House Republicans lack a majority in their caucus — the miniumum support needed to vote on a bill according to the "Hastert Rule" that Boehner says he will stick to — for even a resolution to keep the government funded past September 30 to continue negotiating, as Speaker John Boehner (R-OH) has called for.
Because as Rubio said, "…you cannot say you are against Obamacare if you are willing to vote for a law that funds it."
This ridiculous standard is being sold as an article of faith to the most vocal, relentless, committed corners of the GOP base, a group that makes up less than a third of the electorate but about half of the party's primary voters.
Cantor may think he's the adult that can keep the government funded despite the antics of those who are ginning up the base. But the truth is those adults, the Republicans who have actually made tough deals, are leaving or have left Washington D.C.. To make matters worse, John Boehner (R-OH) almost lost his speakership in January and Mitch McConnell is facing the most serious re-election challenge(s) of his career.
All of this means that even though everyone paying attention knows there are majorities — or a "compromise caucus" — in both Houses that would likely vote to keep the government open, a shutdown can easily happen because the Republican base won't let its leaders lead.
Unfortunately, I do think Cruz, Cotton, Lee, and Rubio are sincere — they would risk even majorities in the Senate and the House to defund the president's signature legislative accomplishment. Because opposing Obamacare before 26 million Americans get tax breaks to buy insurance and millions more get fully subsidized health insurance funded by tax increases on corporations and the rich isn't just good politics with the GOP base, it has become an "ideological fixation" of the modern Republican Party.
And if we're counting on Eric Cantor to save us, we're as delusional as he is.
Photo credit: Medill DC via Flickr.com