Unions See A Comeback Coming As Wages Stall, Rich Get Richer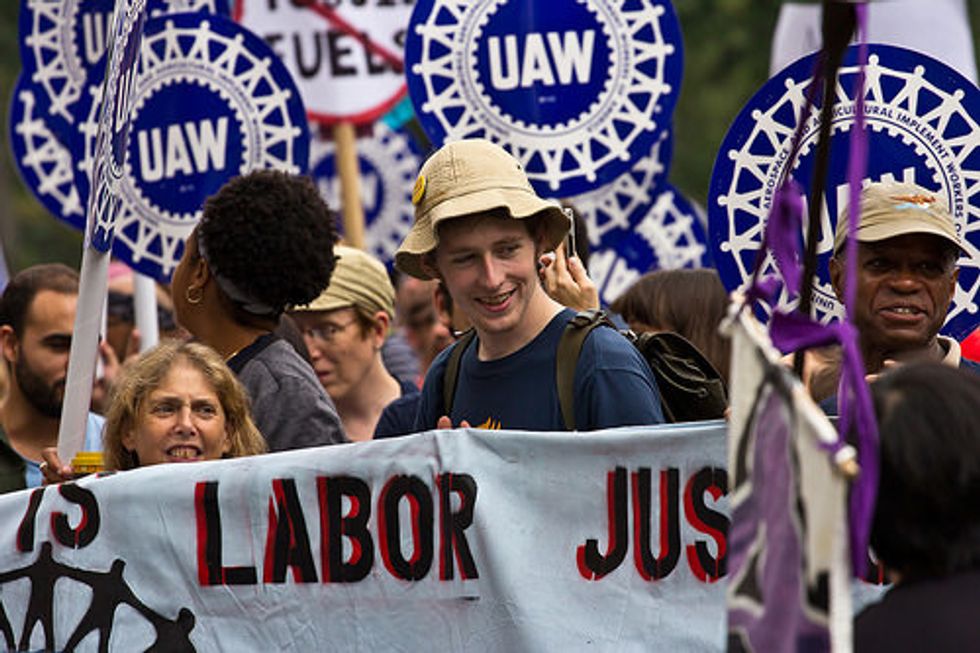 By Keith Naughton, Lynn Doan and Jeff Green, Bloomberg News (TNS)
After years of avoiding confrontation, the U.S. labor movement is reasserting itself. From the ports of Los Angeles to the car plants of Detroit, unions are demanding payback for sacrifices they say helped revive the economy.
Oil workers have walked off the job for higher wages and better working conditions. Dock workers have snarled West Coast ports. Personnel staffing oil terminals at the Port of Long Beach in California are threatening to strike. In Detroit, union leaders preparing for contract talks this year will push for the first raise for veteran autoworkers in a decade.
Union leaders are taking advantage of a tightening labor market and favorable political environment. With middle-class wages stagnating and the rich getting richer, income inequality has become a rallying cry for Democrats and Republicans alike. Reviving opportunity for all resonates with Americans who feel left out as growth picks up and the stock market reaches record highs.
"Employers seem to think that they can push unions, the roots of the American working class, off a cliff," said Dave Campbell, whose union local represents oil-terminal workers at the Port of Long Beach. "Well, these corporations have made a significant miscalculation in our ability to fight back. There's a lot of labor strife now, and they could have a major confrontation on their hands."
Campbell's combative rhetoric evokes an era when unions had the clout to win significant lifestyle upgrades for their members. Wielding the threat of strikes and work slowdowns, organized labor helped generations of Americans join the middle class and stay there.
In recent years, however, globalization and weak economic growth have cut power. In 1979, 21 million American workers belonged to unions. By last year, 14.6 million did. In the 1980s, strikes averaged 75 a year, according to the Bureau of Labor Statistics. Last year, there were 11.
Harley Shaiken, a labor professor at the University of California at Berkeley, has long watched the ebbing of union power and wondered if walkouts were an endangered species. The surge in labor unrest has caught his attention.
Shaiken says the main catalyst is inequality, considered the defining economic challenge of this era by such divergent figures as President Barack Obama to Republican presidential aspirant Jeb Bush. On Thursday, Wal-Mart Stores, America's largest private employer, said it would raise wages to $9 an hour, well above the $7.25 federal minimum wage. The move, by a retailer that has thwarted unions trying to organize its stores, strikes back at critics who say it underpays employees.
A 2011 study drew a link between the decline in union membership since 1973 and expanding wage disparity. Those trends have since continued, said Bruce Western, a professor of sociology at Harvard University who co-authored the study.
Union workers say they took a hit on wages and benefits after the financial crisis to help keep companies and the economy afloat and expect to be rewarded for their sacrifice.
"You don't want to be the senior partner in failure and the junior partner in success," said Gary Chaison, a professor of labor relations at Clark University in Worcester, Massachusetts.
Since 2009, management compensation has increases about 50 percent faster than union workers' income. In the auto industry, real wages have declined 24 percent since 2003, according to the Center for Automotive Research.
Pat Patterson, 60, is on strike for the first time in 35 years working as a pipefitter at Tesoro Corp.'s refinery in Carson, Calif. Patterson said his union helped the company survive the recession and now should share the wealth it has since accumulated.
"Their whole driver is greed," he said. "Tesoro is making record profits. There's more profit, and they don't want to share it with the workers."
In an e-mail, Tina Barbee, a Tesoro spokeswoman, said "it's very unfortunate that the union has called out on strike so many of its members –– our employees –– who will not be able to share in all of the rewards."
In Detroit, Dennis Williams, the United Autoworkers' new president, has made getting his members a raise a top priority in contract talks with General Motors, Ford Motor and FCA US, formerly known as Chrysler Group.
And he's not above rattling the strike saber. Williams stressed the importance of the right to strike. During the last contract talks, in 2011, the UAW gave up that right at GM and Chrysler to help the automakers recover from their bankruptcies. Now, that power has been restored. The current four-year auto contract expires Sept. 15.
The auto companies are loath to increase their labor costs since that's what helped nearly drive them out of business. They prefer to reward workers with profit-sharing checks that can shrink or disappear in tough times. Detroit autoworkers have received record profit sharing for the past five years.
But Detroit's automakers may have to increase wages, said Art Schwartz, a former GM labor negotiator who now runs Labor & Economics Associates, a consulting firm in Ann Arbor, Mich.
If the UAW wins traditional wage increases, "that will embolden other unions to try and get more," Schwartz said.
The United Steelworkers, which represents oil refinery workers, is seeking better wages, benefits and restrictions on the use of nonunion contract workers. The companies are expected to use the worldwide collapse in crude-oil prices as a cudgel in negotiations, but the unions may dig in. When oil workers across the country last walked off the job, 35 years ago, the strike lasted three months.
One of the challenges for labor leaders is overcoming a perception among Americans rich and poor that union workers are overpaid and protected even if they perform poorly.
The Pacific Maritime Association, which represents port employers, says dock workers make $147,000 a year. Craig Merrilees, a spokesman for the longshore union, calls the calculation "demonstrably false" and says workers earn about $80,000 a year and can reach the higher wage only by working maximum overtime on weekends and holidays.
––––
(James Nash contributed to this report.)
Photo: maisa_nyc via Flickr