Universal Voting Franchise Still Troubles Some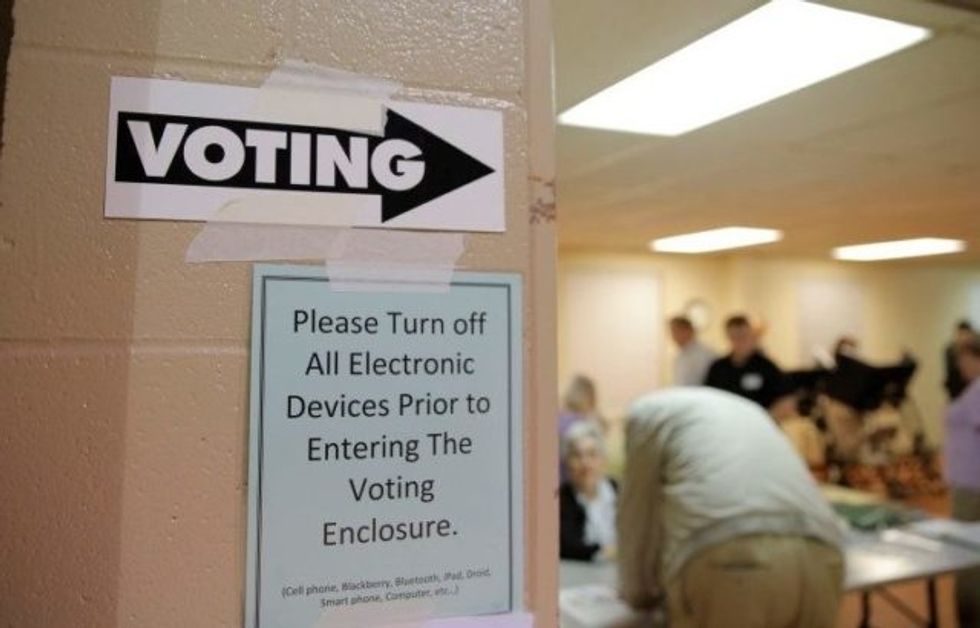 The universal franchise is a radical idea — and a relatively new one in human history. The proposition that each man or woman is given equal footing at the ballot box, whether rich or poor, brilliant or simple, black, white or brown, broke with a sturdy convention in human affairs: that the rich and powerful should rule or, at the very least, choose the rulers.
That idea of a universal franchise still chafes some in power, though; it still troubles those who believe their proper role among the chosen is threatened when all people are allowed to cast a vote. It has clearly bothered some Republican politicians, who have spent the last decade trying to reverse one of the most significant accomplishments of the civil rights era: the expanded franchise.
Around the country, GOP-led legislatures have found inventive ways to make it more difficult to vote, in some cases reversing innovations they had approved one or two years before. They were immeasurably assisted by a 2013 ruling by the U.S. Supreme Court, which, dominated by its right wing, tore the heart out of the Voting Rights Act.
With that assist, legislatures cut back on days for early voting. They ended convenient regulations that allowed qualified citizens to register and vote on the same day. And, most notoriously, they instigated a requirement for certain kinds of photo IDs, usually a driver's license. As many researchers have noted, black Americans are less likely to own cars and, therefore, less likely to possess a driver's license.
Happily, though, this long and un-American campaign against the universal franchise may finally be losing steam. In the last month, federal courts have ruled against restrictive voting laws in five states. While the Republican Party has long insisted its crusade for stringent voting laws is intended to protect against voter fraud, federal courts are beginning to see restrictions for what they are: an effort to turn back the clock to a time when few black or brown citizens were able to vote.
In North Carolina, for example, a federal court ruling stated that the GOP-led legislature's new voting restrictions "target African-Americans with almost surgical precision." Republican leaders looked at data in order to ferret out which demographic groups were more likely to be represented in certain voting patterns. When their research showed, for example, that black voters were more likely to use the two convenient Sunday voting days, they cut one of those out.
As the court noted, the state said so in its own testimony: "The State then elaborated on its justification, explaining that "counties with Sunday voting in 2014 were disproportionately black" and "disproportionately Democratic."
But, then, that wasn't the first time that Republicans have let slip their actual intent.
Back in April, a Wisconsin GOP congressman was refreshingly honest when asked whether he thought the Republican presidential nominee could carry his state, which has voted Democratic in presidential elections since 1984.
"Now we have photo ID, and I think photo ID is gonna make a little bit of a difference," replied Rep. Glenn Grothman.
As it turns out, a federal court recognized that possibility as well and struck down portions of Wisconsin's law (though the voter ID requirement remains largely intact). "The Wisconsin experience demonstrates that a preoccupation with mostly phantom election fraud leads to real incidents of disenfranchisement. … To put it bluntly, Wisconsin's strict version of voter ID law is a cure worse than the disease," wrote U.S. District Judge James Peterson.
The Founding Fathers, national myths notwithstanding, didn't actually embrace the concept of a broad franchise. They had a more restrictive construction in mind. But over generations, the nation has lived up to its ideals, expanding the right to vote to include all citizens over the age of 18.
That hasn't been an easy journey. It has taken a civil war, several amendments to the U.S. Constitution and a half-century civil rights struggle. The mighty and privileged don't share power easily. They understood that a universal franchise would upend the status quo.
And so it has. Barack Obama's victories were powered by a coalition that included record numbers of voters of color, African-American, Latino, Asian-American. That's what makes the universal franchise such a powerful weapon — and so dangerous to those who don't really believe in democracy.
(Cynthia Tucker won the Pulitzer Prize for commentary in 2007. She can be reached at cynthia@cynthiatucker.com.)
Photo: A sign points the way toward the voting booths as voting commences in North Carolina's U.S. presidential primary election at Sharon Presbyterian Church in Charlotte, North Carolina, U.S. on March 15, 2016. REUTERS/Chris Keane/File Photo