'Unpresidented': A Sign Of The Times
@JamieStiehm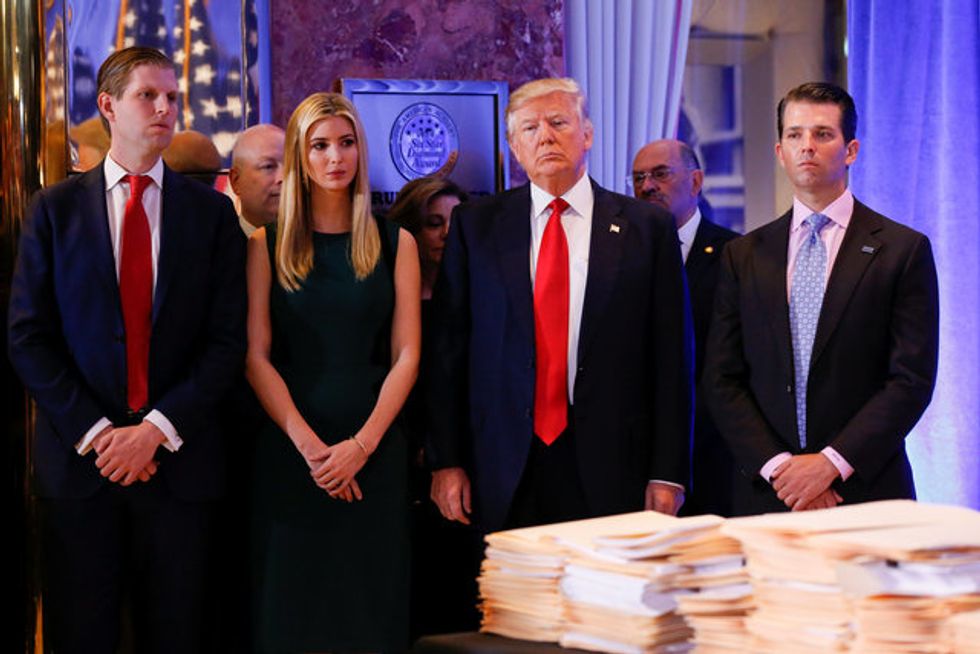 Are we living history backward? The surreal sense hits me where I live — Washington, within seeing distance of the Capitol and hearing distance of the National Cathedral.
Ask not for whom the bell tolls.
What's happening here is unprecedented, as we watch time unwind before Donald Trump's January 20 presidential inauguration at high noon.
I might add, it feels "unpresidented." A swaggering new president who lost the people's vote may mimic Julius Caesar's Rome, changing from a republic to an empire. Caesar conquered Gaul. Trump conquered Rockefeller Center, where NBC made the mogul's reality show, The Apprentice.
Never has the transfer of power been so traumatic for anyone paying attention. Since politics is the only game in town, Washington is in the show's front row. We're first to feel the winter winds blow.
As President Obama gave a high-class farewell address from his checkerboard city base, Chicago, he brought cheers, tears and fears with his last lyrical persuasion. He spoke of reason and science in a plea to save the only planet we have. He was at his best and that only made it harder.
Left unspoken was the raincloud over the hacked election. Obama stayed on high ground and didn't mention Russian-paid operatives searching for secrets on both sides of the 2016 election. That would have spoiled the mood. Because then you'd wonder what his own FBI guy, director James Comey, was up to all that time.
It's "unpresidented" to have a foreign power meddling in a presidential election, we can tell our children.
Trump's snarls and glares at a rare news conference, where he cut CNN as a purveyor of "fake news," shed more heat than light. President Richard Nixon hated the press, but kept a thin veneer of civility. But Trump's open campaign taunts toward the Fourth Estate — "dishonest" and "terrible people" — may be just prologue to the worst hostility ever to press freedom.
The cascading Cabinet hearings in the Senate halls are crackling with tension. First up was the attorney general nominee. Jefferson Beauregard Sessions (R-AL), a sitting senator, had the rare distinction of having one African-American senator and two congressmen testify against him on voting and civil rights grounds.
When Rep. John Lewis (D-GA) speaks, his words carry weight. As a young man, he was beaten on the Selma to Montgomery March and spoke at the March on Washington, in company with Martin Luther King, Jr.
Sessions' name suggests he comes from a culture still fighting the Yankees. Jefferson Davis and P.G.T. Beauregard were leading Confederate figures. He's just "Jeff" to his friends. The Southern Republican, 70, vehemently opposes reproductive rights. No surprise.
As I live and breathe, the Senate is taking steps to repeal Obamacare, even before the White House guard changes. Never mind Republicans have no plan to replace affordable health care. The night votes are a parting kiss (or diss) from Republican Leader Mitch McConnell to Obama.
As a star freshman senator, Obama forgot to court the sly Southerner's good will.
McConnell now says the Senate must run to fill the open Supreme Court seat — the one he denied to Obama's pick in 2016. Remember Merrick Garland? That, too, was "unpresidented," defying a president's power to appoint.
No worries, Trump promises to send the Senate his pick soon, so the late Antonin Scalia can be succeeded by another radical right judge — or maybe it won't be a judge at all, but one of the Koch brothers. It hardly ever happens, that an incoming president can break a 4-4 balance of court power.
Then came ExxonMobil chief Rex Tillerson to walk the marble halls: Trump's choice for top diplomat. A political newcomer, he's not up to speed on the Israel-Palestinian conflict and what the United Nations has to do with it. No problem! Business trumps government every time in our new reality.
Tillerson is no John Kerry, a great secretary of state, but the Texan titan is tight with Russian president Vladimir Putin. The former spymaster pulled the strings of the Kremlin's nefarious plot to tip Trump's victory. Nice of the befuddled CIA to say so now.
The times, they are "unpresidented."
To find out more about Jamie Stiehm and read features by other Creators Syndicate writers and cartoonists, visit creators.com.
IMAGE: U.S. President-elect Donald Trump (C) stands surrounded by his son Eric Trump (L) daughter Ivanka and son Donald Jr. (R) ahead of a press conference in Trump Tower, Manhattan, New York, U.S., January 11, 2017. REUTERS/Shannon Stapleton