3 Big Anti-Trump Marches Coming Up: Tax March, Science March, Climate March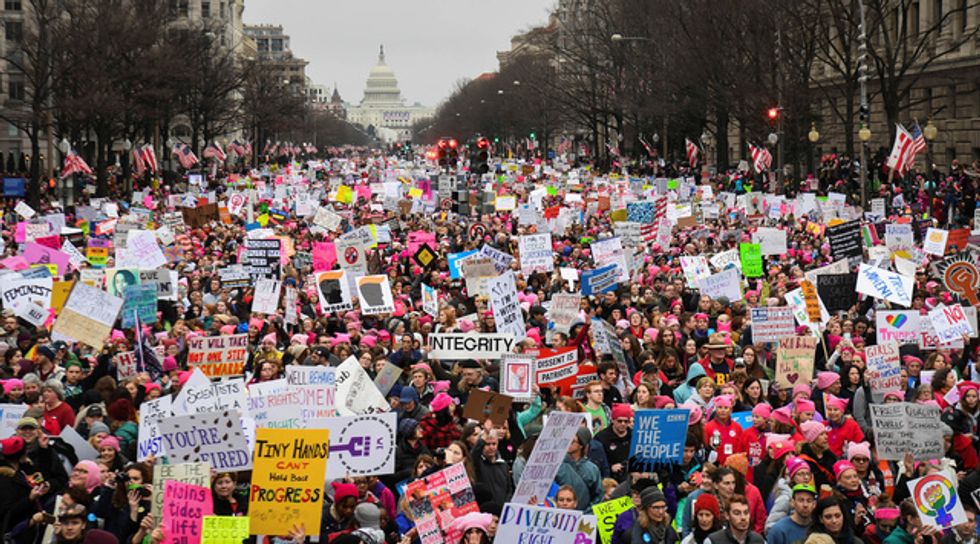 Reprinted with permission from Alternet.
Don't put away that protest sign or cut down on the calls to Congress just yet. The Trump administration has more fuel for the resistance fire, shocking Americans back into action just in time for three anti-Trump marches scheduled this month.
After a brief fling with mere half-truths (as opposed to whole-cloth lies), White House press secretary Sean Spicer returned to the podium Monday to play down Adolf Hitler's use of chemical weapons and introduce Americans to the concept of "Holocaust centers," the one-stop genocide shopping they didn't teach you about in history class.
It was a shocking performance, especially during Passover and on the heels of another shooting at an elementary school in San Bernardino.
People are also angry about an earlier immigration speech in Texas from Attorney General Jeff Sessions, whose prepared remarks referred to undocumented immigrants as "filth." Fortunately, the AG omitted that line when he delivered the speech.
These episodes are reminders of the White House's priorities and provide motivation for anyone whose activist energy is waning. Those looking for opportunities to channel this renewed strength are in luck, with three large-scale marches coming up in April, focused on taxes, climate change and supporting science.
The three major marches take place in D.C., though there will be satellite marches in towns and cities across the country. Grab a pair of comfortable shoes, dust off your posterboards and read on for more details.
1. Tax March, April 15
"We have a very clear demand: Trump, release your tax returns," Gwen Shapiro, an organizer at Philadelphia Jobs With Justice and member of the Tax March's executive committee, explained to AlterNet in a phone interview.
The idea for a march demanding the returns coalesced after the Women's March, and is modeled after that structure, with the main march in Washington, D.C., and satellite marches around the country, wherever activists are willing. Shapiro is excited by the influx of new activist energy around this cause, noting, "It's an amazing moment right now, with so many folks who want to get engaged… but a lot of those folks haven't thought about intersectional issues or [how] economic justice relates to racial justice."
She and the rest of the organizers (including members of the Indivisible Guide team and other activists, economists and educators) are using the discussion of taxes as a jumping-off point to help newer activists understand the fight for racial and economic justice, and learn how intertwined they are.
So far, the response has been gratifying. Shapiro says, "I've been organizing for nine years [and I've never] seen this spontaneous excitement about an event, at least nationally."
For more information and to find a march near you, visit the Tax March's website.
2. March for Science, April 22
From declaring that climate change is a Chinese hoax to claiming vaccines cause autism to slashing the EPA's budget, science was one of the Trump administration's earliest casualties. In response, a group of concerned scientists decided to get out of the lab and into the streets.
The result is the March for Science, which will take place in over 425 cities in addition to the main location in Washington, D.C. The goal, according to the march's website, is to build a "broad, nonpartisan, and diverse coalition of organizations and individuals who stand up for science. We are advocating for evidence-based policymaking, science education, research funding, and inclusive and accessible science."
As national co-chair Caroline Weinberg said in an April 10 statement:
"Science and scientists, and evidence based policies are under attack. Policymakers threaten our present and future by ignoring scientific evidence when crafting policy, threatening scientific advancement through budget cuts, and limiting the public's knowledge by silencing scientists. On April 22, scientists and science supporters will unite worldwide to protest these actions."
More information is available on the website.
3. People's Climate March, April 29
The first People's Climate March took place on September 21, 2014—not even three years ago, yet it feels like 10 in Trump years. On that day, approximately 400,000 people marched in New York City on the eve of the U.N. Climate Summit, to encourage leaders to be bolder in defending the environment and mitigating the harmful effects of climate change.
Now, with an administration dedicated to rolling back years of critical regulations, a coalition of 50 environmental, labor and social justice groups are once again calling for a mass protest. This time, the march will be based in D.C., and as with the other two national anti-Trump April marches, there will be sister marches around the country.
As organizers explain on the website:
"Trump's game plan has been to relentlessly attack our communities and shock us into despair. It hasn't worked because our people-powered movement is stronger than he is—together, the resistance stopped his attempts to overturn the Affordable Care Act and stymied his despicable Muslim ban. Together, we are going to do the same thing to his attacks on our climate, our air, and our water."
The plan, as laid out on the site, is to start at the capitol building and then march up Pennsylvania Avenue to the White House, aiming to surround it on all sides and then reconvene at the Washington Monument to "hear from the front line of the climate crisis and share solutions rooted in our own communities."
The march will be accompanied by climate-related music and art, and organizers plan to "assemble all our individual signs into one collective message of resistance."
More information on the People's Climate March can be found on its website.
Ilana Novick is an AlterNet contributing writer and production editor.
 
This article was made possible by the readers and supporters of AlterNet.