US And China Appear To Be At An Impasse Over North Korea And The South China Sea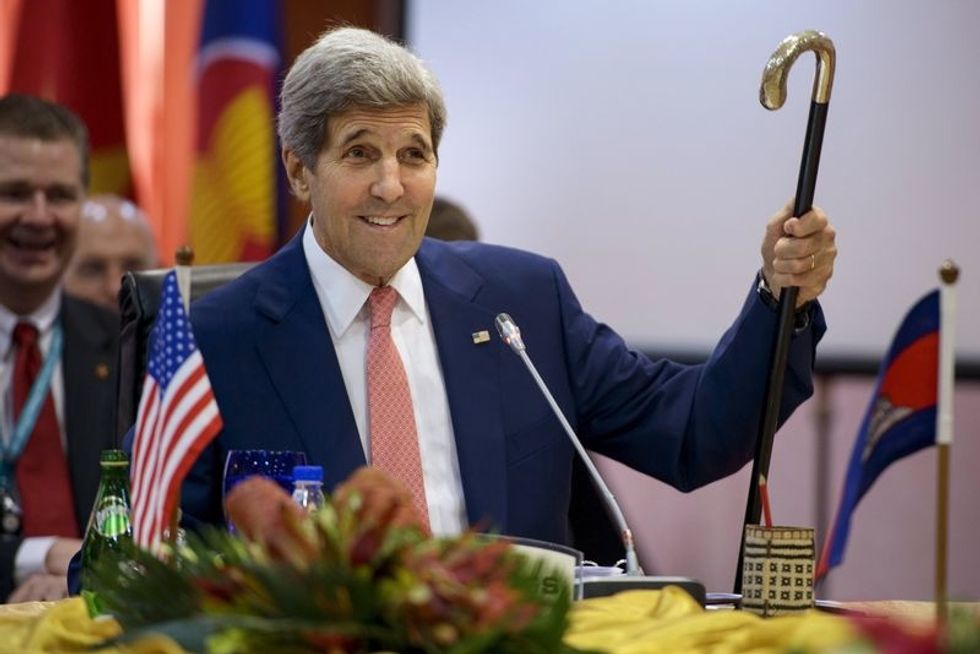 By Jonathan Kaiman, Los Angeles Times (TNS)
BEIJING — Secretary of State John F. Kerry and Chinese Foreign Minister Wang Yi appeared to reach an impasse Wednesday over the severity of prospective sanctions for North Korea, three weeks after the isolated country conducted its fourth nuclear bomb test.
Kerry arrived in Beijing on Tuesday night after two days in Laos and Cambodia, and met with Wang for more than four hours Wednesday morning. North Korea "topped the agenda," he told reporters at a news conference afterward.
At the conference, Kerry and Wang painted a positive picture of U.S.-China relations in broad strokes, discussing "cooperation" on a range of issues including the Iranian nuclear deal, wildlife trafficking and combating the Ebola virus.
Yet their failure to bridge a deep divide on North Korea's nuclear program and Beijing's territorial ambitions in the South China Sea illustrated the fragility of the region's security environment.
On Jan. 6, North Korea announced that it successfully conducted its first underground test of a hydrogen bomb; experts said that a nuclear bomb clearly detonated but raised doubts about Pyongyang's claim of owning a significantly more powerful thermonuclear weapon.
Beijing has provided an economic lifeline to North Korea for decades and fears that unrest in the country could destabilize China's northeastern provinces.
"North Korea poses an overt threat, a declared threat to the world," Kerry told reporters. He proposed negotiating a U.N. Security Council resolution to tighten sanctions on North Korea, dealing a potential blow to China-North Korea trade in industries including aviation, shipping, and the exchange of resources such as fuel and coal.
"The U.S. will do what is necessary to protect the people of our country and our friends and allies in the world," he said. "All nations, particularly those who seek a global leadership role or have a global leadership role, share a fundamental responsibility to meet this challenge with a united front."
Although Wang agreed that the U.N. Security Council must pass a new resolution in response to the nuclear test, he balked at the prospect of tightening sanctions. "Sanctions are not an end of themselves," he said. "We must point out that the new resolution should not provoke new tension in the situation, much less destabilize the Korean peninsula."
Experts said that China likely does not see much upside in adopting the United States' proposed framework for dealing with Pyongyang.
"On the nuclear side, I've never had any doubt that the Chinese want to end this program but they don't see a strategy in the international community to achieve that goal," said Bonnie Glaser, a senior adviser for Asia at the Center for Strategic and International Studies. "A lot of people think China is the missing link and if only it would get on board with sanctions that North Korea could be compelled to give up its nuclear weapons. The Chinese just don't look at it like that.
"They play out in their minds, what are the consequences if they really agree to very tough sanctions — if they cut off oil deliveries to North Korea?" she added. "So that creates instability in North Korea most likely, then China ends up with a crisis on its border that potentially brings U.S. troops closer to China, and you end up with a worse situation than when you started."
On Wednesday morning, China's New China News Agency accused Washington of "uncompromising hostility" toward North Korea, "flaring up the country's sense of insecurity and thus pushing it towards reckless nuclear brinkmanship."
Kerry also reached loggerheads with Wang regarding China's maritime ambitions, which have riled the country's neighbors and threatened the region's U.S.-led security order.
China claims virtually all of the South China Sea, a potentially oil and gas-rich area of the western Pacific Ocean dotted with remote islands and reefs. Vietnam, the Philippines, Brunei, Malaysia and Taiwan also claim parts of the sea as their own.
China has stepped up its claims in recent years with a series of heavyweight projects, including building artificial islands on a shoal also claimed by the Philippines. In October, the U.S. sent a warship within 12 nautical miles of these islands, drawing harsh rebukes from Beijing.
"The South China Sea islands were historically China's territory, and China has a right to protect its maritime sovereign and legal rights and interests," Wang said at Wednesday's news conference. He denied accusations that China has militarized its artificial islands, adding that Beijing has built "some necessary facilities for self-defense."
Southeast Asian countries are indeed divided over how to handle the issue, and the lack of consensus has allowed China to advance its projects with limited opposition.
(Los Angeles Times staff writer Julie Makinen contributed to this report.)
©2016 Los Angeles Times. Distributed by Tribune Content Agency, LLC.
Photo: US Secretary of State John Kerry holds up Joseph Kennedy's cane, which has been used by John F. Kennedy and Ted Kennedy, while talking about his broken leg during the 8th Lower Mekong Initiative Ministerial Meeting at the Putra World Trade Center August 5, 2015 in Kuala Lumpur, Malaysia. REUTERS/Brendan Smialowski/Pool