Venezuela's Troubled Times: Maduro's First Year In Power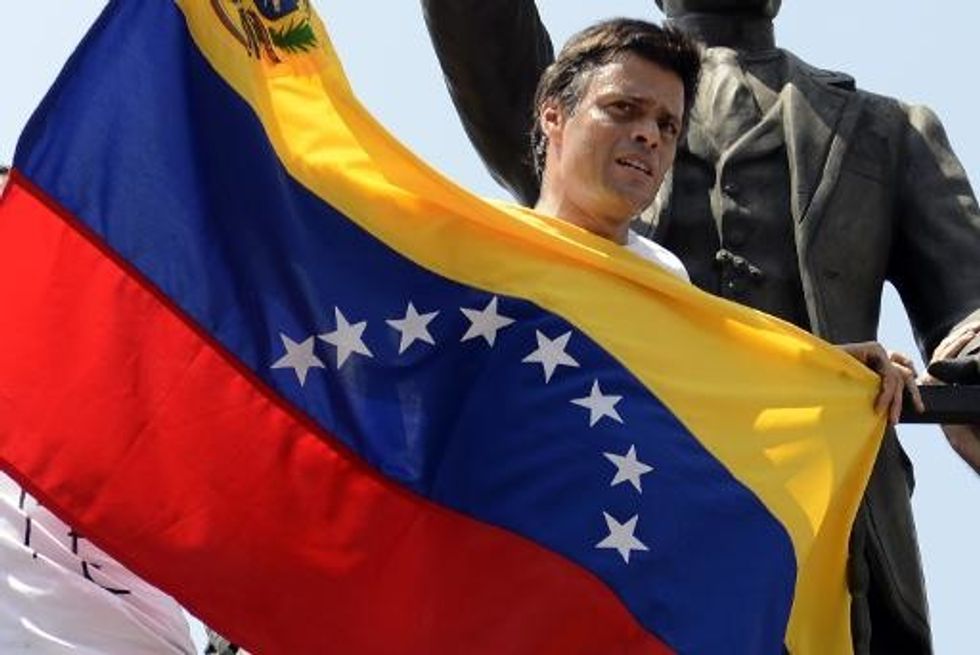 By Jim Wyss, The Miami Herald
BOGOTA, Colombia — Venezuelan President Nicolas Maduro often says he never wanted the country's top job. Instead, the 51-year-old former union organizer and transportation worker says he's simply following the orders of the late President Hugo Chavez, who asked him to carry on the Bolivarian Revolution.
The last 12 months prove how tall El Comandante's order was.
Since taking office April 19, 2013, Maduro has faced a tanking economy, soaring crime, food shortages, deadly protests, and questions about the contested election that brought him to power. His embattled administration also says it's the victim of Middle Eastern terrorists, Chinese mercenaries and shadowy conspiracies launched from the United States, Panama and Colombia.
What is clear is that Maduro's tenure has been troubled from the start. Chavez's death from an undisclosed form of cancer March 5, 2013, triggered snap elections that pushed his hand-picked successor and longtime foreign minister into an intense campaign.
Maduro won with just a 1.5 percent margin in a race that the opposition contends was rigged. The ensuing protests left at least 11 dead and drove speculation that Maduro — who never graduated college and is often derided as the bus driver he once was — didn't have the mettle to hold the reins of Latin America's fifth-largest economy. And that was all before he put on the presidential sash.
"Maduro never enjoyed a honeymoon period because his legitimacy and the legitimacy of his victory have always been in question," said Edgar Gutierrez, a Caracas-based political consultant. Most leaders, even those who win tight races, enjoy a post-victory bump in the polls that gives them leeway to roll out reforms, he said.
Instead, Maduro has been on "precarious political ground" from day one, he added.
But even as Maduro inherited Chavez's problems — namely, the second-highest murder rate in the world after Honduras, and the region's highest annual inflation rate at 57 percent — he has remained Chavez's most loyal ally. He often works from the hillside crypt where his former boss is buried and he says he relies on El Comandante's guidance from beyond the grave to navigate the nation's troubled waters.
His first months in office had all of Chavez hallmarks: He doubled down on the populist social policies, or "missions," that were Chavez's trademark, and savaged his rivals as "coup mongers" and "fascists."
"Instead of trying to reconcile with the part of the country that didn't vote for him to expand his political base, he started governing for the 25 to 30 percent that were his most ardent followers," said Carmen Beatriz Fernandez, a political analyst with DataStrategia in Caracas. "It was rule by an extremist for extremists and that has led to national polarization."
Maduro claims it's the opposition that's on the fringe. Since taking office, his administration has denounced what it says are more than a dozen assassination attempts and hundreds of acts of sabotage. During the protests that have roiled the nation since February, officials said they captured a Chinese "mercenary" and a "Middle Eastern terrorist" who were working for the opposition and plotting mayhem. Former U.S. diplomats have been accused of planning Maduro's murder. The government rarely provides proof of the allegations.
Maduro also blames the "oligarchy" and business elite for the "economic warfare" he says is driving inflation and producing shortages of everything from flour, chicken and toilet paper despite Venezuela's boasting the world's largest oil reserves.
During his 14 years in power, Chavez had the charisma and political savvy to pin the country's problems on his foes, said Agustín Blanco Munoz, a historian at Caracas' Central University who interviewed the deceased leader on several occasions. But Maduro simply doesn't have the chops to play that role, he said.
"This is a Chavez government without the liveliness and clarity of Chavez," Blanco said. "And the continuation of Chávez without Chavez isn't producing the best results for the country."
But Maduro has confounded those who underestimate him. In the run-up to a key municipal race last December, he essentially declared a national fire-sale, forcing retailers to slash prices and capping company profits at 30 percent. The "fair prices" law spurred a shopping frenzy as Venezuelans lunged for televisions and stereos at steep discounts.
When it was time to hit the polls a few weeks later, voters seemed grateful. Despite predictions of a government rout, the ruling PSUV party and its allies won 76 percent of the mayoral races.

The economic move "was like a sugar rush that helped Maduro win" the race, said Gutierrez, the political analyst. "But after the rush comes the crash. And that's led us to where we are today."
The Venezuela of "today" is mired in street demonstrations since February that have left at least 41 dead on both sides of the political divide and more than than 500 injured. The opposition says it's simply exercising its right to peacefully protest the government's failing policies. Maduro claims the demonstrations are a thinly veiled coup attempt backed from abroad. He has ousted U.S. and Panamanian diplomats in response.
The government also has seized on the protests to isolate some of its most strident critics. Over the last two months, the administration has jailed Leopoldo Lopez, the head of the Voluntad Popular party, and two opposition mayors. The government also stripped opposition Deputy Maria Corina Machado of her seat.
That has left more moderate members of the opposition in "peace talks" with the administration, begining last week. The negotiators have vowed to free their jailed and exiled comrades, but it's not clear the government will give ground.
Blanco, the historian, says Chavez, and now Maduro, have been effective in dividing and weakening the opposition.
"Yes, there are problems, but this administration will continue in power because, fundamentally, there's not an opposition that can defeat them," he said.
"Maduro has military support, the power of petroleum and the support of the 'social army,'" Blanco said, referring to the millions who benefit from government programs like free housing, health care and education. "And of course, he has Cuba's political support — and advisers there have a proven track record of being able to hold onto power during the worst of times."
Others aren't convinced that Maduro is invulnerable.
"The main variable affecting Maduro's longevity will be the government's ability to improve the economy, since the catalyst for any future transition will not be the opposition but rather discontent spilling over into chavismo's base," Risa Grais-Targow, with the New York-based analytical firm Eurasia Group, wrote in a letter to clients.
Although Maduro says new economic reforms are coming as soon as next week, it's unclear how effective they will be at squelching inflation and reviving productivity. "As a result, the economic outlook will likely remain challenging, which implies that the potential for discontent to rise will remain high," Grais-Targow wrote.
Some in the opposition believe they can stop Maduro's ascent during the 2015 legislative race or, perhaps, during a 2016 recall.
But Maduro has proved his critics wrong in the past.
"This year has been a powerful demonstration that (the opposition) can't defeat us through protests, violence, elections or an economic war," Maduro recently told a crowd. "They will not come back."
AFP Photo/Leo Ramirez