Victims' Relatives Gather 14 Years After September 11 Attacks On U.S.
@reuters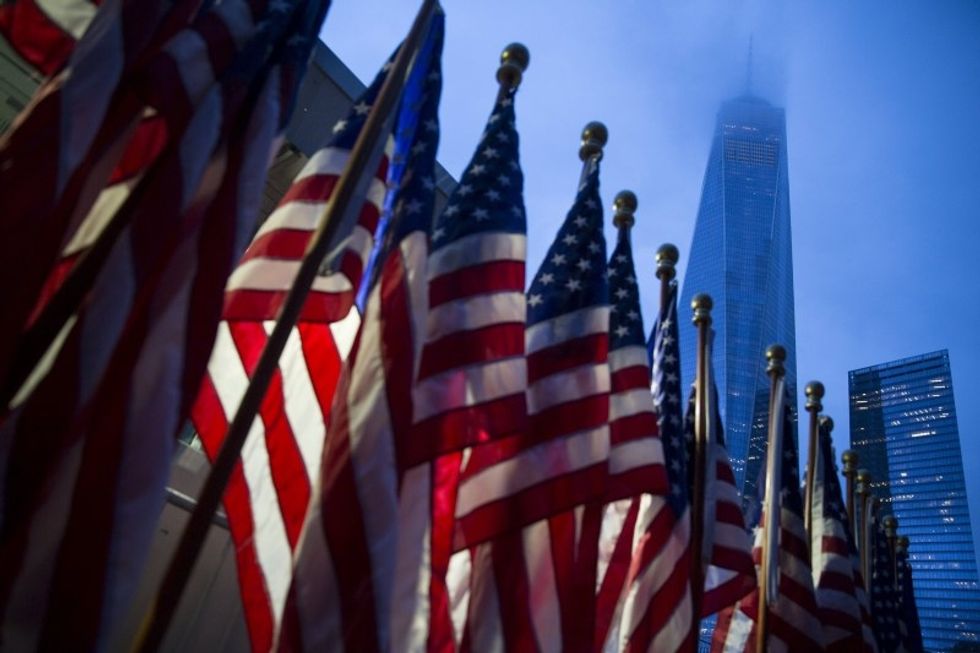 By Daniel Bases
NEW YORK (Reuters) – Relatives assembled under overcast skies on Friday to commemorate nearly 3,000 people killed in the Sept. 11 attacks in New York, Pennsylvania and outside Washington 14 years ago, when airliners hijacked by al Qaeda militants brought death, mayhem and destruction.
In New York, families of the victims read their names in a solemn and poignantly familiar pattern, watched over by service members in their dress uniforms.
Emblematic of the generations affected, children who were not old enough to remember their late relatives or had yet to meet them participated in the roll call.
"We are so blessed to have you as an angel and we are empty without you, we love you very much," said Daniel Pagan, who lost his cousin Melissa Candida Doi in the attack.
Families hugged each other close, some carrying photographs or wearing t-shirts depicting lost loved ones, or bearing placards with the words 'we will never forget.'
First responders were thanked numerous times by the family members for their work on what became known as 'the pile.'
Many of those who were first on the scene and those who worked for weeks afterwards searching through the rubble are still suffering from various illnesses brought on by the toxic air.
Mourners stood at the empty footprint of the World Trade Center Twin Towers, toppled by two hijacked airliners on that clear, sunny morning in 2001.
Music and the soothing sounds of the waterfalls emptying into reflecting pools at the at 9/11 Memorial and Museum formed a backdrop as families placed flowers against their loved ones' names engraved in the bronze panels.
A veteran's trumpet salute closed the ceremony after nearly four hours, with the emptying plaza hushed and subdued.
"We come here every year. We live in New Jersey. The crowds keep getting less, but my wife and I, as long as we're breathing, we'll be here," said Tom Acquaviva, who with his wife Josephine, lost their son Paul when the towers fell.
"No remains were ever found, so basically this is his cemetery," he said, adding: "Couldn't ask for a better son."
Hijackers crashed two other commercial jets into the Pentagon in Arlington, Virginia and into a field in Shanksville, Pennsylvania.
The New York ceremony, where politicians past and present mixed with families but gave no speeches, was punctuated by moments of silence and bell ringing to mark the moments when each of the four planes crashed and when the towers fell.
In Washington, President Barack Obama and First Lady Michelle Obama, joined by staff, bowed their heads for a brief moment of silence on the south lawn of the White House to mark the anniversary.
Defense Secretary Ash Carter led a remembrance ceremony for relatives of those killed at the Pentagon.
Relatives of the 40 passengers and crew members who died aboard United Airlines Flight 93 gathered at the newly dedicated Flight 93 National Memorial in Shanksville.
The passengers fought back against the hijackers, who crashed the plane upside down at nearly 600 mph (965 kph).
In New York, the buzz of increased commerce from new residential and business towers has returned a large degree of normalcy to the area, known after the attacks as Ground Zero.
The day also honors those who were killed in 1993, when a car bomb tore through one of the parking garage of one of the towers.
Next to the 16-acre (6.5-hectare) site where the Twin Towers stood is the newly opened 1 World Trade Center, the tallest skyscraper in the Western hemisphere.
The first plane slammed into the North tower at 8:46 a.m., followed by a second plane hitting the South tower at 9:03 a.m. Within two hours, both towers had collapsed, engulfing lower Manhattan in acrid dust and smoke and debris that burned for days.
(Writing and additional reporting by Daniel Bases in New York and Ayesha Rascoe in Washington; Editing by Will Dunham and Bernadette Baum)
Photo: One World Trade Center is seen behind U.S flags on the morning of the 14th anniversary of the 9/11 attacks, in Lower Manhattan in New York September 11, 2015.  REUTERS/Andrew Kelly