For Some Victims, Reporting A Rape Can Bring Doubt, Abuse — And Even Prosecution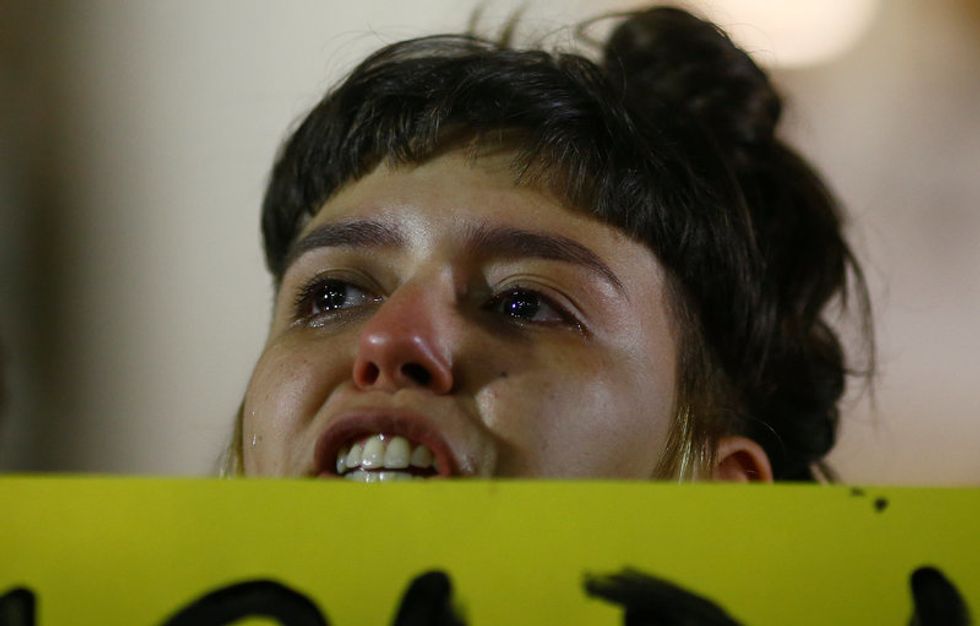 Reprinted with permission from ProPublica.
The women accusing the Republican Senate candidate Roy Moore of sexual misconduct have faced doubt and derision. Other women, who have alleged sexual assault or harassment by powerful men in Hollywood, Silicon Valley and elsewhere, have become targets for online abuse or had their careers threatened. Harvey Weinstein went so far as to hire ex-Mossad operatives to investigate the personal history of the actress Rose McGowan, to discourage her from publicly accusing him of rape.
There are many reasons for women to think twice about reporting sexual assault. But one potential consequence looms especially large: They may also be prosecuted.
This month, a retired police lieutenant in Memphis, Tennessee, Cody Wilkerson, testified, as part of a lawsuit against the city, not only that police detectives sometimes neglected to investigate cases of sexual assault but also that he overheard the head of investigative services in the city's police department say, on his first day in charge: "The first thing we need to do is start locking up more victims for false reporting." It's an alarming choice of priorities — and one that can backfire.
In 2015 we wrote an article for ProPublica and the Marshall Project about Marie, an 18-year-old who reported being raped in Lynnwood, Washington, by a man who broke into her apartment. (Marie is her middle name.) Police detectives treated small inconsistencies in her account — common among trauma victims — as major discrepancies. Instead of interviewing her as a victim, they interrogated her as a suspect. Under pressure, Marie eventually recanted — and was charged with false reporting, punishable by up to a year in jail. The court ordered her to pay $500 in court costs, get mental health counseling for her lying and go on supervised probation for one year. More than two years later, the police in Colorado arrested a serial rapist — and discovered a photograph proving he had raped Marie.
What happened to Marie seemed unthinkable. She was victimized twice — first raped, then prosecuted. But cases like hers can be found around the country. In 1997, a legally blind woman reported being raped at knife point in Madison, Wisconsin. That same year, a pregnant 16-year-old reported being raped in New York City. In 2004, a 19-year-old reported being sexually assaulted at gunpoint in Cranberry Township, Pa.
In all three instances, the women were charged with lying. In all three instances, their reports turned out to be true. The men who raped them were later identified and convicted.
In 2001, a 13-year-old in White Bear Lake, Minnesota, reported being abducted and molested. "You keep lying and lying and lying and lying," a police detective told her. In 2015, a physical therapist in Vallejo, California, reported being kidnapped and sexually assaulted. The police called her story a hoax. One lieutenant said that she "owes this community an apology." In both instances, video footage later surfaced affirming the victims' reports.
In Marie's case, and with some of the other cases, the victims hadn't acted the way the police thought a victim should act. Their affect seemed off, or they declined help from an advocate, or they looked away instead of making eye contact. As a result, their stories became suspect.
In Lynnwood, the police have since changed the way they do things to prevent anything like Marie's case from happening again. Detectives today receive additional training about trauma and cannot doubt a rape report absent "definitive proof" that it is false. In an effort to build trust, the department ensures that victims get immediate help from specially trained advocates. Those changes correspond with guidelines for rape investigations that sex-crimes experts have urged for police departments around the country. Those guidelines stress: The police should investigate thoroughly while reserving judgment. Evidence trumps assumptions. The police should be wary of stereotypes; they should not, for example, find an adolescent victim less believable than an adult. Some victims will be hysterical, others stoic; police should not measure credibility by a victim's response. Police should not interrogate victims. They should listen.
Nationally, police departments, victim advocates and academics have experimented with ways to relieve the burden on rape victims who might fear dismissal, or even arrest, by reporting their attacks to the police. Perhaps the most influential campaign to change police procedures is known as Start by Believing, sponsored by End Violence Against Women International, an organization that conducts training for the police and victim advocates. The campaign asks participants to make a simple pledge: Start the process of investigation by believing those who come forward. Police agencies in nearly every state have joined up.
Police in Ashland, Ore., started a program called You Have Options. Agencies that participate handle sexual-assault complaints in a radically different way. Victims can report a rape but request that the police not pursue criminal charges. The idea is to give more control to victims, who might otherwise be reluctant to involve themselves with law enforcement. The detective who founded the program believes it will help the police in the long term by increasing the number of people who come forward and allowing police to collect information that could be used in future investigations if a victim changes his or her mind.
Both programs are controversial. For instance, Stacy Galbraith, the detective in Colorado who arrested the serial rapist in Marie's case, told us her starting point isn't believing: "I think it's listen to your victim. And then corroborate or refute based on how things go."
You Have Options is an even tougher sell. Many police officers are instinctively resistant to the idea of not immediately investigating a rape. Their job, after all, is to catch bad guys, not let them get away.
It is clear that some law enforcement agencies have begun to experiment with ways to be more responsive to rape victims. It is equally clear that there are no simple solutions. The path forward will almost certainly be contentious. But if we are going to make it easier for victims to tell their stories to law enforcement, change is essential.
Ken Armstrong and T. Christian Miller are senior reporters at ProPublica and the authors of "A False Report: A True Story of Rape in America," to be published in February.