Video: How DeSantis Failed To Protect Florida From COVID-19
@DevilsTower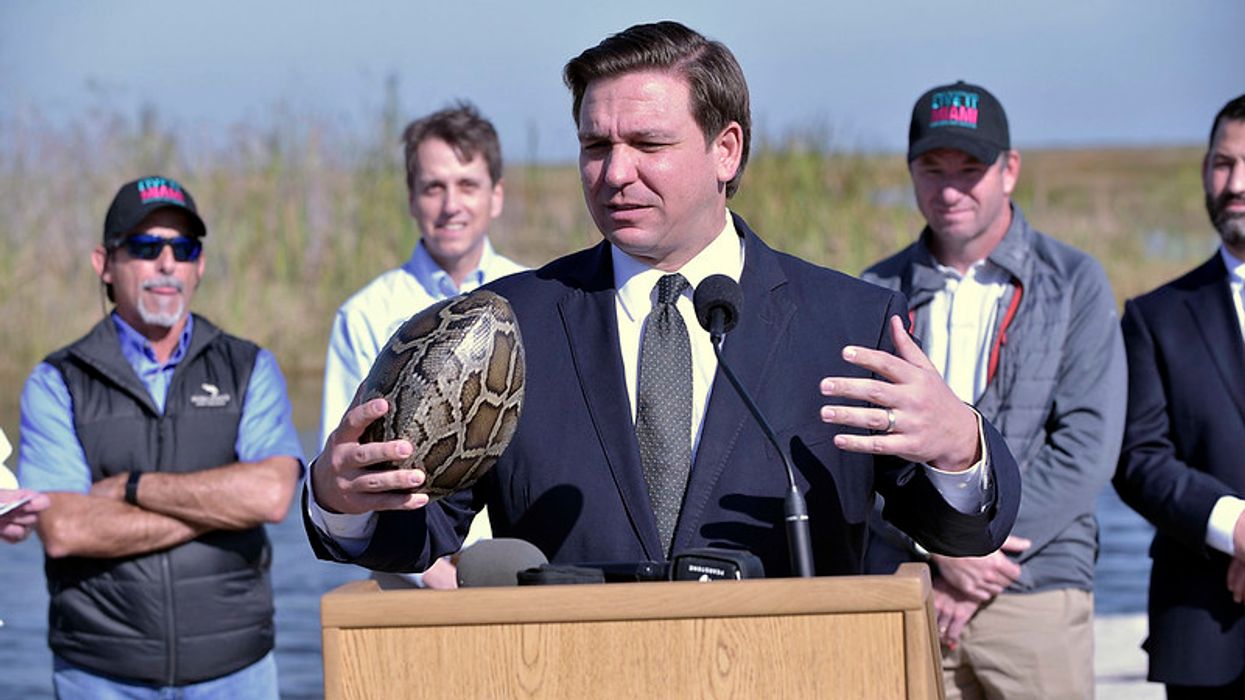 Reprinted with permission from Alternet
On May 20, Florida's Republican Governor Ron DeSantis was continuing a statewide victory lap that saw him bragging about his "success" in handling the COVID-19 pandemic in every henhouse, outhouse, and doghouse in the state—and on every right-wing media platform. Donald Trump held up Florida as the ultimate example of the benefits of reopening in a joint appearance with DeSantis on April 28 and was still at it on June 5, when Trump touted Florida for it's "tremendous success."
---
"Look at what's going on in Florida, it's incredible," said Trump at a briefing on job numbers that were marginally less awful than expected. "If you look at so many different places that have opened up … the ones that are most energetic about opening they are doing tremendous business and this is what these numbers are all about." In a sense, this is true. What's happening in Florida is fantastic, it is tremendous, it's even awesome—in the Old Testament sense. On Saturday, Florida logged just under 10,000 new cases of COVID-19. Not only is that a new record for the state, it's a higher number than any state since New York during the heart of the crisis there.
In the video recorded on May 20, DeSantis can be heard berating reporters and bragging repeatedly about how his state is not like New York. "… you got a lot of people in your profession who waxed poetically for weeks and weeks about how Florida was going to be just like New York," said DeSantis. "Wait two weeks and Florida's going to be next just like Italy, wait two weeks. Well hell, we're eight weeks away from that and it hasn't happened." DeSantis carried on, declaring that people just didn't want to admit that he's been so successful in holding off the disease. "I think that people just don't want to recognize it because it challenges their narrative," said Mr. reopening. "It challenges their assumption so they gotta try to find a boogie man. Maybe it's that there are black helicopters circling the department of health, if you believe that, I got a bridge in Brooklyn I'd like to sell you."
DeSantis' sneering at New York, and the media, and medical experts goes on for some time, and his crowing threatens to make roosters jealous. But there is something to be learned from comparing his state with New York.
The day when DeSantis was bursting open his shirt with his inflated chest wasn't even three weeks after the end of the state's stay at home order. It was also on the same day that DeSantis allowed Disney World to begin reopening, and two days before DeSantis told summer camps and youth organizations to just go on as they pleased, without restrictions. Just as with Greg Abbott in Texas, DeSantis either did not recognize, or did not want to recognize, that reactions to changes in regulations did not instantly appear on the next day's case charts. The day in which he dismissed the concerns of reporters and medical experts alike was still solidly in the shadow of protection generated by the state's too-brief stay-at-home order. DeSantis might as well have been bragging about how well he handled a hurricane before the storm arrived.
The last week in Florida has matched—and exceeded—the climb that New York made in the middle of March. The exponential rise in cases is brutal, and despite a lower case fatality rate following months of better learning how to treat this disease and a lower average age of those infected, these numbers cannot help but signal a coming rise in another column of Florida's grim statistics. The one labelled "deaths."
What's happening to Florida is a warning to other states, including New York. The reduction in transmission rates generated by stay-at-home orders is real, and may be unmatchable through other means until a vaccine is available. A 100% mask mandate may provide a similar effect, but only if it is rigidly enforced.
In any case, other governors might want to check their mouths at the door, before they're caught being a confirmed murderous asswipe, like Ron DeSantis.
Here was Florida Governor Ron DeSantis a month ago puffing out his chest about 'successfully' ignoring public healt… https://t.co/JMXrfFzuwY

— Matt Rogers 🎙️ (@Matt Rogers 🎙️) 1593186891.0