Visiting Migrant Facilities, Ocasio-Cortez And Pressley Face Down Trumpists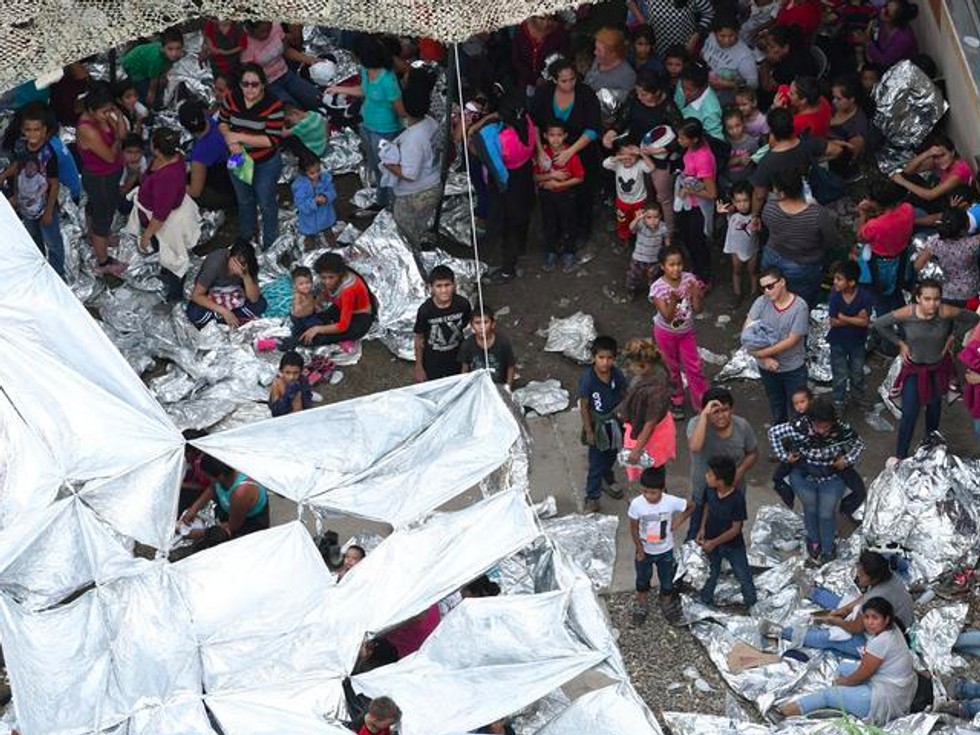 A group of Democratic members of Congress visited U.S. facilities detaining migrants on Monday, confirming reports that the detention centers exhibit abusive conditions and widespread mistreatment of the adults and children forced to live in them.
Rep. Alexandria Ocasio-Cortez (D-NY) detailed much of the abominable state of the facilities on Twitter, including the devastating discovery that agents were telling migrants to drink out of toilets. Children were quarantined when sick, families continued to be separated, and the migrants were overcrowded in cramped cells, the lawmakers reported.
Rep. Ayanna Pressley (D-MA), too, visited the camps and delivered a passionate speech along with the others denouncing the conditions outside of a Clint, Texas, location. Pro-Trump protesters showed up to scream at the Democratic women. When Pressley spoke, she was undeterred by their taunts.
"Keep yelling!" she said. "This is very appropriate! Vile rhetoric for vile actions!"
She continued: "This is about the preservation of our humanity. And this is about seeing every person there as a member of your own family. I am tired of the health and the safety, the humanity, and the full freedom of black and brown children being negotiated and compromised and moderated."
Rep. Ayanna Pressley: "I learned a long time ago that when change happens it's either because people see the light or they feel the fire.

"We're lifting up these stories in the hopes that you will see the light. And if you don't, we will bring the fire." https://t.co/nlBLDXa7Cspic.twitter.com/98XCO5embR

— ABC News Politics (@ABCPolitics) July 1, 2019