Voter ID Laws Make The Poll Tax Look Good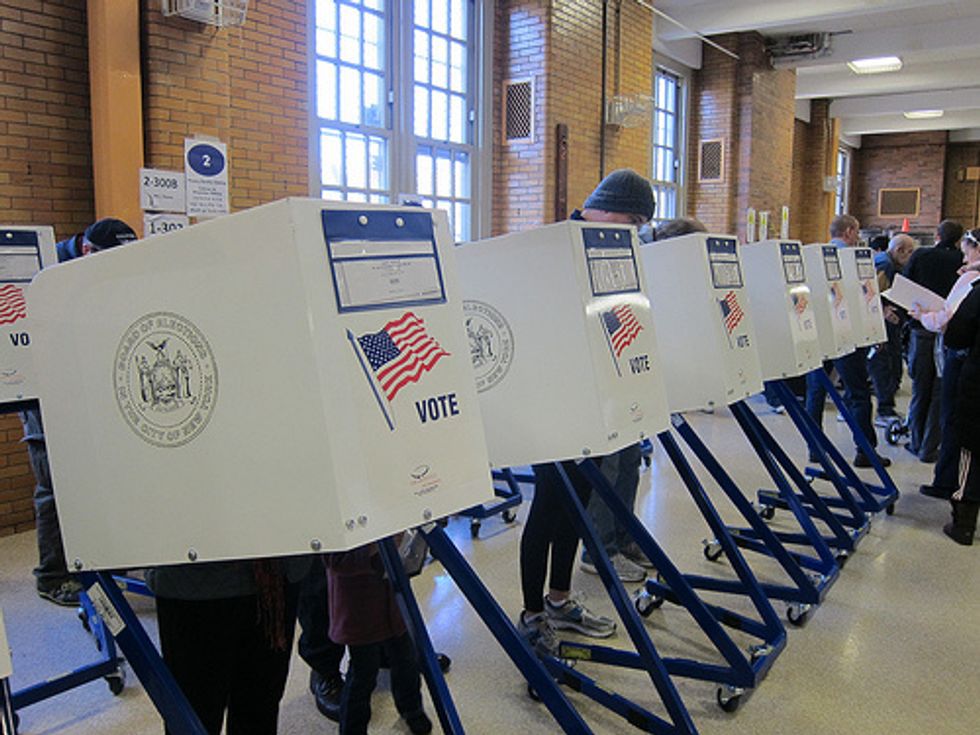 The poll tax is looking pretty tempting in the rear-view mirror. It was $1.50 in 1964, when the 24th Amendment outlawed it as a requirement for voting in federal elections. Adjusted for inflation, the tax would be less than $12 today. That makes it a lot cheaper — and infinitely easier — than getting hold of exactly the right documentation to cast a ballot under some state laws.
The recent wave of rulings and opinions on voter ID laws makes for depressing, at times infuriating, reading. There is the parade of "practical obstacles" summarized by U.S. District Judge Lynn Adelman, writing on the Wisconsin law. Trying to learn what you need, collecting the documents, getting to and standing on line at one or more state offices that are open only during business hours, and perhaps having to deal with multiple other state and federal agencies to address discrepancies — just skimming the list will make your stomach clench and your head ache. It's a major undertaking for a high-income, highly educated person with flexible work hours and access to public officials. It's prohibitive in multiple ways for others.
There are the calculated choices majority Republicans made in Texas about what kinds of ID to accept and reject. They said yes to gun permits and military IDs and didn't mess with absentee ballots — all ways to "broaden Anglo voting," U.S. District Judge Nelva Gonzales Ramos wrote. They rejected student IDs, state government employee IDs and federal IDs, all "disproportionately held by African-Americans and Hispanics."
There is the barrier of cost, addressed in an opinion on the Wisconsin law by Judge Richard Posner, a conservative named by Ronald Reagan to the Seventh Circuit Court of Appeals. He cited a Harvard Law School report that found the cost of documentation, travel and waiting time to get an ID to be $75 to $175. That's 50 to 100 times more than that $1.50 poll tax, and all you'd have to do is pay at the polling station before voting.
The poll tax, in many cases applied selectively and used to discriminate, had no place in a democracy. Yet how different was it from the hurdles placed in the path of so many voters today?
These burdens, and possibly even the outcome of a close race or two, hang in the balance as the courts whipsaw back and forth in the weeks before the Nov. 4 election. Ramos blocked the Texas law last week, she was reversed by a three-judge appeals panel this week, and the next day the Supreme Court was asked to again block the law from taking effect. The Wisconsin law went through a similar judicial rollercoaster before the Supreme Court last week said it could not go forward this year.
Posner's dissent in the Wisconsin case is memorable for personal asides that inject bracing reminders of the real world, and an overall scathing tone. His 11-page appendix, for instance, is called "Scrounging for your birth certificate in Wisconsin." All 11 pages are required forms and instructions on how to fill them out.
"Scrounge" was the Seventh Circuit panel's verb of choice in its short-lived ruling to let the law take effect. The panel referred disapprovingly to people "unwilling to invest the necessary time" to "scrounge up a birth certificate and stand in line at the office that issues driver's licenses." To which Posner responded that "the author of this dissenting opinion" — that would be him — "has never seen his birth certificate and does not know how he would go about 'scrounging' it up. Nor does he enjoy waiting in line at motor vehicle bureaus."
Posner wrote that since voter-impersonation fraud is virtually non-existent, the only motivation for such requirements is "to discourage voting by persons likely to vote against the party responsible for imposing the burdens." He uses charts to show that of the nine states with the strictest ID requirements, eight laws were passed by all-GOP legislatures and seven of the eight also had GOP governors.
The morality of all this is bad enough — we're talking about voting, for Pete's sake, the bedrock of the republic, a right people died to win. But the voter ID fad also reveals flawed political strategy. It courts backlash, in the form of higher minority turnout. And it will make it harder to repair relations with the affected groups when demographic reality takes hold and the GOP needs their votes.
If the Supreme Court decides to rule on the merits of voter ID laws, let's hope it acts with more dispatch than it did on poll taxes. The taxes were declared constitutional in 1937. It was not until 1966, two years after the 24th Amendment banning them in federal elections, that the high court ruled them unconstitutional in all elections. We don't need 29 years to know that voter suppression is wrong.
Follow Jill Lawrence on Twitter @JillDLawrence. To find out more about Jill Lawrence and read features by other Creators Syndicate writers and cartoonists, visit the Creators Syndicate website at www.creators.com.
Photo: Joe Shlabotnik via Flickr
Want more political news and analysis? Sign up for our daily email newsletter!