Some Voters In Chicago Wait 9 Hours To Vote: 'I Just Didn't Want To Be Denied'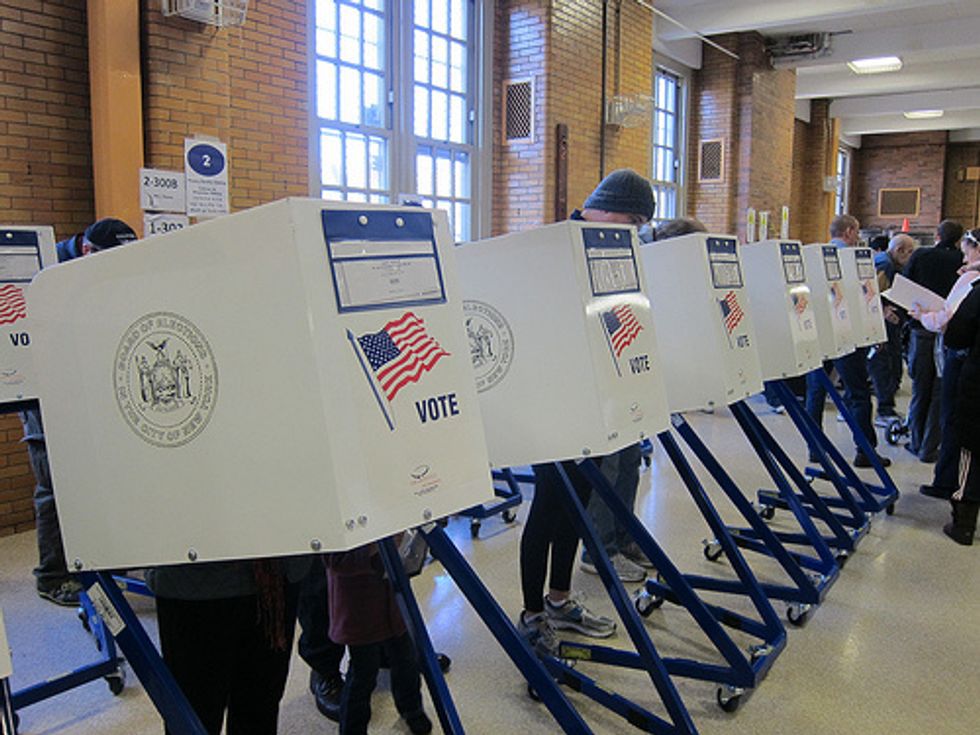 By Quinn Ford, Chicago Tribune
CHICAGO — The speeches were long over and most of the races had been called, but Decorda McGee still waited in line at a Chicago polling place to cast his ballot.
After nine hours, McGee finally voted around 3 a.m. Wednesday, the last person in a long, slow line of people who took advantage of same-day registration voting.
"I just didn't want to be denied," McGee said after walking out of his North Side polling place. "I wasn't going to be denied my right to vote, and that was the sentiment of everybody in there."
Under a law signed this past summer, people were allowed to both register and vote on Election Day at designated polling places throughout the state.
People who had not registered to vote but had lived in their precincts for at least 30 days before the election could bring two forms of identification, one of which included a current address. The ballots will be considered "provisional" and set aside from the regular vote count until the registration information provided by the new voter could be authenticated.
But same-day registration was not available at every polling place, which led to confusion for some voters. In suburban Cook County, there were fewer than two dozen same-day registration locations. Election authorities in each county posted same-day registration locations on their websites.
Chicago had five designated sites across the city for those who wanted to register and vote on the same day, but long lines and problems with voting equipment meant some, like McGee, had to wait for hours.
By the time McGee voted, virtually all the races had been decided. In the hotly contested gubernatorial race, Bruce Rauner claimed victory before midnight but Gov. Pat Quinn said he would wait until every vote was counted.
McGee, a Democrat, said Quinn's refusal to concede "really pumped me to stay."
"He's not giving up, we're not giving up," McGee said. "It was really important."
Jennifer Omoregie, 29, was also one of the last to cast her vote. She said she was frustrated as the results of races come in while she was still in line. But she too refused to leave.
"It's my right. If I'm here at 3 a.m., you still have to let me vote even though it's Nov. 5 because I was here before 7," she said.
Omoregie blamed mismanagement and a lack of polling equipment and volunteers for the long line. She saw at least 100 people leave without voting, she said.
"It was a zoo. They didn't manage it at all," she said. "It was completely ridiculous."
As the end of the line cast their ballots, fellow voters and election judges cheered and applauded.
Sara Waller, 23, said the morale of the weary voters was boosted throughout the evening by well-wishers. At one point, an election judge from the suburbs stopped by to give Waller and others snacks after seeing the long lines on the news, Waller said.
Chicago Mayor Rahm Emanuel also showed up to distribute pizza, Omoregie and Waller said.
"Everytime I was getting ready to throw in the towel, something made me stay a little bit longer," Waller said. "Once you reach a certain point in line, you can't really leave."
At the Chicago and Cook County election headquarters downtown, there was more than an hour wait at 10 a.m., with more than 100 people in a line snaking through the basement, waiting for the chance to register and vote.
At the Martin Luther King Jr. Community Center in Chicago's Bronzeville neighborhood, dozens of residents lined up early Tuesday to register, change their addresses and vote.
Although it was a lengthy, five-step process just to get to the voting booth, residents waited.
It took Twyla Speed, 38, nearly two hours to cast a ballot, she said. A new resident of Bronzeville, she said she reported to her local polling place at 6:30 a.m. and was told she wasn't registered and had to then travel to the King Center to start over.
"I'm really disappointed," Speed said. "I purchased my home in May. When I went to the department of motor vehicles, I had my address and everything switched over. Then this morning, I'm not registered. How did this happen? No one is sure. I just hope this isn't another way to manipulate voters."
With a stack of mail in hand and several forms of identification, Speed tolerated the long line. But she wasn't certain many people would be as determined as she was Tuesday.
"I thought this was taken care of. Then my registration isn't in the system. I can't help but wonder: Did somebody drop the ball?"
Photo via Joe Shlabotnik via Flickr
Want more political news and analysis? Sign up for our daily email newsletter!