Wall Street Speculators Wall Off Young Farmers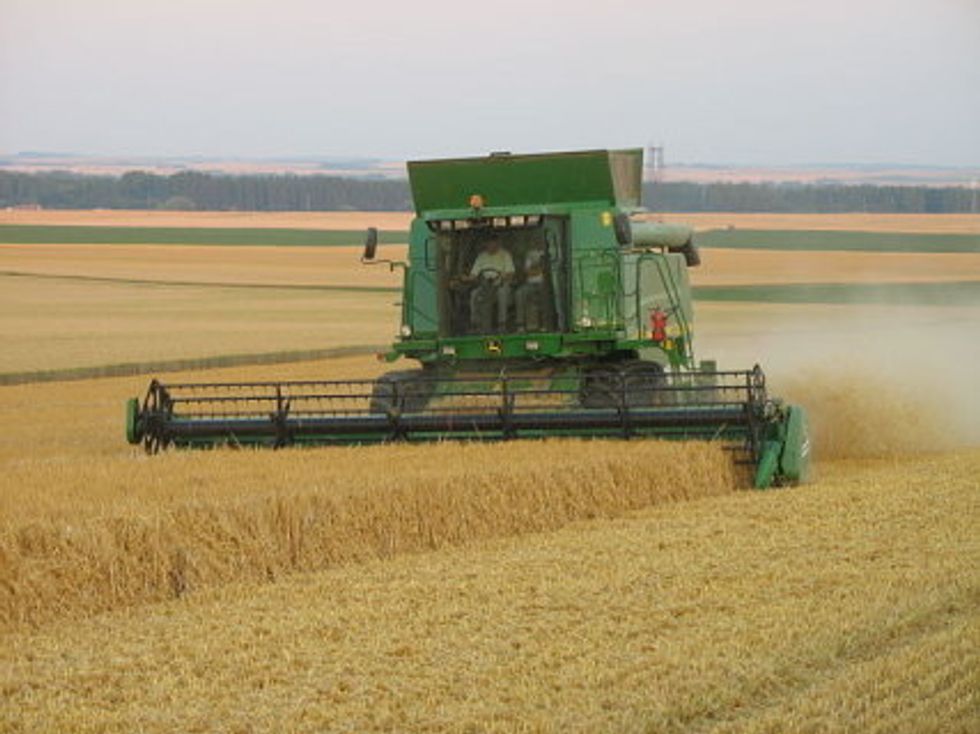 We know from the childhood song that Old MacDonald had a farm — but e-i-e-i-o — look who's got his farm now!
It's groups like American Farmland and Farmland Partners. These aren't dirt farmers wearing overalls and brogans, but Wall Street hucksters in Armani suits and Gucci loafers. The latest fast-buck fad for high-roller investment trusts, hedge funds and venture capital speculators is "farming." Not that these dude-ranch dandies are actually plowing and planting. No, no — these are soft-hands people, buying up farmlands with billions of rich investors' dollars, and then tilling the tax laws and threshing the farmers who do the real cultivation.
For example, American Farmland Company — which owns 16 farms — is a combine of the largest real estate empire in New York City, two Florida sugar barons, a wealth management outfit, and the real estate brokerage arm of insurance giant Prudential. None of these nouveau sodbusters has a speck of dirt under its fingernails, but they've figured out how to work the land without touching it and still harvest a sweet profit. The founder of this scheme says, "It's like gold, but better, because there is this cash flow."
Cash flow? Yes, farmers are charged rent to till the Wall Streeters' land. Then the financiers get a prime cut of any profits from the crops that the farmers produce. Also, the combine is set up as a real estate investment trust, providing an enormous tax break for the Wall Street plowboys. And, of course, there's the mega-pay the moneyed elites will reap when they convert their scheme into securities for sale on the stock exchange.
The rich few get richer, farmers are turned into tenant laborers, and the farms are switched to high-profit crops that require heavy pesticide dosages and soak up scarce water resources. What a deal!
The fact of the matter is that gabillionaires who invest in hedge funds generally have the ethical and aesthetic sensibilities of dirt clods. They don't care whether the fund managers put their money into toxic derivatives or skunk pelt futures — as long as the investment pays a super-fat return. But since Wall Street's 2008 crash revealed that so many of these investment schemes were based on nothing more than financial cobwebs and fairy dust, some of the clods began seeking hedge funds that would put their money into something more tangible and down to earth. And this is how Wall Street discovered dirt. More specifically, farmland.
Such money handlers as BlackRock (the world's largest asset manager) and multi-billionaire money manager George Soros now offer big pieces of America's heartland as an asset that faraway super-rich penthouse dwellers can own and till for mega profits. As a result, ag professors report that their farmbelt conferences on land economics — which have normally drawn an audience of farmers and local farm lenders — are dominated these days by Wall Street speculators. Moreover, seminars on investing in American farmland are being held in such financial centers as Dubai and Singapore.
But this Wall Street land rush is as flimsy as the debt-derivatives fad proved to be, for it's not based on economic realities. While crop prices are at record highs today, the painful historic record is that they will plummet tomorrow, destroying the cash flow that makes the hedge fund investment in land work. Then, of course, the gabillionaires will rush to shed their overalls. But — who will line up to buy the land? Certainly not real farmers, who can't afford the inflated Wall Street price. And especially not young people who want to farm, but find it hard to locate affordable land. America desperately needs this next generation of food producers, yet we're letting Wall Street speculators literally wall the land they need. To learn more, contact the National Young Farmers Coalition.
To find out more about Jim Hightower, and read features by other Creators Syndicate writers and cartoonists, visit the Creators Web page at www.creators.com.
Photo via Wikimedia Commons
Want more political news and analysis? Sign up for our daily email newsletter!