War, Mushroom Clouds, And No Dancing: GOPers React To Iran Deal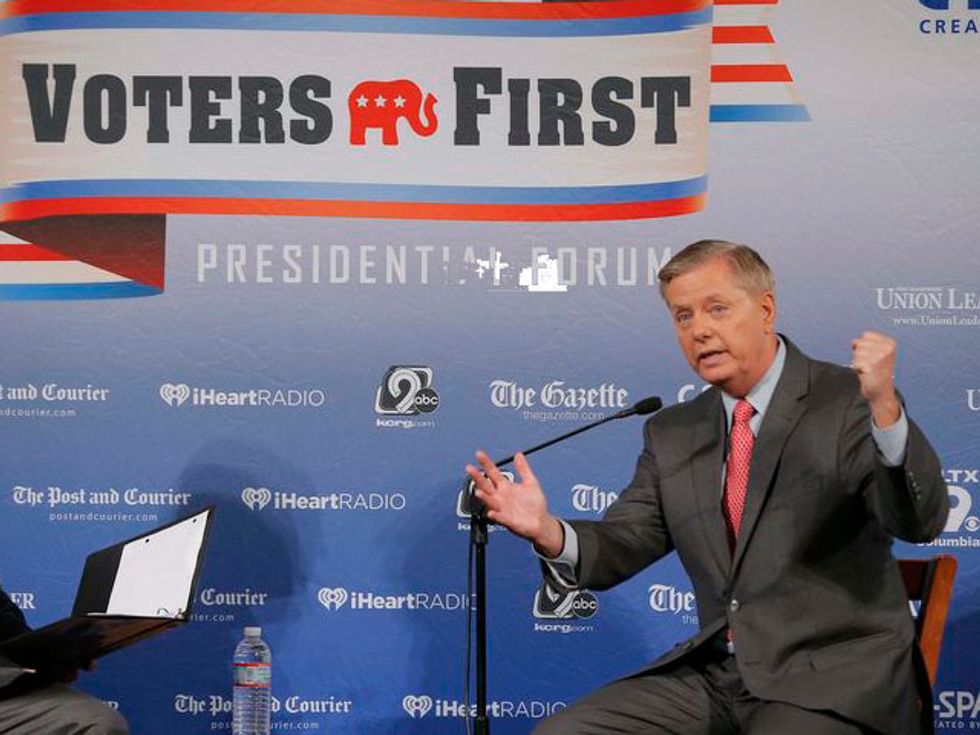 Ever since the news broke Wednesday morning that Senate Democrats had secured the 34th vote to uphold the Iran nuclear deal, Republican presidential candidates have been making their displeasure known — and some of them are being quite dramatic about it.
Senator Marco Rubio appeared on Fox News, and said that not only will a majority of Congress disapprove the deal — which is likely correct — he also threatened the possibility of new military action if he's elected to the White House.
"But here's a broader point: This is not a treaty. There's nothing about this that's binding on the next administration," Rubio said. "And if I'm the President of the United States, on my first day in office we will lift what the president is doing. We will reimpose sanctions — and in fact I will ask Congress to increase sanctions, and we will back it up with a credible threat of military force."
New Jersey governor Chris Christie went on the network's daily panel show Outnumbered, and made a stark moral pronouncement: "Every death that Iran causes is now on Barack Obama's head."
Of course, it's fair to wonder if Christie would feel the same way about everyone in the Bush administration, and all the deaths that they directly caused in the Iraq War (a war that also empowered Iran along the way).
Donald Trump characteristically responded with an attack ad via Instagram, contrasting the nuclear deal with the fact that Iran continues to hold American prisoners: "It's Time For A Real Negotiator."
A video posted by Donald J. Trump (@realdonaldtrump) on
Former Arkansas governor Mike Huckabee posted a stern message on Facebook, saying in part: "Iran has killed hundreds of American soldiers and has the blood of thousands of Christians, Jews, and Muslims on its hands. It shouldn't take a mushroom cloud for the American people to wake-up!"
Senator Lindsey Graham marked the occasion not by breathing Obama's name or mentioning his Democratic colleagues providing the needed votes — instead, Graham attributed the victory to Iran.
The Iranians have now secured enough Senate votes to ensure they have a pathway to a bomb, missile to deliver it, & money to pay for it.

— Lindsey Graham (@GrahamBlog) September 2, 2015
Graham also made this statement about the Iranian leadership — possibly the only people in this debate who exhibit a more dour manner than he does:
The only reason the Ayatollah and his henchmen aren't dancing in the streets of Tehran is they don't believe in dancing. #IranDeal

— Lindsey Graham (@GrahamBlog) September 2, 2015
And so now we have the Graham Doctrine: Do not, under any circumstances, enter into negotiations with the town from Footloose.
File photo: Republican U.S. presidential candidate and U.S. senator Lindsey Graham at the Voters First Presidential Forum in Manchester, New Hampshire, August 3, 2015. REUTERS/Brian Snyder