Warm Welcome, Real Help Await Deported Migrants At El Comedor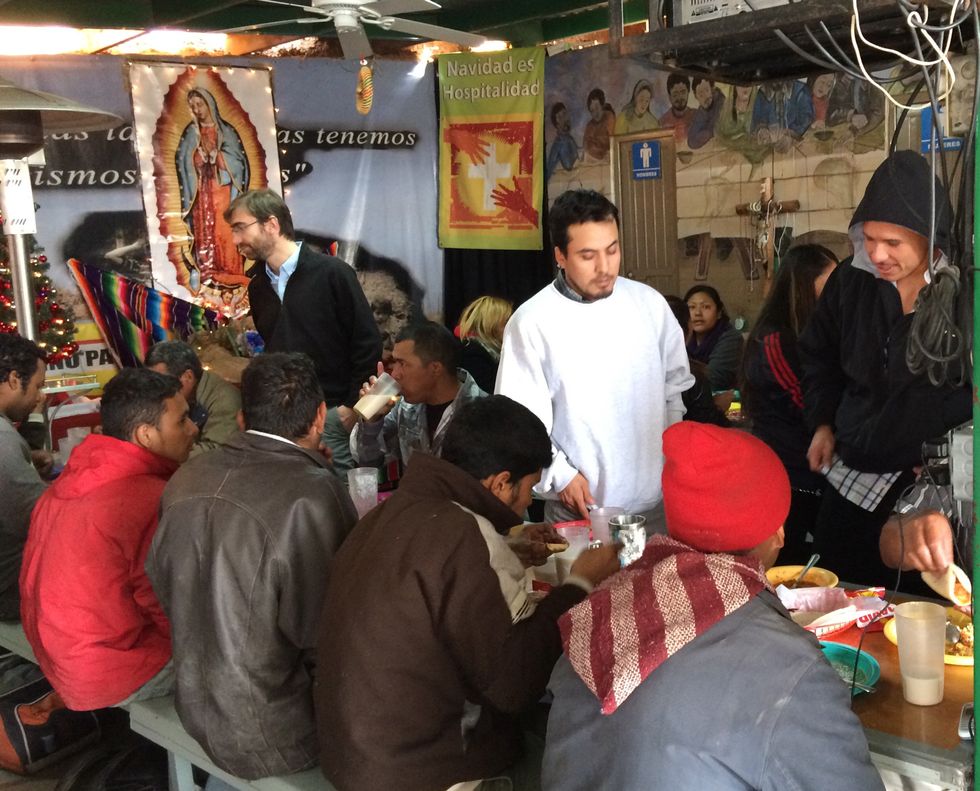 By Kevin Baxter, Los Angeles Times (TNS)
NOGALES, Mexico — The migrants begin gathering just after daybreak.
Women with young children in tow, men in wool caps and faded hoodies. Others still wearing the bright orange uniforms they were issued in prison.
Few speak. Most look down at their feet.
Hours earlier they had been on the other side of the border, where they had been living illegally in the United States. But now, after being deported to Mexico, they're lining up outside El Comedor — the dining room — in search of food, clothing, and help.
They also get something else that takes many by surprise — respect.
"Amigo!" Armando Santos shouts enthusiastically, greeting each migrant with a firm handshake or a warm hug. "Bienvenidos!"
Santos looks like a bouncer at a trendy nightclub as he sizes up the line. But his job is to let people in, not keep them out. Still, the warm welcome startles many migrants and some stare, not quite sure what to make of him. Others smile back.
But eventually they all make their way into the one-room concrete block building, the last structure before the border checkpoint for entering the U.S., marked by a whitewashed wall out front and brightly colored religious banners inside.
The migrants have endured processing by the U.S. Immigration and Customs Enforcement agency, after which they are bused to the border and released to walk across the line from Nogales, Arizona, to Nogales, Sonora.
Another soulless and bureaucratic process follows. They are poked and prodded by representatives of various Mexican government agencies who check the deportees' documents, conduct detailed interviews, and arrange bus trips home.
"For the migrants here on the border, their human dignity is not respected in a lot of ways," says the Reverend Sean Carroll, the Jesuit priest who runs El Comedor and a nearby shelter. "So really in this work we want to lift up and hold and protect the dignity of the human person. Especially where it's most vulnerable.
"And I'd say it's extremely vulnerable with migrants who have been deported."
Most arrive short on sleep and feeling deflated, uncertain where to turn next.
"Body posture communicates everything," Carroll says of the people standing in line. "They don't look you in the eye. They turn away. Which speaks to the family separation they're experiencing, the time they've spent in detention.
"So when they come in, they're welcomed."
El Comedor is sponsored by the Kino Border Initiative, a binational humanitarian effort by religious organizations, including Jesuit Refugee Service/USA, Missionary Sisters of the Eucharist and the Diocese of Tucson. El Comedor served 38,667 meals to migrants last year.
On this winter morning, the migrants fill benches set on both sides of wooden picnic tables.
"There's no soup line," Carroll says as volunteers rush out with plastic plates laden with rice and beans, eggs and tortillas. A nun picks up a microphone. "We are happy to serve you," she says.
Some walls display posters with empowering messages: "I have the right to live a life free of violence" and "All people have the same rights." On one wall is a mural, a border-inspired version of "The Last Supper," but with migrants as the apostles flanking Jesus, who sports a backward baseball cap.
After the meal, men and women line up outside closet-size rooms stocked with clothing, and staffers parcel out pants, shirts, and underwear. The Rev. Miguel Yaksic, a Chilean priest with the Jesuit Migrant Service, has become expert at quickly estimating sizes. He holds up a jacket to one man's chest and decides it's a fit. The migrants mumble their thanks.
"For us it's based on the Gospels," Yaksic says of the work. "But also it's political. Not in the sense that we are Democrats or Republicans. But in the sense that we need to create better conditions for real human life."
Church volunteers also hand out small plastic bags filled with personal hygiene items. In another corner of the room a woman from the International Committee of the Red Cross gives vaccinations. Other migrants gather around David Hill, a volunteer from No More Deaths, a faith-based aid and advocacy group from Arizona.
Mexican banks often reject U.S. checks, Hill says, so he has migrants sign the checks over to him. He hustles back to Arizona, cashes the checks, then returns to El Comedor to distribute the money. This morning he helps one man who had been deported after serving time for a drug charge; his check, for work done in prison, was issued by the Arizona Department of Corrections.
Then, less than an hour after shuffling in, the breakfast crowd begins to leave.
"When they leave, frequently they look different," Carroll says. "They stand a little straighter. They look me in the eye."
And on this winter morning, that's exactly what happens as the migrants file back out into the late-morning chill.
Photo: Kevin Baxter via The Los Angeles Times/TNS