WARNING: Chis Christie Is The Man Who Could End Roe v. Wade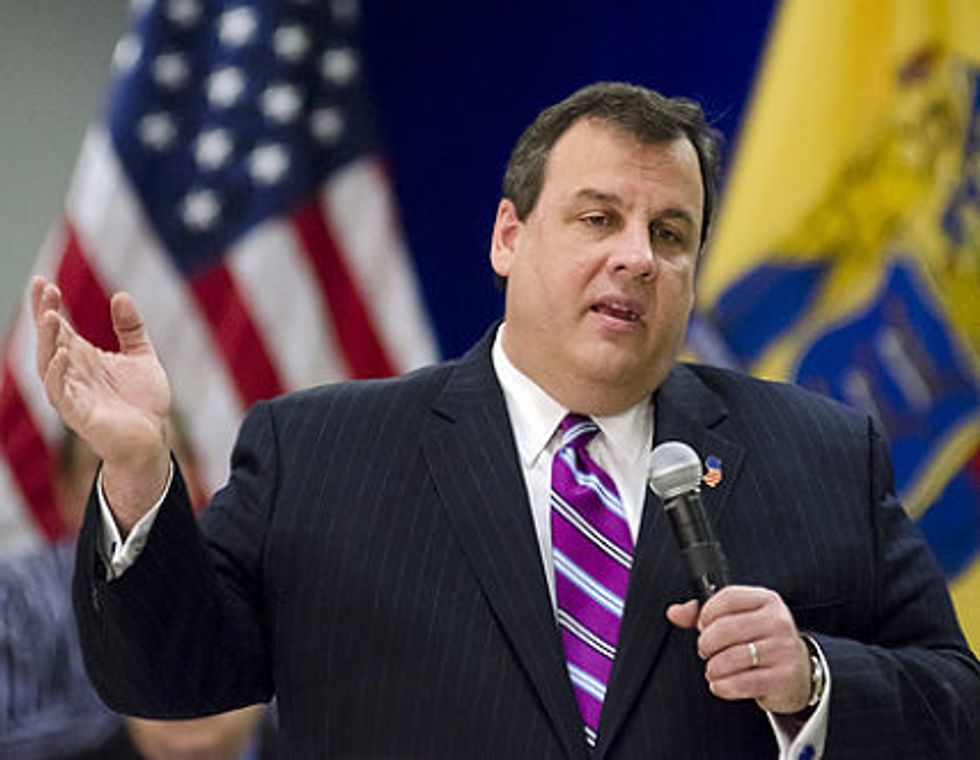 Here's what you need to understand about Governor Chris Christie (R-NJ): His actual record as governor is pretty terrible.
"Since Christie took office in January 2010, New Jersey's private-sector job growth rate of 4.5 percent ranks 46th among the 50 states," the Asbury Park Press pointed out on Monday.
When it comes to economic growth, poverty, creditworthiness, housing and taxes, New Jerseyans are suffering, stuck with a recovery that has largely lagged as compared to rest of the nation.
In addition to picking fights with teachers, blocking same-sex marriage, scheduling elections (and wasting millions) so he wouldn't have to be on the same ballot as Cory Booker, and defunding the state's Planned Parenthood over and over, the governor's underlings also inexplicably created a traffic jam — one that lasted for days — possibly to punish one of his political adversaries.
And though only 42 percent of the state's voters approved of his economic record, Chris Christie won re-election in a landslide.
He achieved this on the strength of his raw political talent — an ability to connect with voters, box out opponents and position himself in a way that makes him the nation's most popular Republican governor, even though he represents one of the bluest states in the union.
Here's an example of the governor at his most charming:
If that doesn't terrify Democrats, they should check out what Christie did on Tuesday.

After demanding changes to the bill, Christie signed his state's version of the DREAM Act, which will allow young people brought to the state illegally to pay in-state tuition rates. He celebrated this bill on Tuesday with a media event at an elementary school, where he praised the young people the legislation will assist.
"You're an inspiration to us because in you we see all that our country can be," Christie told hundreds of students. "In you we see, most importantly, infinite possibilities of the human spirit."
It's a speech President Obama could have given and it's a bill that Christie knows could easily be used to attack him in the 2016 GOP primary.
He knows this because Rick Perry's weak defense of signing his own state's DREAM Act was one of the key ways Mitt Romney moved to his right and bludgeoned the bumbling Texas governor in the 2012 primary debates.
But Christie has two things going for him that Romney never did.
The first is confidence.
As a candidate for governor, Mitt Romney gave one of the most passionate defenses of a woman's right to chose as any candidate has given in recent decades. When he suddenly decided he was "pro-life" just a few years later, he forever doomed himself to a political career where he would eventually turn against nearly everything he stood for, to win the support of the GOP base. He could never even allude to moving to the center without risking a backlash that would doom his candidacy.
The one time Romney hinted at centrism — in his strong performance in the first debate against President Obama — it was entirely a rhetorical strategy, as his policies remained mired in his running-mate Paul Ryan's budget and the "self-deportation" policy he'd claimed to beat Perry.
By compromising with Democrats in the state legislature and embracing his state's DREAM Act as House Republicans squirm at the prospect of enacting any immigration reform, Christie is sending a message to his Republican opponents: Bring it.
He knows the GOP desperately wants to win in 2016 and they'll need Latino votes to do it. If his rivals are going to attack him for something, it might as well be an issue that's a perfect example of why he's electable.
His second advantage over Romney is that Christie is purebred "pro-life."
He's gone as far as Perry and Governor Scott Walker (R-WI) have in defunding reproductive services for women and he's never shied away from the stance that is the crucial litmus test for the right.
Here he is speaking as "the first pro-life governor of New Jersey" in 2011:
It's a speech that Mike Huckabee or Rick Santorum might have given. It will afford him the credibility to wade to the center as he opposes a half-dozen Republicans all trying to out-Tea Party each other. Because he is making a promise that he will keep: "Elect me and I will appoint the Supreme Court justice who ends Roe v. Wade."
The Republican Party finally has a real politician in its midst, the likes of which it hasn't seen in decades. If his fellow Republicans don't destroy him first, he could be their savior.
Photo: Bob Jagendorf via Flickr