Warren: Voting For Trump Like Calling An Arsonist For A House Fire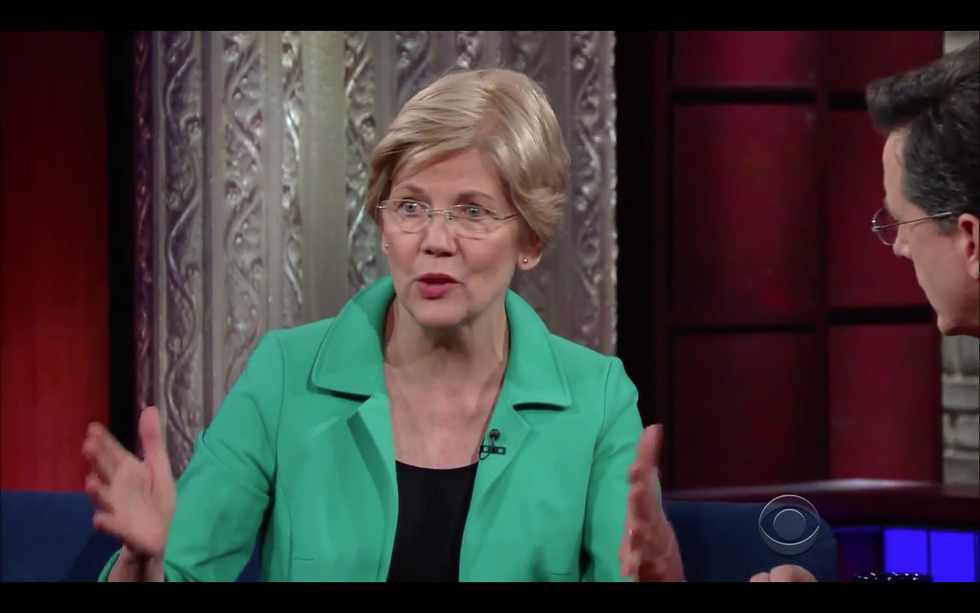 Elizabeth Warren loathes Donald Trump, and she's made no secret of it. Last week, the Massachusetts senator went on a social media tirade against the Republican frontrunner, calling him a "loser" multiple times. And last night, on the Late Show with Steven Colbert, she followed up in person.
"We have an economy that's in real trouble," Warren said. "But when the economy is in this kind of trouble, calling on Donald Trump for help is like if your house is on fire calling an arsonist to come and help out."
"Why are you getting down in the schoolyard with Donald Trump?" asked Colbert. "Isn't this just name calling?"
"Oh, come on!" Warren said. "He's not a business success, he is a business loser."
Warren, who was a professor of bankruptcy law at Harvard Law School before running for the U.S. senate, began to dissect Trump's business career: that he was born wealthy, kept his businesses afloat by "cheating and defrauding people," is actually terrible with money, only looks out for himself, and is a complete fraud.
And we wonder why even Trump's fellow billionaires think he's a joke.
Screenshot via The Late Show with Stephen Colbert/Youtube. Photo via CBS.