Wary Fed Leaves U.S. Stimulus Unchanged
@AFP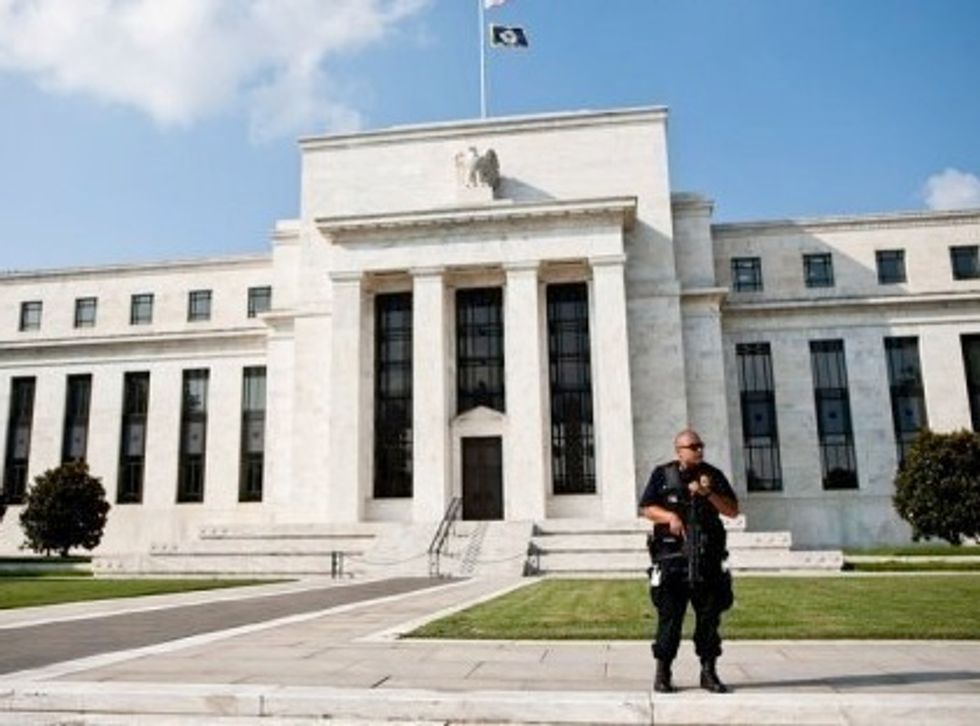 WASHINGTON (AFP) – The Federal Reserve left its $85 billion a month stimulus program in place, surprising economists and delighting surging global markets Thursday, which had anticipated a reduction that would confirm a strengthening U.S. economy.
Fed policy makers instead cut their growth forecast on Wednesday for this year and next, and said they wanted to further gauge the economic impact of government spending cuts and a spike in interest rates in the past four months.
In addition, Fed Chairman Ben Bernanke said, the Federal Open Market Committee (FOMC) was wary of possibly "very serious consequences" from the brewing political battle in Washington over a new budget and the U.S. debt ceiling.
"The Federal Reserve's policy is to do whatever we can to keep the economy on course. And so if these actions led the economy to slow, then we would have to take that into account, surely," he said.
The Dow Jones Industrial Average and S&P 500 rocketed up around 1 percent to new record closing highs after the Fed decision, followed by similar rallies on Asian markets.
Bond yields plummeted, the benchmark 10-year U.S. Treasury sinking to 2.71 percent from 2.87 percent.
The dollar dropped to its lowest level against the euro since February, hitting $1.3511 per one euro from $1.3340 before the announcement. The dollar fell to 98.13 yen from 99.33 yen.
Stocks and currencies in Asia followed suit, rocketing skyward on Thursday.
Jakarta surged 4.44 percent, Manila jumped 3.16 percent, Mumbai climbed 2.72 percent and Bangkok rose 3.20 percent.
There were also gains for Tokyo, which added 1.57 percent, while Hong Kong jumped 1.71 percent and Sydney rallied 1.06 percent to a five-and-a-half-year high.
European stock markets were similarly ebullient.
In initial trade, London's benchmark FTSE 100 index gained 1.23 percent to 6,639.49 points, the Paris CAC 40 soared 1.32 percent to 4,225.45, and Frankfurt's DAX 30 advanced 1.15 percent to 8,735.11 points from Wednesday's closing levels.
Bernanke said that the FOMC could still begin reducing its $85 billion a month bond-buys, which aim at holding down long-term interest rates, in the next three months, but only if the outlook for the economy strengthens.
"There is no fixed calendar," Bernanke told reporters in a news conference after a two-day FOMC policy meeting.
"If the data confirm our basic outlook, if we gain more confidence in that outlook… then we could move later this year," he said.
Markets, which had anticipated the beginning of the end of the "quantitative easing" (QE) program since May, reacted sharply to the prospect of continued easy money injections into the economy.
The FOMC said that the U.S. economy continued to grow at a "modest" pace and appeared to be holding up against the sharp "sequester" spending cuts by the federal government.
Nevertheless, it was holding back on QE cuts "to await more evidence that progress will be sustained."
"The committee sees the downside risks to the outlook for the economy and the labor market as having diminished, on net, since last fall."
"But the tightening of financial conditions observed in recent months, if sustained, could slow the pace of improvement in the economy and labor market."
Reflecting those concerns, the FOMC reduced its 2013 growth forecasts by 0.3 percentage point to a range of 2.0-2.3 percent, and lowered its prediction for next year to 2.9-3.1 percent.
And FOMC members reiterated that they only expected to begin truly tightening monetary policy, by lifting the benchmark federal funds rate from its current near-zero level, in 2015.
Ian Shepherdson, chief economist at Pantheon Macroeconomics, said the Fed's call was likely a good one.
"The economy has not pulled away from its near two percent trend growth rate of recent years," he said.
"The likelihood of fiscal policy chaos over the next couple of months, coupled with very low inflation, means the Fed can afford to wait for a while without taking any significant risks."
Bernanke had said in May and June that the FOMC would ratchet down the QE bond purchases from as early as this month, with the expectation of winding them up completely by mid-2014.
For most analysts, the debate was only over how much the bond purchases would be cut on Wednesday — with the guesses from $5 billion a month to $25 billion a month.
The prospects of the removal of that much liquidity from the economy had already pushed up interest rates, with average 30-year home mortgage rates jumping in four months from 3.32 percent to 4.48 percent.
But as a result, the rebound in the housing market crucial to economic recovery, has slowed.
Another key Fed focus has been unemployment.
Bernanke however argued Wednesday that a significant part of the drop has come from falling participation in the labor force.
"We have seen ongoing declines in labor force participation, which likely reflects discouragement on the part of many potential workers, as well as longer-term influences, such as the aging of the population," he said.
Photo Credit: AFP/Brendan Hoffman