Washington State To Same-Sex Domestic Partners: You're About To Be Married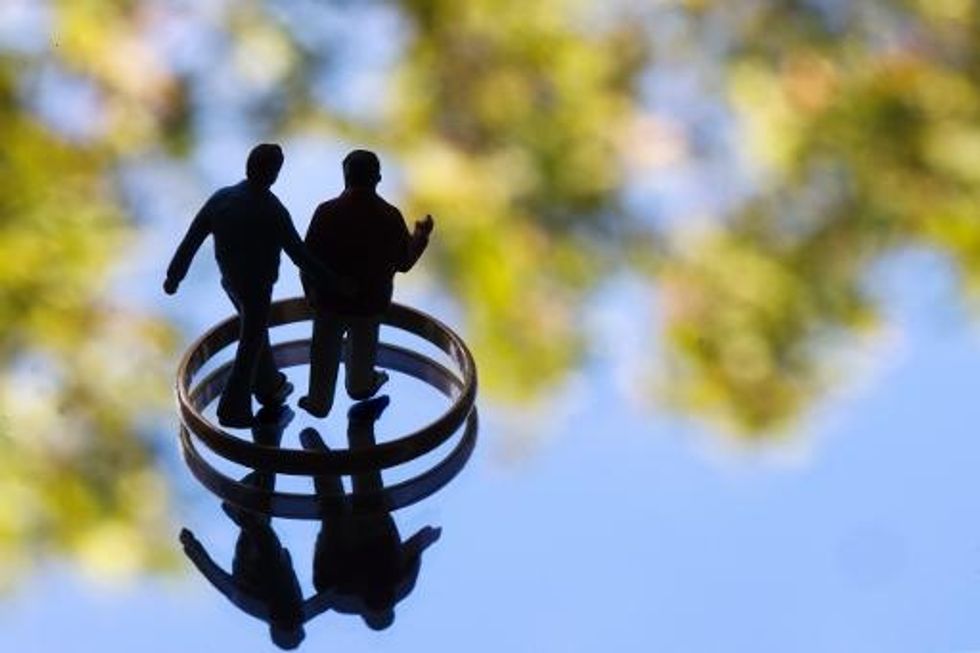 By Lornet Turbull, The Seattle Times
SEATTLE — Thousands of gay and lesbian domestic partners in Washington state who have not married or legally dissolved their unions by the end of June will have their relationships automatically converted to marriage — courtesy of the state.
It's the final piece of the state's same-sex marriage law — a provision about which many couples are apparently unaware and one sure to trigger some uncomfortable conversations.
Although domestic partnerships are essentially marriage by a different name, "people don't think of them as the same thing," said Jason Halloway, president of QLaw Foundation, the gay, lesbian, bisexual and transgender bar association.
Those being plunged into matrimony will no doubt include couples who simply hadn't given it much thought.
Or there will be those who broke up in the years since they registered as domestic partners, some of them now married — illegally — to other people.
Some may be former Washington residents now living in other states — some in states where their partnerships aren't recognized and where dissolution isn't possible.
Many, however, will likely be couples like Seattle's Jason Bennett and Michael Whaley, together 15 years, who had a big commitment ceremony and celebration eight years ago, and who now plan to simply let their domestic partnership roll into marriage.
"If you have been together a long period of time and consider yourselves married, going around the block a second time feels more technical," said Bennett, 40, a Democratic political consultant. "We've been debating for a year, going back and forth. Who would we choose as justice of the peace? Who'd we invite? The expense. I think at this point, we'll just let it roll."
By mid-to-late March, the Secretary of State's Office will send out notices to those in the domestic-partnership registry, alerting them to the pending change. As of Friday, an estimated 6,500 same-sex couples remained in the state registry.
Those in the process of dissolutions or annulments of these unions won't be converted.
"We know there are scenarios we've not thought of," said Pam Floyd, corporations director in the Secretary of State's Office, which oversees domestic-partnership registrations. "I'm sure we'll come up against those and will handle them on a case-by-case basis. This is the first time we've had to confront something like this."
Washington lawmakers authorized domestic partnerships (DPs) in 2007, five years before same-sex marriages became legal. The law granted a range of marriage-like benefits to gay and lesbian couples, as well as to heterosexual couples in which at least one partner is 62.
At its peak, just before same-sex marriage became legal, some 10,000 couples were in registered DPs.
The same-sex marriage law signaled an end to domestic-partnership arrangements for most gay couples, giving them until June 30 of this year to either marry or dissolve their union — a process not unlike a divorce.
Some 691 couples — gay and straight — have had their domestic partnerships dissolved in the nearly seven years since that law took effect.
The June 30 conversion won't affect senior couples in registered domestic partnerships _ gay or straight. Beginning July 1, domestic partnerships will remain an option only for them.
Halloway, of QLaw, said he's come to realize, as he's traveled across the state to talk about it, that many couples are unaware of the pending conversions.
He recalls one conversation in which a couple told him they had "signed up for the minimum."
Many of the questions he and other lawyers are getting are related to taxes and finances, particularly in the wake of last year's U.S. Supreme Court decision that requires the federal government to recognize same-sex marriages.
"The difference between now and July 1 has to do with the mess of taxes," he said. "You're obligated, if you're married, to file as a married couple."
But even with the notice being sent out, there's still a chance some people who get converted may not know.
Automatic conversions in the marriage law didn't come about automatically. Even before the legislation was introduced, sponsors and their supporters had debated what to do with domestic partnerships for gay couples if the law passed.
The bill's primary sponsor, then-Sen. Ed Murray, now Seattle's mayor, said at the time that if gays gained the right to marry, same-sex couples should expect no more marriage-like options than opposite-sex couples.
Automatic conversions aren't unique, either.
Those still in civil unions in Connecticut and New Hampshire were converted into married couples after those states passed same-sex marriage laws.
California, meanwhile, retained domestic partnerships for all couples — gay and straight — recognizing that some states would honor such unions even if they didn't sanction gay marriage.
In Washington, even those whose domestic partnerships are converted to marriage without their express permission will find that the process for ending both is essentially the same.
"As long as couples know it's happening, at least they can untangle it," QLaw's Halloway said.
AFP Photo/Joel Saget