WATCH: Clinton Stumps For Grimes, Knocks McConnell In Kentucky Speech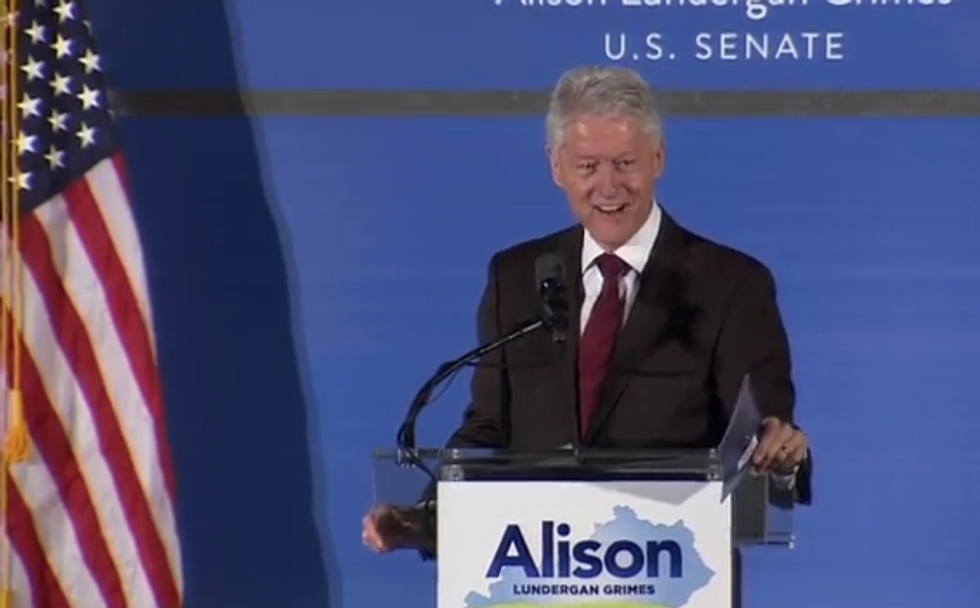 Former president Bill Clinton hit the campaign trail on Tuesday, urging Kentucky voters to send Alison Lundergan Grimes to the U.S. Senate.
During his speech at the Galt House in Louisville, Clinton told the capacity crowd that "it makes a big difference who wins this election, and Alison Lundergan Grimes should win it."
Without mentioning Grimes' opponent — Senate Minority Leader Mitch McConnell (R-KY) — by name, Clinton blasted the five-term incumbent for his role in grinding legislative business in the Senate to a near halt.
"What this is about is whether you want somebody who puts people first, cares about rebuilding the middle class, who wants poor people to have a chance to work their way into the middle class, and who believes we should cooperate with anyone who has a good idea to move forward," Clinton said in reference to Grimes, "or we should stay with this model of constant conflict."
Clinton, who is the last Democrat to carry Kentucky in a presidential election, also discussed two key themes that seem poised to dominate Democratic campaigns this year. The former president praised The Gap's decision to raise wages for its lowest-paid workers — "I wish everyone else in America [would] follow their lead," Clinton said — and criticized income inequality as "a severe limit on growth."
While Clinton declined to mention President Barack Obama by name — perhaps due to his low approval ratings in the Bluegrass State — he did praise Governor Steve Beshear for leading Kentucky's widely praised implementation of the Affordable Care Act.
"What works everywhere in the world today is the same thing your governor did on this healthcare issue," Clinton said. "Here's an option to give people access to affordable health care, bring the cost of health care down, make Kentucky more competitive, improve family life for people…and is it perfect? No." But Clinton went on to praise Beshear for doing "the best he can" with the law, despite its flaws — as opposed to McConnell, whose philosophy Clinton described as "do everything you can to make sure the problem is never fixed."
"It is a dumb way to run a country," Clinton said.
Kentucky's Senate race is expected to be one of the closest and most bitterly fought campaigns in the country. Grimes currently holds a narrow lead over McConnell, according to the latest polling of the race.
Video of Clinton's speech is below, via The Courier-Journal.