WATCH: Colin Powell Calls Out GOP's 'Dark Vein Of Intolerance'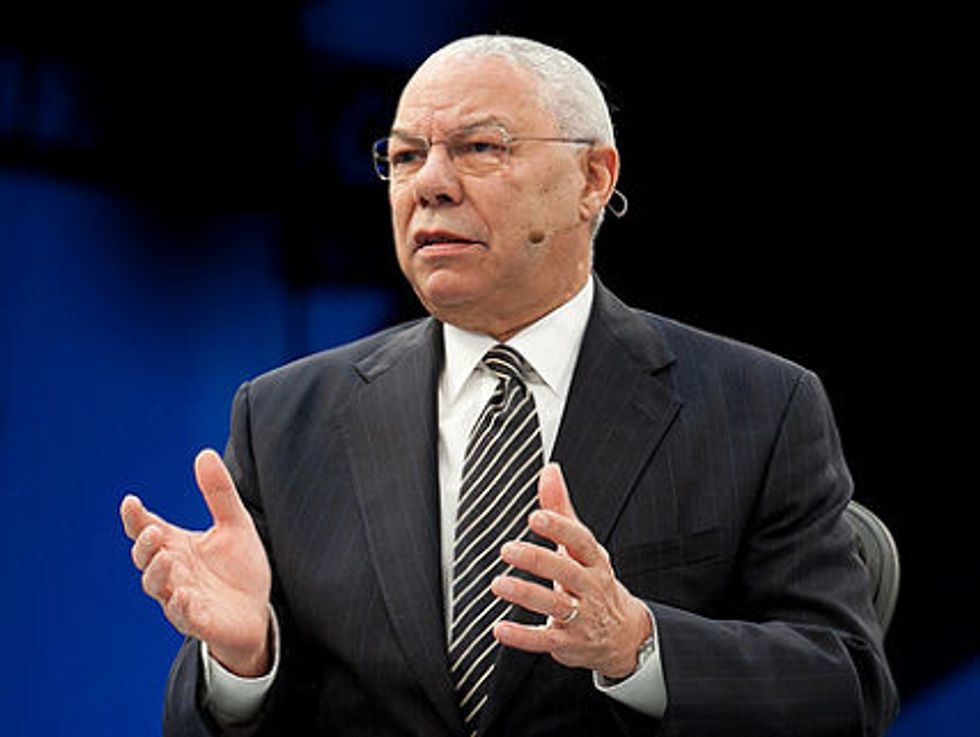 During a Sunday morning appearance on NBC's Meet the Press , former Secretary of State Colin Powell criticized his fellow Republicans for making racially-charged attacks against President Barack Obama, and warned that there is "a dark vein of intolerance in some parts of the party."
Powell, who maintains that he is still a Republican despite having endorsed Obama in both of his presidential campaigns, noted that many in the GOP "still sort of look down on minorities."
"When I see a former governor say that the president is 'shuckin' and jivin',' that's a racial-era slave term," Powell said in reference to Sarah Palin's attack against Obama's response to the September 11th attack in Benghazi.
"When I see another former governor after the president's first debate where he didn't do very well, says that the president was lazy," Powell continued in reference to Mitt Romney's campaign co-chair John Sununu. "He didn't say he was slow. He was tired. He didn't do well. He said he was lazy."
Notably, during the campaign Sununu also claimed that Powell's endorsement of Obama was purely motivated by race.
"The whole birther movement," Powell continued. "Why do senior Republican leaders tolerate this kind of discussion within the party?"
Powell also questioned the GOP's platform, noting that "In recent years, there's been a significant shift to the right, and we have seen what that shift has produced: two losing presidential campaigns." He specifically questioned the party's anti-immigrant policies, and its support for voter ID laws that primarily targeted minorities.
"It caused people to turn out and stand in line, becuase these Republicans were trying to keep us from voting," Powell said.
Video from the interview is below:

Photo by jdlasica via Flickr.com