WATCH: Condoleezza Rice Cuts Ad For Republican Senate Candidate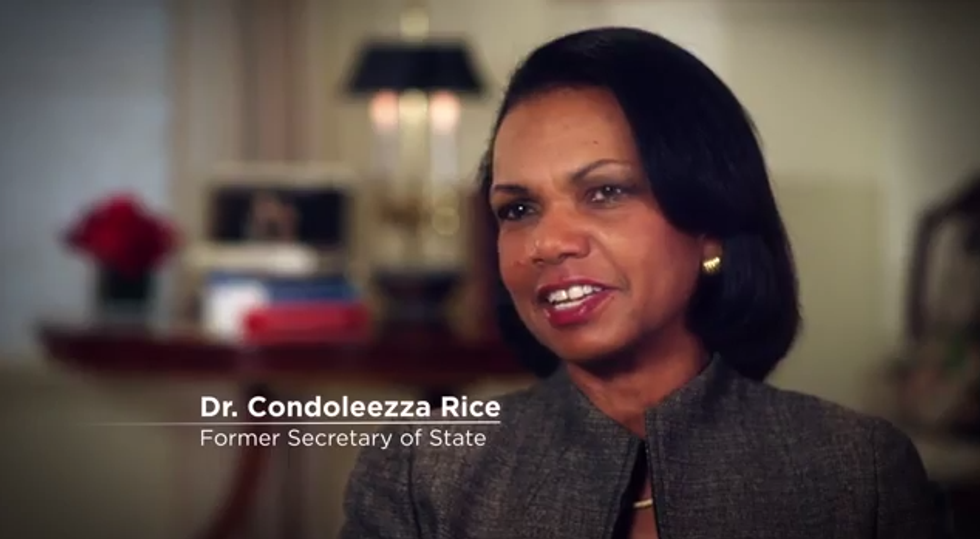 Former Secretary of State Condoleezza Rice is wading into midterm politics, starring in an ad for Alaska Senate candidate and former Bush administration official Dan Sullivan (R).
Sullivan, who served on Rice's staff for over five years during her time as national security advisor and secretary of state, has recently faced criticism for his time in Washington. An attack ad from Put Alaska First, a SuperPAC supporting Democratic incumbent Mark Begich, criticized Sullivan for taking advantage of Maryland tax credits while voting in Alaska.
In response, Karl Rove-backed SuperPAC American Crossroads created "Tireless," in which Rice stands up for her former employee:
"Remember that serving our country required some time in our capitol," Rice says in the ad. "Dan will be a great senator because he loves and cares for the state of Alaska, and he's a great family man."
The ad represents Crossroads' first attempt to make good on Rove's promise to protect electable Republican candidates from being outflanked on the right. Sullivan, who has also been endorsed by the Club for Growth, is widely considered to be a stronger general election candidate than Lieutenant Governor Mead Treadwell or failed 2010 candidate Joe Miller.  Sullivan holds a narrow lead in the latest polling of the primary, and has a significant fundraising advantage over his Republican opponents.
Winning in Alaska, a state that overwhelmingly voted for Mitt Romney in the 2012 presidential election, is key to Republican hopes of claiming a Senate majority in November's elections.
Screenshot: YouTube