WATCH: Democratic Senator Turns Tables On Koch Brothers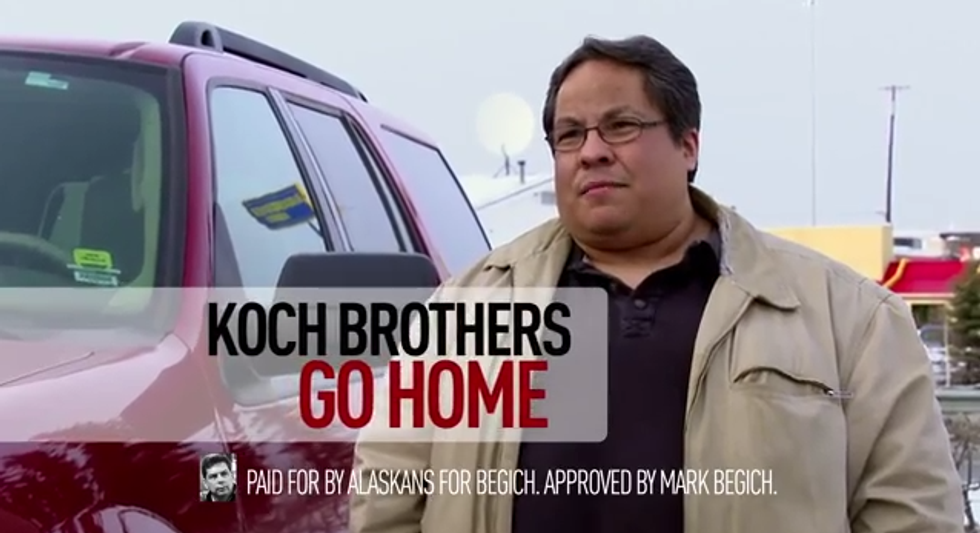 After enduring months of vicious attack ads from Americans for Prosperity — the right-wing, 501(c)(4) "dark money" group funded by billionaire brothers Charles and David Koch — Senator Mark Begich (D-AK) is fighting back.
Senator Begich released the first television ad of his 2014 re-election campaign on Monday, directly targeting the Koch brothers for interfering in Alaska politics and misleading voters.
AFP has run two controversial ads in Alaska targeting the Democratic incumbent. The first, which criticizes Begich over the Affordable Care Act, featured an actress from Maryland portraying a concerned Alaskan voter. The second accuses Begich of "supporting a carbon tax…that will cost the average family over $2,000 annually," a claim that FactCheck.org has rated "not true."
Begich's ad, titled "Into The Ground," directly calls the Koch brothers out for their role in funding the deceptive attacks.
"First it was a D.C. actress pretending to be an Alaskan," the ad's narrator says. "Now ads attacking Mark Begich on a carbon tax have been called false and not true."
The ad's focus then shifts to the Flint Hills oil refinery in North Pole, Alaska. The Koch Industries-owned refinery announced in February that it would shut down no later than June 1, resulting in 80 lost jobs.
"They come into our town, buy our refinery," says a man in construction gear, while another adds that they're "just running it into the ground."
"I don't go down and tell them what to do," another man says. "I don't expect them to come to Alaska and tell us what to do."
There is some reason to believe that the refinery attack, which is reminiscent of Democrats' highly effective broadsides against Mitt Romney in the 2012 presidential election, could put the Koch brothers on the defensive. After all, Americans for Prosperity suddenly pulled $100,000 in ad spending shortly after the Flint Hills closure was announced, as Democrats drew a connection between the job-killing decision and the Kochs' hundreds of thousands of dollars of ongoing political spending in The Last Frontier.
Begich is not the only Democrat to attempt to turn the tables on the billionaire brothers. Senate Majority Leader Harry Reid (D-NV) has recently begun attacking the Kochs at every opportunity, ripping them as "un-American" during a speech on the Senate floor, accusing the Republican Party of being "Addicted to Koch," and posting a fact sheet on his webpage listing examples of their "radical philosophy."
The attacks may shame the Koch brothers to some degree, but won't stop them from continuing to pour their money into the midterm elections, which are on track to demolish records for outside spending. That could be a problem for Begich, who is widely considered to be one of the GOP's top targets — and has certainly not seen the last of Americans for Prosperity's attacks.
Screenshot: YouTube