WATCH: Democratic Super PAC Crashes Tillis Victory Party For Attack Ad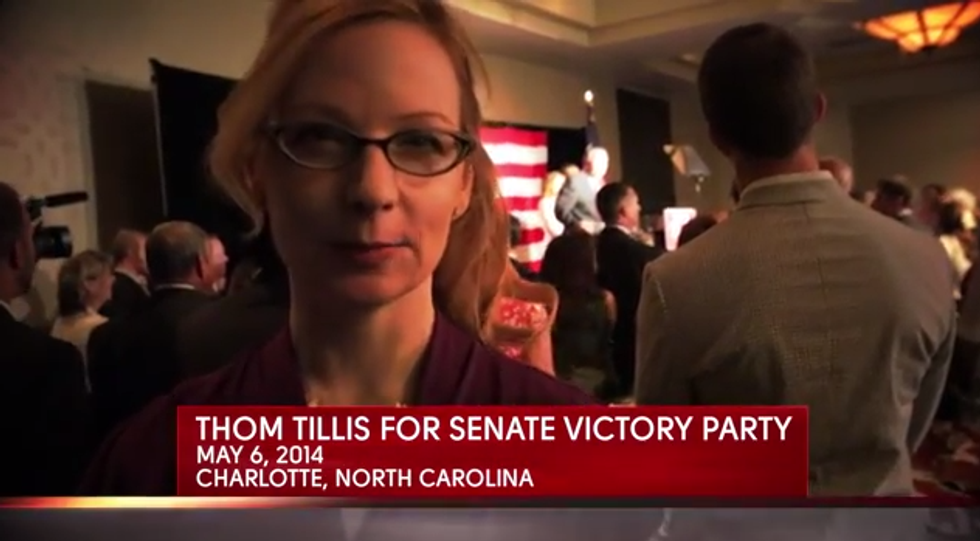 A Democratic SuperPAC crashed North Carolina Senate candidate Thom Tillis' victory party on Tuesday night — and took the occasion to film footage for a tough new attack ad.
The ad, appropriately titled "undercover," features a narrator whispering into the camera as Tillis accepts the Republican Senate nomination on stage in the background.
"I'm watching Thom Tillis win his party's nomination to run for U.S. Senate. He's up there right now making big promises," the narrator says softly. "But take a closer look."
The ad then cuts away to accuse Tillis of supporting tax cuts for the wealthy, while raising taxes for 80 percent of North Carolinians.
"Thom Tillis says he's up there for you," the narrator concludes, "but he'll cost North Carolina families big time."
The peculiar ad was made by Senate Majority PAC, a SuperPAC run by former aides to Senate Majority Leader Harry Reid which has led Democratic efforts to match the tidal wave of Republican outside spending that has washed over the midterm elections.
At least in North Carolina, those efforts have been succesful; Senate Majority PAC and other liberal outside groups have matched their conservative counterparts nearly dollar for dollar in the Tar Heel State.
The content of the attack ad is likely to resurface repeatedly throughout Tillis' campaign against Senator Kay Hagan, the incumbent Democrat. Although Tillis did not earn much Tea Party support during the Republican primary, he has an extensive right-wing record as speaker of North Carolina's legislature, which Democrats will hope to turn against him.
Screenshot: YouTube
Want more political news? Sign up for our daily email newsletter!