WATCH: Elizabeth Warren Rallies Fight For Progressive Values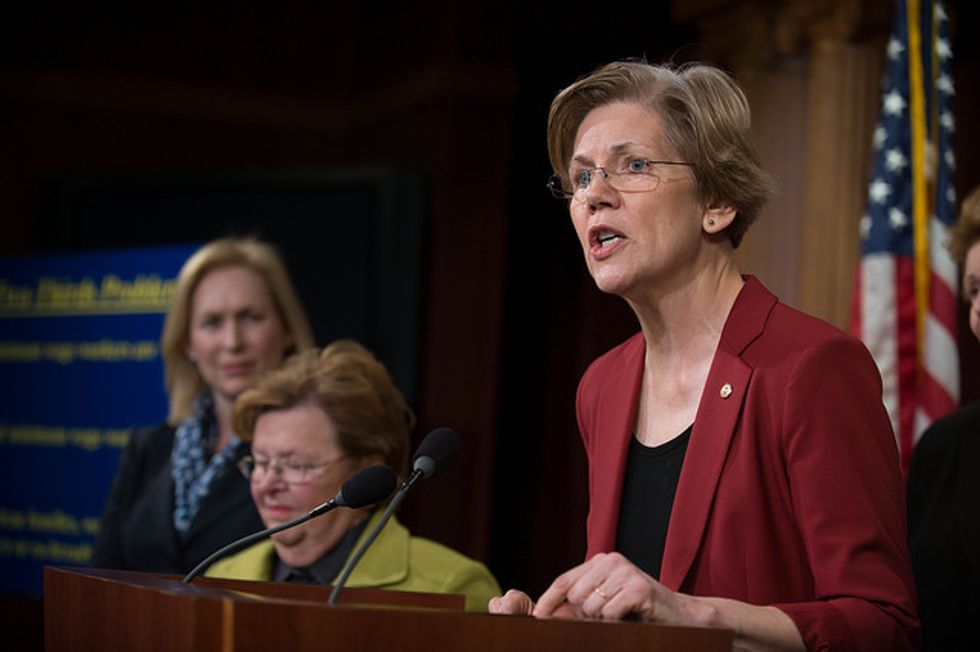 Senator Elizabeth Warren (D-MA) laid out an unabashedly liberal economic vision on Thursday, calling for a higher minimum wage, tougher Wall Street regulations, and other liberal crowd-pleasers during her speech to the Campaign for America's Future's New Populism Conference.
Addressing an enthusiastic crowd at the Capitol Hill gathering, Warren decried the "powerful interests" that "have tried to capture Washington and rig the system in their favor," before laying out her progressive economic platform.
"It's a simple idea," Senator Warren said. "We all do better when we work together and invest in our future."
"We believe that Wall Street needs stronger rules and tougher enforcement, and we're willing to fight for it. We believe no one should work full-time and live in poverty, and that means raising the minimum wage – and we're willing to fight for it," she continued. "We believe that a kid should have a chance to go to college without getting crushed by debt – and we're willing to fight for it. We believe workers have a right to come together, to bargain together and to rebuild America's middle class – and we're willing to fight for it."
Warren's speech clearly fired up the liberal crowd at the conference. Those who hoped that the freshman senator's vision would lead her into a presidential campaign went home disappointed, however; during a question and answer session after her speech, Warren shot down the latest in a long series of 2016 questions.
"I'm not running for president," she insisted.
Photo: Senate Democrats via Flickr