WATCH: Eric Holder Pushes For Sentencing Reform For Non-Violent Drug Crimes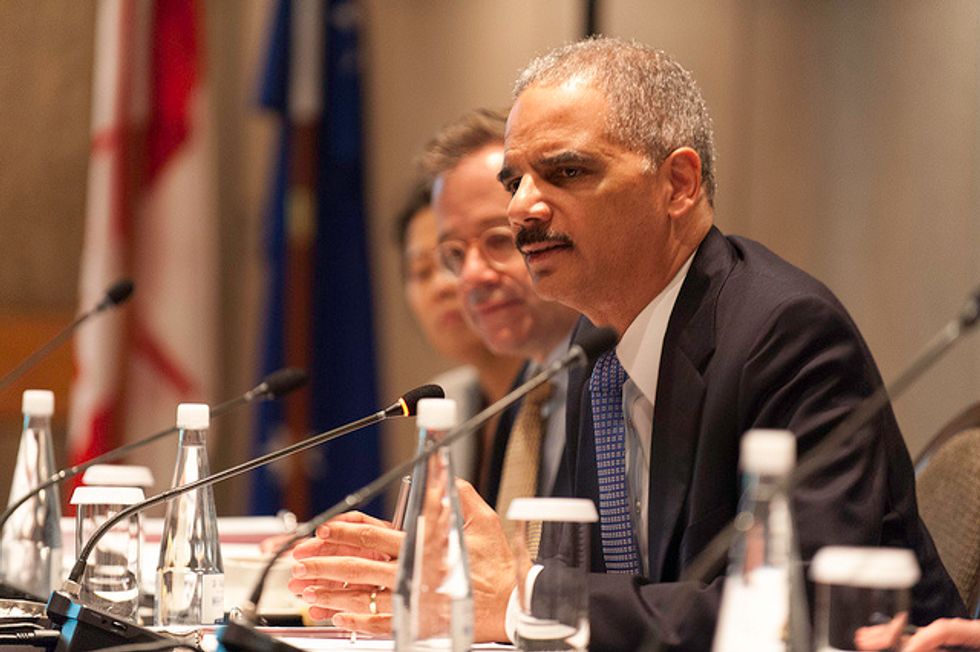 In a speech on Monday before the American Bar Association, Attorney General Eric Holder called for major reform in the federal criminal justice system and the way it prosecutes drug offenders.
Holder's speech specifically tackled the mandatory minimum sentencing policies that the government has long used when condemning drug offenders — even those considered "low-level" and "nonviolent."
"Certain low-level, non-violent drug offenders who have no ties to large-scale organizations, gangs, or cartels will no longer be charged with offenses that impose draconian mandatory minimum sentences. They now will be charged with offenses for which the accompanying sentences are better suited to their individual conduct, rather than excessive prison terms more appropriate for violent criminals or drug kingpins," Holder explained.
Visit NBCNews.com for breaking news, world news, and news about the economy
He added: "Too many Americans go to too many prisons for far too long and for no good law enforcement reason."
The Attorney General called attention to the "ineffective" and "unsustainable" "widespread incarceration at the federal, state and local levels," one that he notes "imposes a significant economic burden, totaling $80 billion in 2010 alone."
Further complicating the situation are studies that find that many drug offenders prosecuted with the harsh sentencing are grappling with substance abuse and poverty.
"Today, a vicious cycle of poverty, criminality, and incarceration traps too many Americans and weakens too many communities. However, many aspects of our criminal justice system may actually exacerbate this problem, rather than alleviate it," Holder remarked.
The initiatives, part of Holder's larger "Smart On Crime" plan, would reserve mandatory minimum sentences for more serious, high-level, and usually violent drug traffickers.
Holder is not the first to comment on the rapidly growing incarceration rate, which has been increasing in no small part due to harsh punishments for low-level criminal offenders that stem from mandatory minimum sentences.
Holder joins Senate Judiciary Committee Chairman Patrick Leahy (D-VT) and Senator Rand Paul (R-KY) on a proposal that would allow judges greater sentencing flexibility in cases that would normally use mandatory minimum prison terms.

"Our reliance on mandatory minimums has been a great mistake. I am not convinced it has reduced crime, but I am convinced it has imprisoned people, particularly nonviolent offenders, for far longer than is just or beneficial. It is time for us to let judges go back to acting as judges and making decisions based on the individual facts before them," Sen. Leahy argued back in March.
Conservative group "Right on Crime" is joining the bipartisan fight against mandatory minimum sentences, as well, arguing that prisons "serve a critical role by incapacitating dangerous offenders and career criminals, but are not the solution for every type of offender."
Monday's speech follows Justice Inspector General Michael Horowitz's findings that many "aging and sick offenders" die while awaiting decisions on applications for early release, and that overpopulation is "making safe and secure incarceration increasingly difficult to provide and threatening to force significant budgetary and programmatic cuts to other [Justice] components in the near future."
Horowitz made it clear: "We are on an unsustainable path here."
Noting Horowitz's conclusions, Holder named elderly prisoners who have not committed violent crimes and served a large portion of their sentences that should be eligible for early release.
Holder also proposed more prison diversion programs that would include drug treatment programs and community service.
"We need to ensure that incarceration is used to punish, deter and rehabilitate — not merely to convict, warehouse and forget," Holder said.
Photo: US Embassy New Zealand via Flickr
Video: PBS Newshour