WATCH: Fox News Tries To Revive Former Employee Scott Brown's Struggling Campaign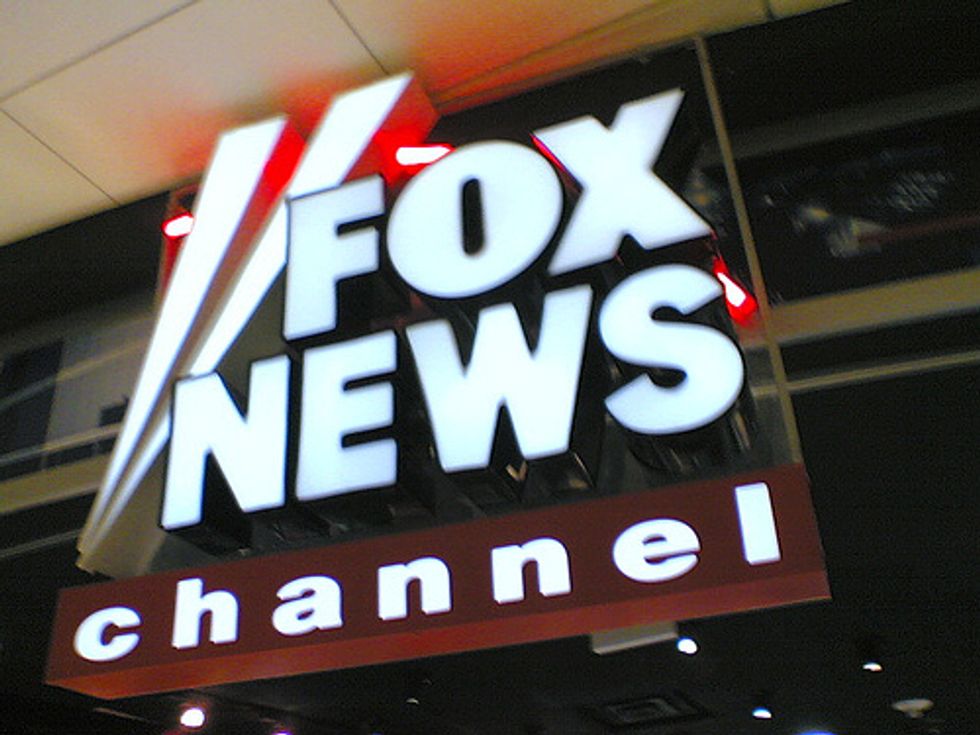 New Hampshire voters may be down on Scott Brown, but the Republican Senate candidate still has at least one set of dedicated fans: His former colleagues at Fox News.
On Friday, the conservative news network aired a special report — "Live Free or Die: Obamacare in New Hampshire" — which examined the Affordable Care Act's impact on the Granite State. It may not stun you to learn that Fox's verdict was largely negative.
But apparently, at least one person is benefiting from the law: Brown, who is using his opposition to Obamacare as a centerpiece of his Senate campaign against incumbent Democrat Jeanne Shaheen.
As this video, captured by Media Matters, demonstrates, the Fox report may as well have been a campaign ad for Brown.
"Polls show Obamacare scoring poorly in New Hampshire, as it does elsewhere. It could be a liability for one-term Democratic senator Jeanne Shaheen, whose vote ensured the bill would become law," the report's narrator Bret Baier says, parroting a common Republican talking point that PolitiFact has rated "mostly false."
The report then pivots to describing how Brown "shocked the country" by winning Massachusetts' special election for Senate in 2010, when "his campaign was widely seen as a referendum on Obamacare."
"Despite his victory, the Affordable Care Act was passed through unusual legislative maneuvers, soon after Brown arrived in Washington," it continues, over an image of Harry Reid kissing Nancy Pelosi on the cheek. "Which may be why he's back on the campaign trail — this time, in New Hampshire."
Or it could be because Brown was blown out by Senator Elizabeth Warren (D-MA) in his 2012 re-election campaign — an episode that Fox News left unmentioned. He then declined to enter another tough contest in his home state, instead targeting a seat in its more moderate neighbor. And although Warren consistently stressed her outspoken support for the Affordable Care Act — and attacked Brown for his promise to repeal it — that election apparently doesn't count as a referendum on the law.
The report then shifts to an interview with Brown himself.
"I want to run to be the 51st senator to repeal Obamacare, because as they rammed it through Congress, we can actually do it the same way and repeal it, and then go back and develop a plan that works for the states." Brown tells Baier.
Instead of asking how Brown hopes to round up the 66 senators he'll need to override President Obama's inevitable veto of a bill to repeal his own signature achievement, or why he hasn't detailed "a plan that works for the states" at any point over the past four years, Baier moves on to a credulous examination of Brown's chances of using the issue to boot Shaheen from office.
"New Hampshire is just part of a nationwide trend," the report says. "It's possible that the 2014 Senate elections will be seen as yet another referendum on the Affordable Care Act."
It's more likely that the 2014 Senate election in New Hampshire will be a referendum on Brown. Although most polls show Shaheen's approval rating stuck in the low 40s, she still holds a commanding lead over her Republican opponent; according to The Huffington Post'spoll average, Shaheen is currently up by 8 percent.
Brown's attempts to discuss health care on the campaign trail have not gone as well as his interviews with Fox; among other lowlights, he awkwardly discovered that Obamacare has helped some Republicans, and hid in a bathroom rather than answer questions about the Supreme Court's Hobby Lobby decision.
This is far from the first time that Fox News has tried to give an assist to Brown, who made $136,000 as a paid contributor to the network in between Senate campaigns. For months, Fox hosts openly promoted Brown as a potential candidate for Senate — or even president — while he was still technically their co-worker.
The admiration is apparently mutual; during a July 31 interview on Fox News Radio's Kilmeade & Friends, Brown said that his time at the network "really charged me up" to run for Senate.
Photo: ario via Flickr
Want more political news and analysis? Sign up for our daily email newsletter!