WATCH: GOP Candidate Hit With Brutal Attack Ad In North Carolina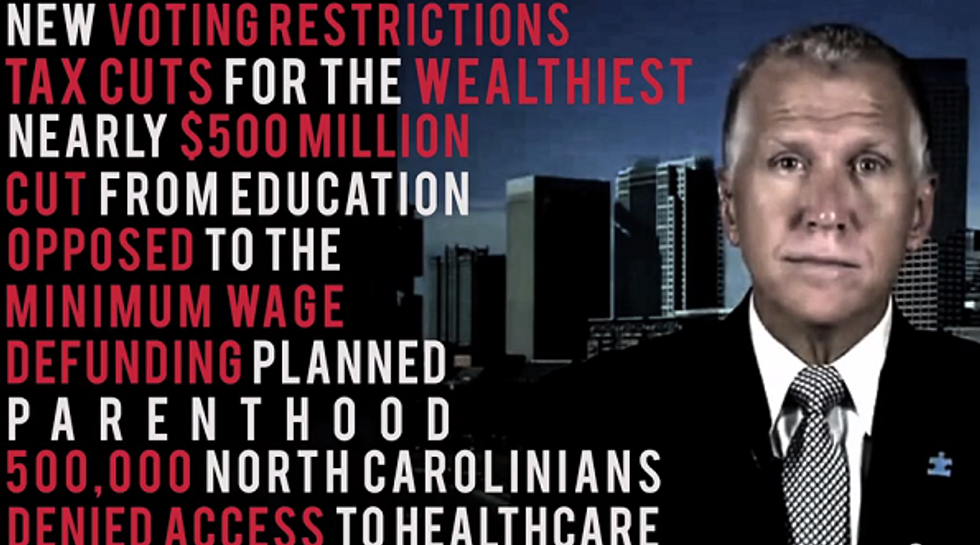 Last week, Senator Kay Hagan (D-NC) released a campaign ad pushing the embattled incumbent's record as a moderate who's "not too far left, not too far right — just like North Carolina."
On Tuesday, the Democratic group Forward North Carolina came out with an ad completing the argument that Hagan began: While she is in the middle of the road politically, her Republican opponent Thom Tillis is a far-right extremist.
The two-minute long web ad, titled "Shadow," takes direct aim at Tillis' record as Speaker of North Carolina's extremely conservative House of Representatives. Among other attacks, the ad highlights Tillis' support for tax cuts for the wealthy, deep cuts to North Carolina's education budget, and restrictive voting laws, in addition to his suggestion that Republicans "divide and conquer" those on public assistance.
There is reason to believe that the attacks could resonate with North Carolina voters. Although polls suggest that Hagan is unpopular in the Tar Heel State (most surveys have her approval rating around 40 percent or below), the state legislature is downright despised. One recent poll, from Democratic-leaning Public Policy Polling, found the legislature's approval at just 19 percent, with 57 percent disapproving. Furthermore, Tillis' poll numbers actually dip while the legislature is in session.
According to The Huffington Post's polling average, Hagan holds a narrow lead as the race turns towards the home stretch. Establishing Tillis as too extreme for North Carolina will be essential if she hopes to maintain that narrow advantage through November.
H/t: Greg Sargent,The Washington Post
Want more political news and analysis? Sign up for our daily email newsletter!