WATCH: Hagel Grilled At Contentious Confirmation Hearing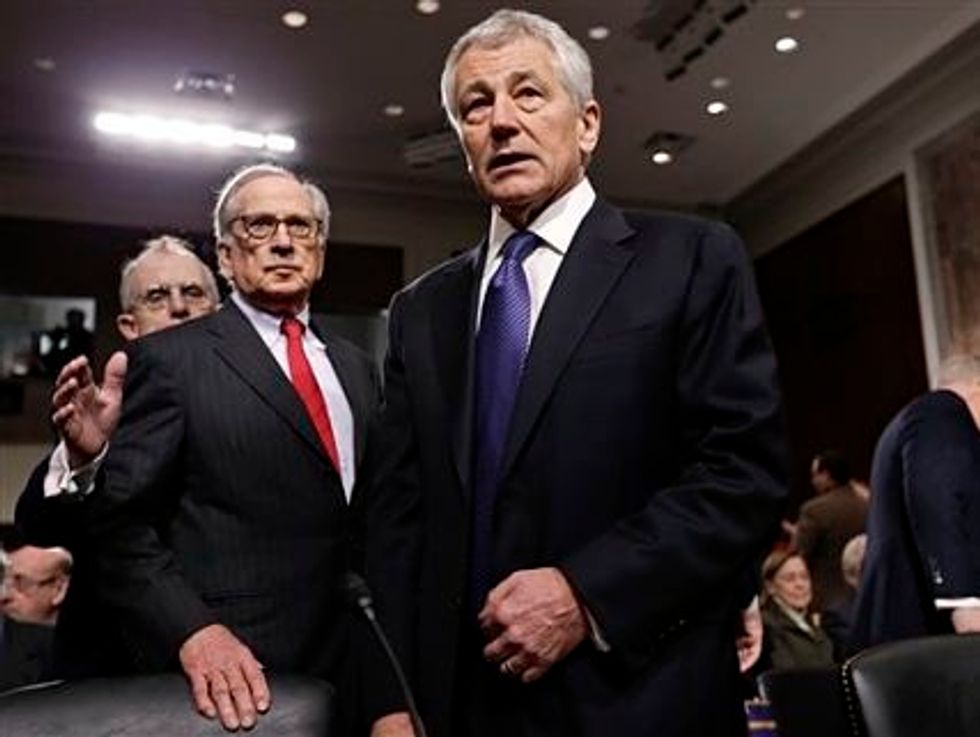 Former senator Chuck Hagel faced a difficult first round of questioning from the Senate Armed Services Committee during his confirmation hearing on Thursday, facing strong criticism from Senate Republicans who attacked his positions on Israel, Iran, and a host of other national security issues.
In his opening statement, Hagel directly confronted several of his past votes and statements around which his opponents have focused their criticism.
"No one individual vote, quote, or statement defines me, my beliefs, or my record," Hagel declared. "My overall worldview has never changed: that America has and must maintain the strongest military in the world; that we must lead the international community to confront threats and challenges together; and that we must use all tools of American power to protect our citizens and our interests."
Reacting to charges that he is insufficiently hawkish on Iran, Hagel noted that "my policy has always been the same as the president's: one of prevention, not of containment." Hagel added that "as I've said in the past, all options must be on the table to achieve that goal."
When challenged by Senator Carl Levin (D-MI) on his 2001 vote against unilateral sanctions against Iran, Hagel declined to fully explain his shift, simply noting that "it was a different time," and "we were at a different place with Iran during that time," before reiterating that he now agrees with President Obama's position.
Hagel committed two verbal missteps while discussing Iran — first, he referred to the Obama administration's Iran policy as "containment," and later had to clarify that the policy is actually "prevention." Later, he referred to the Iranian government as "legitimate" — drawing criticism from Republicans — before clarifying to Senator Kirsten Gillibrand (D-NY) that "what I meant to say, should have said, is it's recognizable."
Senator James Inhofe (R-OK) went as far as to ask Hagel why the Iranian Foreign Ministry supports his nomination. "I have a difficult enough time with American politics," Hagel responded. "I have no idea."
With regards to Israel, Hagel pledged to "ensure our friend and ally Israel maintains its qualitative military edge in the region." Furthermore, under questioning from Senator Roger Wicker (R-MS), Hagel directly apologized for his 2006 comment that the "Jewish lobby intimidates a lot of people" in Congress.
"I regret saying Jewish lobby," Hagel said. "I should have said pro-Israel lobby." He added that he should have used the word "influence" instead of "intimidate." Hagel also repeatedly noted that he never cast a vote against Israel during his 12 years in the Senate.
That answer was not sufficient for Senator Lindsey Graham (R-SC), who challenged Hagel to "name one person who is intimidated by the Jewish lobby." Graham, who reportedly consulted with Senator John McCain (R-AZ) before his questioning, mimicked McCain's tactic of interrupting Hagel's answers in an apparent effort to get under his skin:
Hagel walked back his past support for "Don't Ask Don't Tell," asserting that "I am fully committed to implementing the repeal of 'Don't Ask, Don't Tell' and doing everything possible under current law to provide equal benefits to the families of all our servicemembers." His evolution on the issue was critical in winning the support of skeptical liberals such as senators Chuck Schumer (D-NY) and Barbara Boxer (D-CA).
In the most contentious exchange of the hearing, Senator John McCain (R-AZ) attacked Hagel's 2007 warning that the troop surge in Iraq could be the "most dangerous foreign policy blunder in this country since Vietnam."
"Were you right?" McCain asked. "Were you correct in your assessment?"
When Hagel declined to give McCain a simple yes or no answer, saying "I think it's far more complicated than that," McCain repeatedly interrupted Hagel's attempts to explain his position.
"I want to know if you were right or wrong," McCain said heatedly. "That's a direct question. I expect a direct answer."
Despite Hagel's best attempts to clarify (and, in some cases, reverse) his more controversial positions, the Republicans on the Armed Services Committee have clearly been unswayed in their opposition. Senator Inhofe pledged to vote against Hagel, suggesting that his stated policies "seem based on political expediency rather than on core beliefs," and Senator McCain told the Wall Street Journal that "I'm very disappointed in [Hagel's] failure to answer my questions."
Still, it remains unclear whether Republicans' strong objections will be enough to prevent Hagel's confirmation. Hagel needs 14 out of 26 votes on the Armed Services Committee in order for his nomination to advance to the full Senate for a vote, meaning that he could clear this hurdle without the support of a single Republican. So far, no Democrats have signaled that they will vote against Hagel's confirmation. While Republicans could filibuster Hagel's nomination, forcing Democrats to come up with 60 votes to confirm President Obama's pick, such a move would come with high political risk.
The hearing is expected to resume at around 3pm; you can watch a live stream of the proceedings here.
Photo credit: AP/J. Scott Applewhite