WATCH: Jeffrey Lord Says Democrats Are The Ones With 'An Anti-Semitism Problem'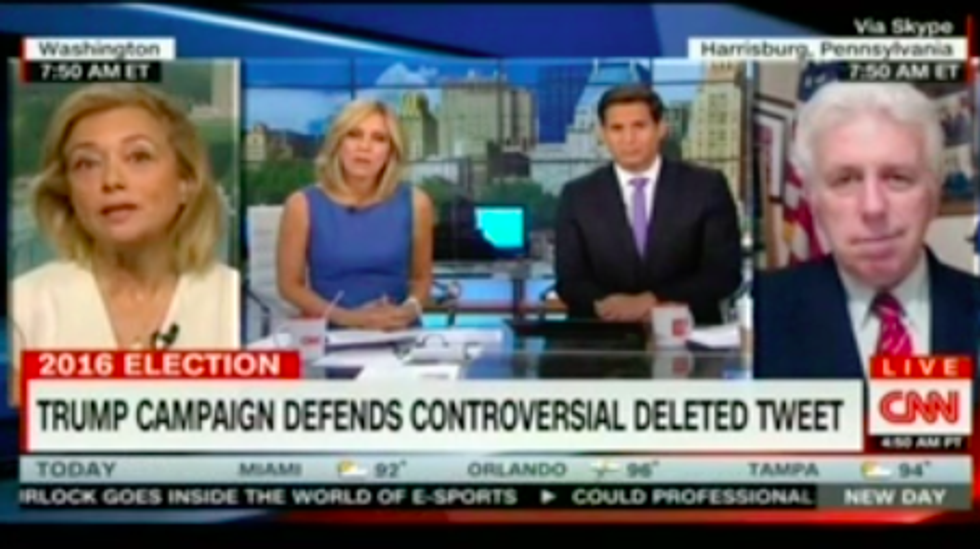 Jeffrey Lord made an appearance on CNN's New Day on Tuesday to… what else? Defend Donald Trump's latest outrageous outburst. This time, it was one of Trump's tweets, sent on Saturday morning, boasting about Hillary Clinton's alleged corruption while placing the presumptive Democratic nominee's face next to a star of David, against a backdrop of piles of money.
Lord claims that when he first saw the tweet, he thought it was a sheriff's badge signifying Clinton's corruption, one of the main themes of Trump's campaign.
After saying that he did not believe the now-removed tweet should have been taken down, Lord shifted the blame to the Democratic Party, accusing them of anti-semitism, and arguing that they are "pushing anti-Israel points of view who were put there by Bernie Sanders."
This is really scraping the bottom of the barrel, even for Lord. A sheriff's star? That's the line from many Trump employees… and pretty much no one else. The graphic was pulled from an anti-semitic message board, and was created by a Twitter user whose feed is a veritable database of anti-semitic, racist, and conspiratorial imagery. How could the Trump campaign have thought anything else than that this would be a dog whistle to their white nationalist and white supremacists supporters?
They didn't, of course. This was yet another attempt by Trump to reach out to his true base: Immigration extremists, anti-semites, racists, and separatists.
Photo and Video: CNN