WATCH: Obama Talks Benghazi, IRS At Press Conference With U.K.'s Cameron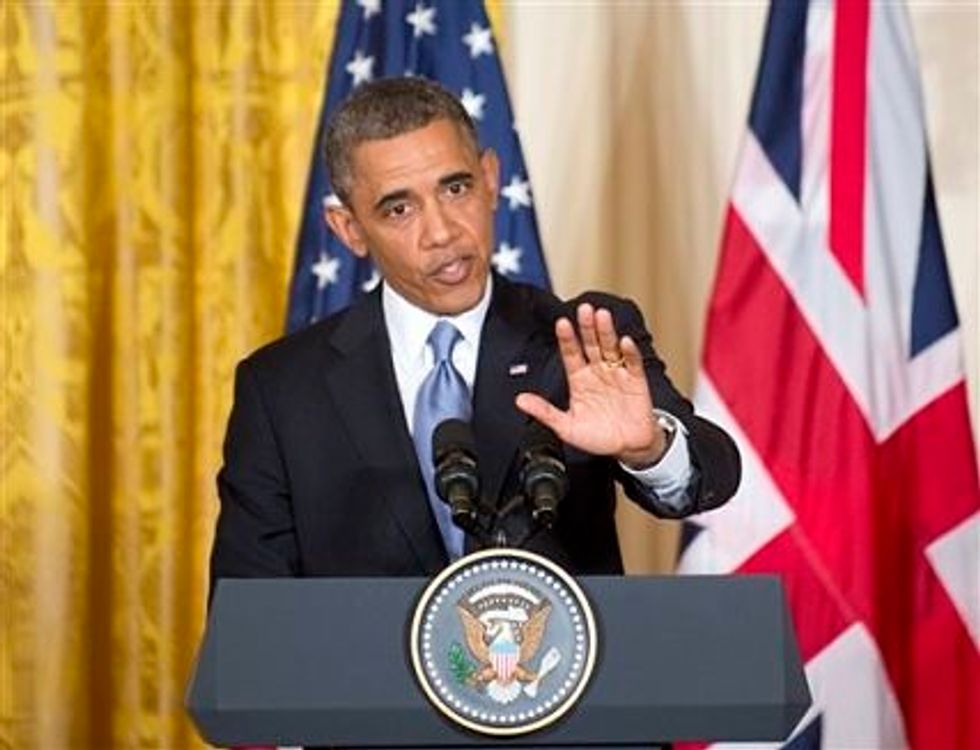 President Barack Obama derided the Republican Party's obsession with the talking points used after the attack in Benghazi, Libya as a "sideshow" and labeled the IRS' targeting of conservative groups as "outrageous" during a Monday morning press conference at the White House.
Speaking alongside United Kingdom Prime Minister David Cameron, Obama updated reporters on the leaders' bilateral talks about the situations in Syria and Afghanistan, the upcoming G8 meetings in Northern Ireland and ongoing trade negotiations, before taking questions on the IRS and Benghazi controversies.
Obama said he does not want to judge the results of the investigation into the IRS misconduct prematurely, but he warned that — if the reports of political targeting are proven correct — he "will not tolerate it."
"If in fact IRS personnel engaged in the kind of practices that have been reported on and were intentionally targeting conservative groups, then that's outrageous and there's no place for it," the president said, adding that "they have to be held fully accountable."
On Benghazi, Obama blasted the Republican Party for turning an important investigation into a "sideshow." Noting that he referred to the attack as an act of terror the day after it occurred, and that his administration has provided scores of documents to Congress, he flatly rejected claims that he is engaged in any kind of cover-up.
"If this was some effort on our part to try to downplay what had happened or tamp it down, that would be a pretty odd thing that three days later we end up putting out all the information that, in fact, has now served as the basis for everybody recognizing that this was a terrorist attack and that it may have included elements that were planned by extremists inside of Libya," Obama said. "Who executes some sort of cover-up or effort to tamp things down for three days? The whole thing defies logic."
"There is no 'there' there," the president added.
Obama went on to rip his opponents for trying to exploit the attack for political gain.
"We dishonor [the victims of the attack] when we turn things like this into a political circus," Obama said. "What happened was tragic, it was carried out by extremists inside of Libya. We are out there trying to hunt down the folks who carried this out and we're trying to make sure we fix the system so that it doesn't happen again."
Before the press conference turned to domestic matters, Obama and Cameron each made strong statements on the devolving situation in Syria. Obama said that he and Cameron had discussed the "appalling violence" in the country, and are seeking ways to increase pressure on the Assad regime to stop the killing, provide humanitarian aid to the Syrian people, and prepare the country to transition to a democratic government without Assad.
Cameron concurred, stressing that "there is no more urgent international task than this."
President Obama and Prime Minister Cameron's full press conference can be seen here.
AP Photo/J. Scott Applewhite