Rand Paul Runs From Immigration Talk With Steve King, But Rest Of GOP Is Not So Lucky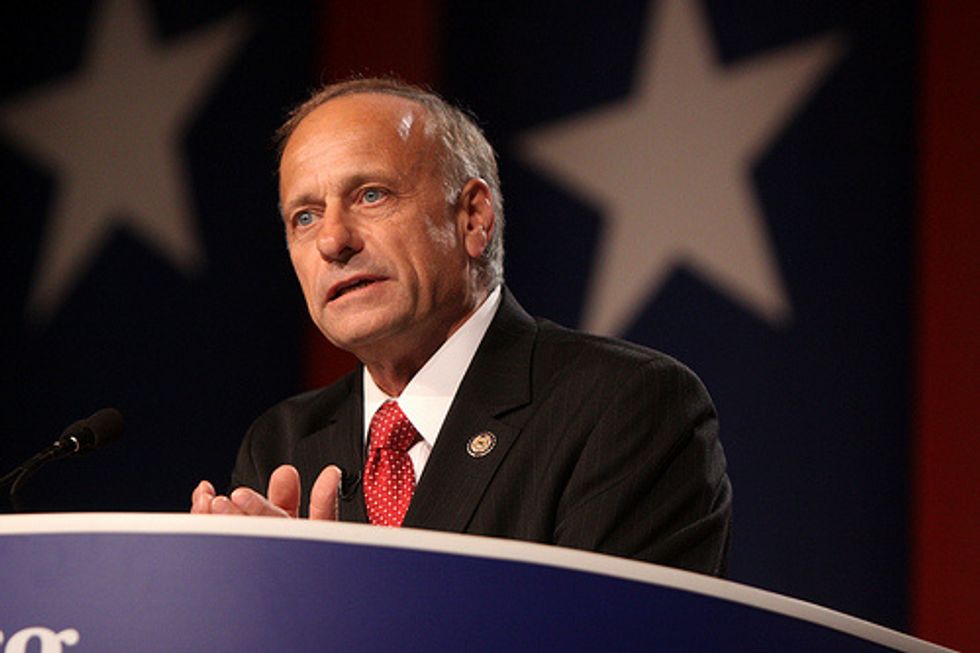 Rep. Steve King (R-IA) got into a tense exchange with two DREAMers on Monday, causing Senator Rand Paul (R-KY) to physically distance himself from the anti-immigration hardliner. Other Republicans should be thinking about following Paul's lead.
The confrontation took place at a fundraiser in Okoboji, Iowa, on Monday. Two members of the Dream Action Coalition, Erika Andiola and Cesar Vargas, approached the lawmakers and introduced themselves as beneficiaries of President Obama's Deferred Action for Childhood Arrivals program. Last week, King led the Republican House majority's push to end the program, which grants temporary deportation relief and work permits for some young immigrants.
After Andiola offered King an opportunity to rip up her DACA card, things quickly got heated. She referenced King's infamous comment that for every DREAMer who's a valedictorian, "there's another 100 out there that weigh 130 pounds and they've got calves the size of cantaloupes because they're hauling 75 pounds of marijuana across the desert," and the congressman responded by grabbing her wrist.
"Stop a minute," King said sharply. "You're very good at English. You know what I'm saying."
Where was Senator Paul throughout this testy exchange? As soon as Andiola said the words "I'm actually a DREAMer, myself," Paul put down his hamburger mid-chew, got up, and bolted from the table.
The rest of the Republican Party should be so lucky.
There's little mystery behind Paul's decision to abandon ship. The freshman senator will almost certainly run for president in 2016, framing himself as a new kind of Republican who's not afraid to sell conservatism to skeptical audiences. Improving the GOP's relationship with Latinos is central to that message, and appearing on camera with King while he grips a DREAMer's wrist and badgers her about her English skills would be supremely unhelpful.
But whether they like it or not, Republicans are now tied to King's hardline positions on immigration. That's what they get for House leadership's decision to adopt King's approach to addressing the border crisis after their first attempt flopped in embarrassing fashion.
The result was an immigration bill that would do little to alleviate the crisis at the border, but would dramatically expedite the deportation process and completely gut the current protections for immigrants who were illegally brought to the country as children. Or as King gleefully put it, "The changes brought into this [bill] are ones I've developed and advocated for over the past two years…It's like I ordered it off the menu."
Perhaps Republicans should think twice about taking orders from a man who has compared immigrants to dogs, livestock and the Visigoths who sacked Rome, among other outbursts.
It's not as though Latino voters haven't noticed the GOP's decision to abandon its plan to become "inclusive and welcoming" in favor of cementing itself as the party of "Deport 'em all," as Rep. Luis Gutierrez (D-IL) put it after last week's vote. According to the latest Washington Post-ABC News poll, Latinos view the GOP unfavorably by an overwhelming 65 to 29 percent margin (by contrast, they view Democrats favorably, 61 to 33 percent). While Latino voters' disgust with Republicans may not make much of a tangible difference in the 2014 midterms, which will be decided in solidly red states, you can bet that the GOP will regret running to the right of Mitt Romney's "self-deportation" plan once the 2016 presidential election rolls around.
But really, the GOP should consider itself lucky if King only drives its immigration policy. After all, he has other plans that could be even more politically damaging to the party.
Photo: Gage Skidmore via Flickr
Want more political news and analysis? Sign up for our daily email newsletter!