WATCH: 'Republican Cuts Kill,' Warns Startling New Attack Ad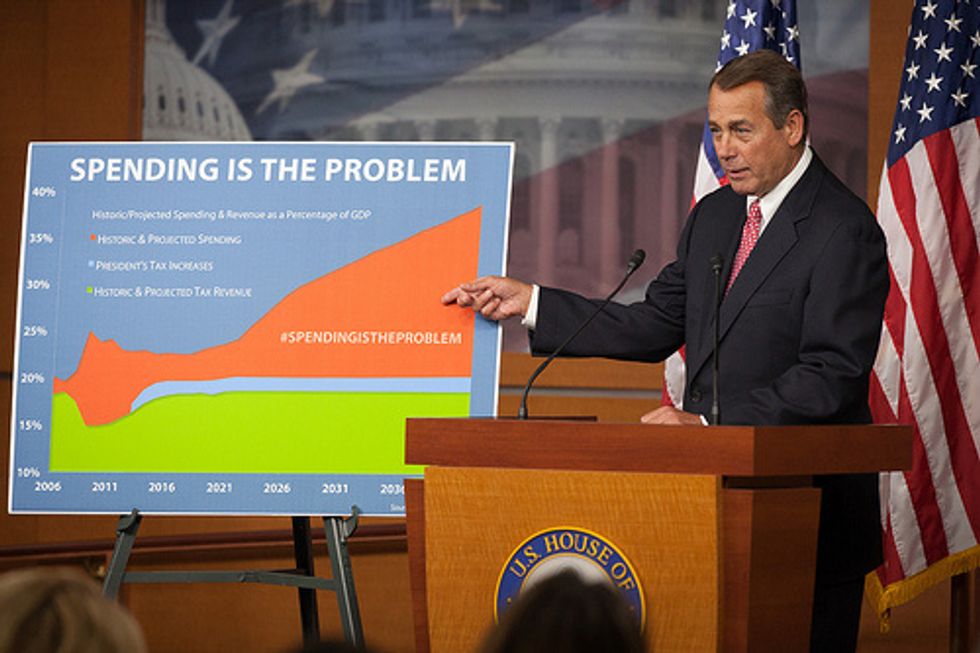 GOP-backed budget cuts are explicitly to blame for the deaths caused by the Ebola virus, according to a startling new attack ad from the liberal 501(c)(4) "dark money" group The Agenda Project Action Fund.
The ad, titled "Republican Cuts Kill," directly ties the Republican Party's single-minded focus on slashing the federal budget to the Ebola outbreak. The one-minute spot, which will air on television in battleground states, mixes footage of top Republicans calling for spending cuts with clips of government officials and news organizations detailing the decline in public health funding, and images of body bags and health-care workers in hazmat suits.
Republican leaders will surely protest that the ad is exploitative and unfair (indeed, a spokesman for Senator Rand Paul (R-KY) immediately responded to the attack by dismissing The Agenda Project as "a shadowy group of progressive political hit men" who "should be ashamed of themselves for blaming a whole political party for the Ebola virus"). But GOP-backed budget cuts have had a clear, negative impact on the nation's ability to respond to the crisis.
"NIH has been working on Ebola vaccines since 2001. It's not like we suddenly woke up and thought, 'Oh my gosh, we should have something ready here,'" National Institutes of Health director Dr. Francis Collins told The Huffington Post in an interview last week. "Frankly, if we had not gone through our 10-year slide in research support, we probably would have had a vaccine in time for this that would've gone through clinical trials and would have been ready."
This is not the first time that The Agenda Project has attracted headlines with a controversial campaign ad. In 2011, the group infamously criticized Rep. Paul Ryan's proposed Medicare cuts by depicting him pushing a grandmother off a cliff.
Photo: Speaker Boehner via Flickr
Want more political news and analysis? Sign up for our daily email newsletter!