WATCH: Republican Senate Candidate Threatens To Castrate Congress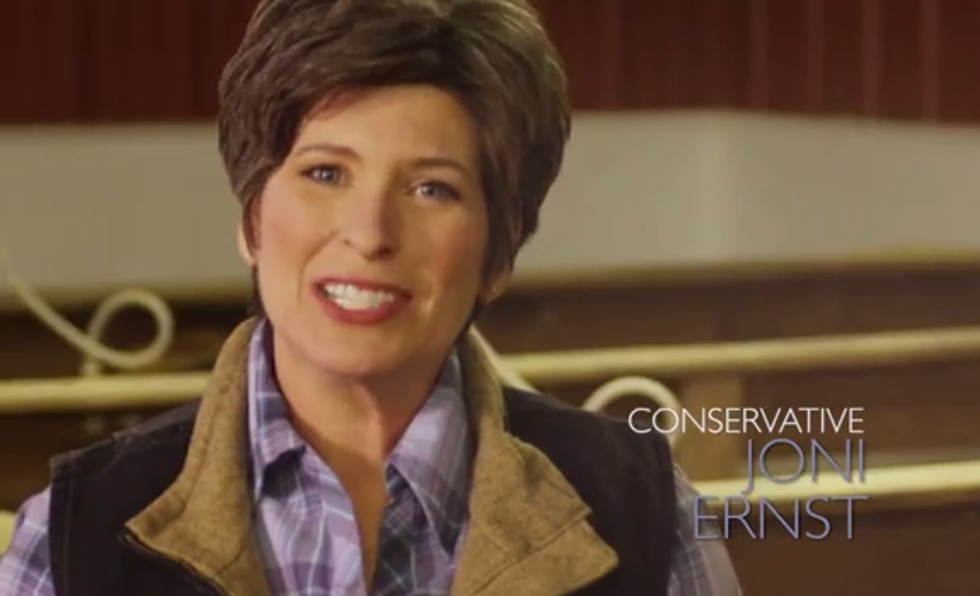 It took a while, but Iowa's 2014 U.S. Senate race is finally starting to heat up.
State Senator Joni Ernst released an attention-grabbing television ad on Monday, in which she essentially threatens to castrate legislators who won't cut spending.
"I grew up castrating hogs on an Iowa farm. So when I get to Washington, I'll know how to cut pork," Ernst says in the ad. "Washington's full of big spenders. Let's make 'em squeal."
Ernst's uncomfortable ad, which is her first of the campaign, began airing on TV in Des Moines on Monday. According to the Des Moines Register, the ad buy will expand in the coming weeks.
The Republican primary is still anyone's contest; according to TheHuffington Post'spolling average, businessman Mark Jacobs leads the field at 20 percent, followed by Ernst at 13 percent, former U.S. Attorney Matt Whitaker at 11 percent, talk-radio host Sam Clovis at 8 percent, and attorney Paul Lunde at 3 percent. If no candidate wins over 35 percent in the June 3 primary, then the Republican nominee will be chosen via a state convention; such a scenario would likely favor a Tea Party-backed candidate like Ernst, who could consolidate support of the right-wing activists who dominate such gatherings.
Ernst's "Squeal" ad is not the only barnyard-related story to shake up the Iowa Senate race this week. On Tuesday, video emerged of Democratic congressman Bruce Braley, the frontrunner in the race to succeed retiring Democrat Tom Harkin, criticizing Senator Chuck Grassley at a fundraiser in January.
In the video, Braley warns that if Republicans win a Senate majority, "you might have a farmer from Iowa, who never went to law school, never practiced law, serving as chair of the Senate Judiciary" Committee.
Braley's slight drew instant condemnation from Grassley, Jacobs, and Ernst, who released a statement saying, "Bruce Braley thinks the way to suck up to Texas trial lawyers is by bashing Iowa farmers. How out of touch with Iowa can you be?"
Although Republicans clearly hope that the gaffe will be a game changer, it will take more than that to change the dynamics of the race. According to the latest poll, Braley is up double digits on each of his Republican rivals.
Screenshot: YouTube