WATCH: RGA Attacks Medicaid Expansion That Eight GOP Governors Support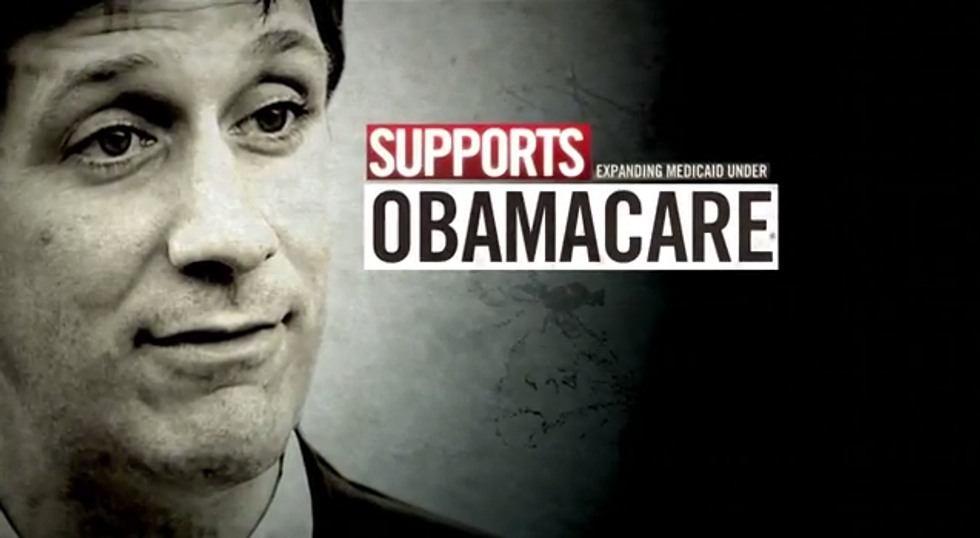 The Republican Governors Association released a new ad on Monday slamming South Carolina gubernatorial candidate Vincent Sheheen (D) for supporting the Affordable Care Act's Medicaid expansion — but failing to tell the whole story about the law.
The 30-second television ad, titled "Vincent Sheheen: Even More Obamacare," attacks Sheheen for supporting health care reform.
"Remember this guy, Sheheen? Well first, Sheheen supported much of Obamacare. But then he refused to support the lawsuit to stop it," the ad's narrator says. "Now, Vincent Sheheen wants to use Obamacare for a $2 billion expansion of Medicaid in South Carolina."
The ad, which is backed by a $200,000 buy, according to The Washington Post , presents an odd case for opposing Sheheen.
In addition to covering an estimated 340,000 South Carolinians, Medicaid expansion would give South Carolina's economy a needed boost. According to a 2012 study from the South Carolina Hospital Association , opting into the ACA's Medicaid expansion would result in an $11.2 billion increase in federal funding for the state between 2014 and 2020.
"These increased federal dollars, which signify an injection of new procurement activity to the state that would not exist otherwise, represent an unambiguous benefit to South Carolina's economy," the authors write.
By 2020, the study estimates that the total annual economic impact of the increased federal funding would total "approximately $3.3 billion in economic output, $1.5 billion in labor income, and support nearly 44,000 new jobs for South Carolinians."
Still, Governor Nikki Haley (R) has stringently opposed Medicaid expansion, as part of her promise to "continue to fight Obamacare every step of the way." Some of Haley's colleagues feel differently, however. Eight Republican governors — including New Jersey's Chris Christie, the current chairman of the organization that made the ad attacking Sheheen — accepted federal funding to expand Medicaid in their own states.
The issue is also still unsettled within South Carolina . In a twist on neighboring North Carolina's " Moral Monday " protest movement, South Carolina health care advocates are organizing " Truthful Tuesday " rallies in an effort to pressure the state legislature to reconsider its decision to reject the federal funding. South Carolinians have been receptive to Medicaid expansion in the past; a May, 2013 survey found that 65 percent support Medicaid expansion.
South Carolina is the third state in which the RGA has aired ads in 2014, following Wisconsin and Arkansas. Haley is the favorite in her re-election campaign against Sheheen, whom she defeated by just 4 percent in the 2010 gubernatorial election. Given Haley's low approval ratings and generally rocky tenure , however, Democrats are holding out hope for an upset victory.