WATCH: Right-Wing Group Launches Blistering Attack Against Mitch McConnell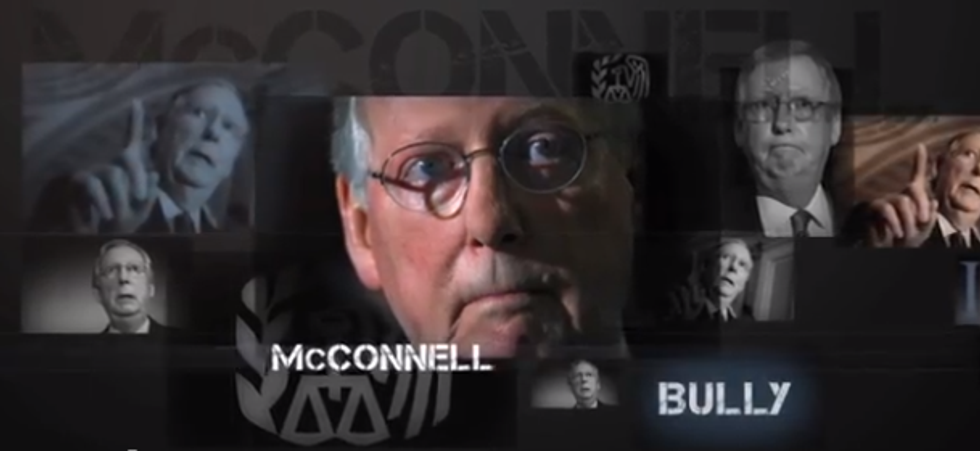 Kentucky's 2014 Senate race seems to get more and more negative every day.
While most of the nastiest attacks have been traded between between Senate Minority Leader Mitch McConnell (R-KY) and his Democratic opponent, Kentucky Secretary of State Alison Lundergan Grimes, the latest broadside against McConnell comes from his own party.
The Senate Conservatives Fund, a right-wing PAC which has made its name attacking Republican politicians for failing its various ideological purity tests, released a vicious ad on Tuesday accusing McConnell of "trying to bully and intimidate conservatives just like the IRS is."
"Mitch McConnell tried to silence conservatives, calling them traitors, who he 'wants to punch in the nose' for criticizing his liberal votes. And McConnell told other conservatives they'd get the 'death penalty' for opposing him," the ad charges. "McConnell even tried to intimidate conservative Matt Bevin to stop him from running. Why? Because Mitch McConnell is desperate."
"If he wants to vote like a Democrat, he can become a Democrat. And if he wants to act like the IRS, he can get a job with the IRS," the ad concludes. "But don't try to fool conservatives by pretending you're one of us, Senator McConnell. You're not."
As The Washington Examiner's Byron York points out, several of the charges in the brutal ad don't stand up to scrutiny (for example, there is no evidence that McConnell called conservatives "traitors," and the only group that he said he wanted to "punch in the nose" is the same Senate Conservatives Fund PAC that created the ad).
It's also unclear if there's anything that the Senate Conservatives Fund can do to help Bevin make up his double-digit deficit to McConnell, especially in light of his massive financial disadvantage.
The ad represents the Senate Conservatives Fund's second attack against Republican leadership in as many days; on Thursday, the group petitioned for House Speaker John Boehner (R-OH) to be replaced with a "true conservative."
Screenshot: YouTube