Watch: Scott Walker Launches Campaign For President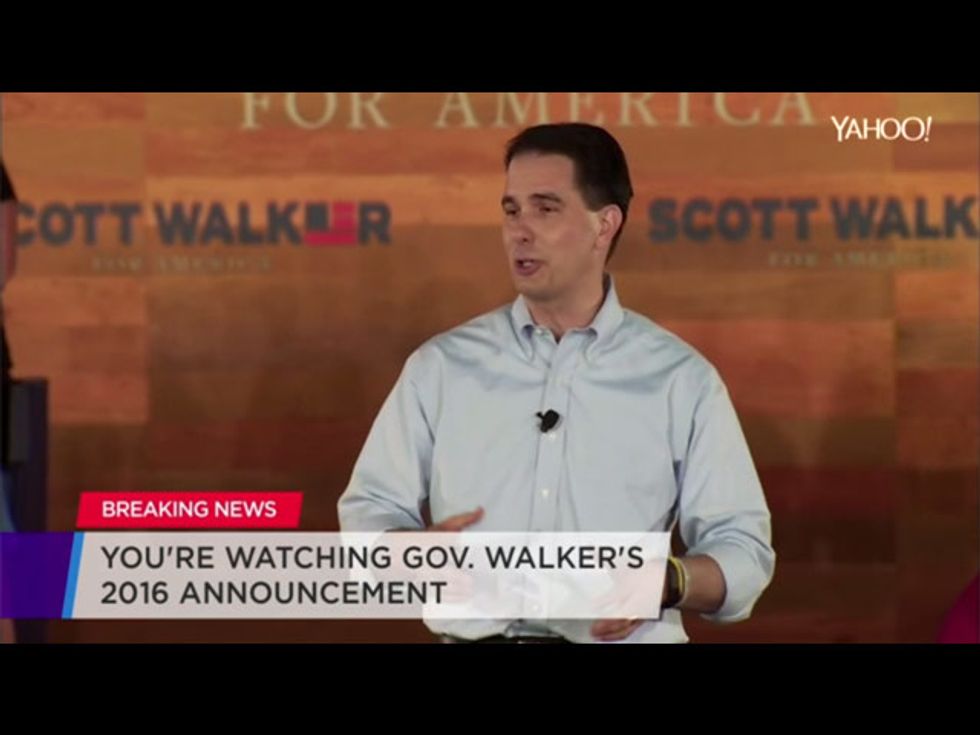 Wisconsin governor Scott Walker (R) kicked off his campaign for president Monday, at a rally held in the Republican suburban stronghold of Waukesha, Wisconsin.
Walker already announced his campaign with a video message Morning morning, touting his record of facing down labor unions — a fight that has earned him a strong conservative following. However, his main challenge from here on will be to demonstrate a proficiency with foreign policy, as well as other national issues.
"I love America," Walker began.
He vowed to "turn things around" in Washington, which he described as "68 square miles surrounded by reality."
Washington needs "new fresh leadership that knows how to get things done," Walker said, touting his productive record as governor: "We took on the unions — and we won!"
He cited his success pushing conservative legislation in a predominantly Democratic state on a variety of issues, including pro-life and open carry.
He accused Washington of measuring its success based on how many people were "dependent on the government."
He decried the "top-down government-knows-best approach." Walker said that "empowering people to control their own lives" and granting them the "dignity of work" are the only ways to let people share in the American Dream — by leading a life free of government interference.
"Strong families" are crucial to this, he asserted.
"We need to repeal Obamacare once and for all!" he said to boisterous applause. "We need to put patients and families back in charge of their medical decisions, not the federal government." He said he would make repealing the Affordable Care Act a priority for his very first day in the Oval Office. He mentioned his intention to repeal "all the other bad Obama regulations," as well.
He claimed he would approve the Keystone XL oil pipeline — also on his first day.
Education standards should be set at the local level, he said in a rebuke to Common Core.
He intended to "take money and power out of Washington" and return it to the states, where it would be more effective, efficient, and responsive to the people.
He announced his plan to reduce taxes for individuals as well as "job creators." (He did not use the words "companies" or "corporations.")
The best president in his lifetime, he said, was Ronald Reagan — who Walker said he admired for being strong on foreign policy and on "family values."
Thanks to the "Obama-Clinton doctrine," Walker said, America was "leading from behind," and recounted a list of what he characterized as President Obama's blunders, among which was referring to ISIS as the JV team. Under Obama and Clinton, Walker said, Russian president Vladimir Putin has been given too much immunity to pursue his aggressive agendas in sovereign states like Ukraine.
When Walker mentioned climate change and global warming, the audience booed. He did not go so far as to claim it didn't exist. Instead, Walker averred that climate change is not the greatest threat to future generations, as Obama has stated — rather, radical Islam is.
There are times when America must fight, Walker said, and America "fights to win."
The international community must know that "there is no greater friend and there is no worse enemy than the United States of America," Walker said to the resounding chants of "USA! USA! USA!"
"Americans deserve a president who will fight and win for them: someone who will stand up for the right to life, liberty, and the pursuit of happiness; someone who will stand up for our religious freedoms and all our other constitutional rights; someone who will stand up for America."
As he wrapped up, he returned to a central theme of the speech: independence from — not dependence on — government.
As he left the stage, a song that George W. Bush used extensively in his successful 2004 re-election campaign began to play: Brooks & Dunn's 2001 single, "Only In America."
One kid dreams of fame and fortune
One kid helps pay the rent
One could end up going to prison
One just might be president
You can watch Walker's rally below (Walker's speech begins at about 01:03:00)

This post has been updated.